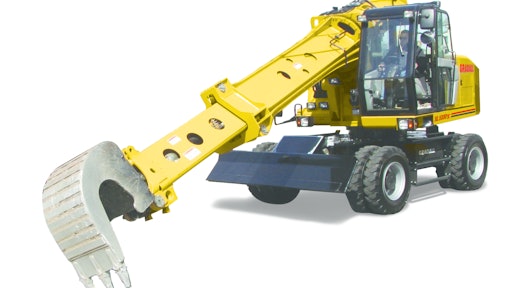 Gradall Industries introduces the Series V hydraulic excavator models featuring an upgrade to Tier 4 Final-compliant diesel engines, acquired in an arrangement with Volvo Penta. The 5- and 8-liter diesels meet stringent global standards, including Stage IV (EU) and Tier 4 Final (US) emissions reduction requirements. In addition, fuel efficiency is improved by up to 5%.
Models with the new engines include the XL 3200 V, XL 4200 V and XL 5200 V crawler and XL 3300 V, XL 4300 V and XL 5300 V on/off-highway wheeled excavators. Series V crawler and on/off-pavement wheeled model categories will be available early this year, while Series V highway speed wheeled excavators will be available in late 2015.
Along with the new engine, the excavators include an upgraded high-performance, high-reliability, 24-volt electrical system, creating a better power source. A new operator safety option provides rollover protection that is integrated within the existing cab structure, without external support.
The new units also provide traditional advantages of Gradall excavators:
Compact, low working profile allows work under bridges, in tunnels, beneath trees, on the ground floor of parking lot and building construction sites and roadside jobs without obstructing traffic
Telescoping boom design delivers constant boom forces and speed throughout the dig cycle
Entire boom tilts up to 220° with full boom power
Roomy, quiet and comfortable operator cabs includes standard air conditioning, ergonomically designed seating modules, a removable front window and a switch to select Gradall, SAE or Deere joystick patterns
Almost 70% parts commonality simplifies maintenance
Longer routine service intervals and ground-level access to most service locations
Companies in this article
Request More Information
Fill out the form below to request more information about
New Gradall Series V Excavators will Meet Tier 4 Final with Volvo Penta Engines