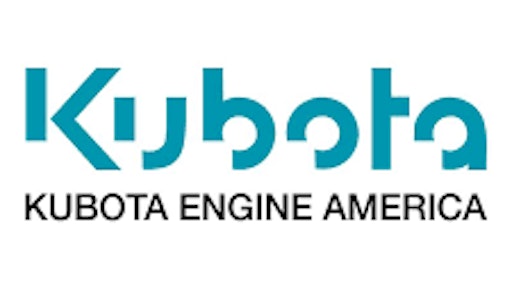 Kubota Engine America Corp. will showcase a variety of versatile diesel and gasoline engines at The Rental Show in California, Feb. 18-20, 2019, inside booth #5221.
Kubota has provided engines to power a variety of equipment for 97 years. This allows rental stores to build a powerful and reliable fleet for customers. The engines Kubota will have on display include:
Z482-E4BG Engine: Tier 4 certified and Stage V ready, this engine is designed for LED light tower applications. It is the only two-cylinder, water-cooled diesel engine in its size class to deliver stand-by output of 5.6 HP and continuous output of 5.1 HP at 1800 rpm. The engine is compact allowing for OEM design flexibility.
D902-T-E4 Engine: Far lighter and more compact than comparable engines, this engine offers an output of 24.8 HP at 2800-3200 rpm and a maximum torque of 53.2 lb-ft at 2400 rpm. The high torque with the lower rpm produces minimal noise, while the addition of a turbo-charger makes it a versatile and powerful engine especially useful for applications at high altitudes. This engine does not require any aftertreatment and complies with U.S. EPA Tier 4 Final and EU Stage V. It's spark-ignited counterpart, the WG972, will be on display. 
V1505-CR-T Engine: This engine is a vertical, water-cooled four-cylinder, turbo-charged diesel engine that can achieve a rated output of 44.3 HP at a speed of 3000 rpm with a maximum torque of 87.4 lb-ft at 2000 rpm. It's spark-ignited counterpart, the WG1605, also will be on display. 
V2403-CR-TI-E4B Engine: This engine model is available with a diesel oxidation catalyst (DOC) aftertreatment only solution or DOC + diesel particulate filter (DPF). Delivering an output of 65.2 HP at 2700 rpm.  It's spark ignited counterpart, the WG2503 will also be on display.
LowboyPro GL14000:  Fully enclosed and compact 60Hz, the 14 kVA single-phase generator is Tier 4 certified. It is powered by Kubota's reliable D902 diesel engine and is much quieter than similar generators in its class, with noise levels as low as 65 dB while running. 
For more information on Kubota products stop by booth #5221 or visit: kubotaengine.com/.