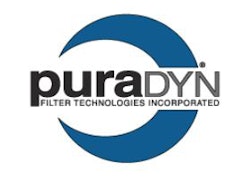 Puradyn Filter Technologies Inc. has been selected to supply its engine bypass oil filters to John Deere for the company's construction and forestry products.
Puradyn designs and manufactures the Puradyn oil filtration system, a high efficiency bypass oil filter for all types and sizes of engines to maintain engine oil cleanliness and chemical balance.
"Approximately five years ago, we began working with the Construction & Forestry Division as part of a program to help reduce customers' operating cost through condition-based maintenance," said Kevin G. Kroger, president of Puradyn. "Continued pressure of higher oil prices is forcing companies to look for alternatives to help reduce operating costs.
"With its micro-fine filtration technology, which removes solid contaminants to below one micron, removes water, and replenishes the base additives and viscosity enhancer, the Puradyn system allows equipment owners to operate machines on continuously clean oil, reducing operating and repair cost while keeping the equipment functioning at peak performance."
Kroger concluded, "Puradyn is honored and proud to join John Deere's family of suppliers."
Companies in this article