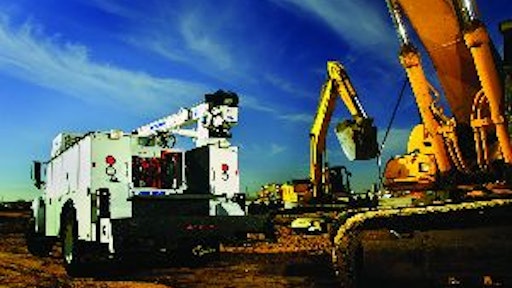 In today's environment of increasingly tighter component tolerances and climbing fluids costs, getting equipment serviced in the field in a timely manner using clean, contaminant-free products is more important than ever.
Contamination issues have really changed the dynamics of on-site lubrication, indicates Tim Worman, product manager for commercial vehicles, Iowa Mold Tooling (IMT). "Introducing even a small amount of dirt into a hydraulic system can take a piece of equipment down, and downtime is the worst enemy of revenue generation," he says. "Contamination control is becoming more and more important."
Fortunately, lube skids, trailers and trucks provide you with a choice of efficient fluid delivery methods. To determine which option best fits your operation, evaluate your specific uses for the unit.
"Careful consideration of all of the factors will yield a system that is designed to accomplish the duty (or range of duties) required by the end user, making him effective and efficient in servicing his equipment," says Phil Halt, director of marketing, Auto Crane.
Size vs. mobility
Lube skids are small in size and have the lowest price point. They can be transported on a flatbed or in the bed of a pickup and loaded and unloaded as needed. They're also a great complement to mechanics trucks, where they can be used for fluid top-offs, emergency maintenance or primary lubrication when large fluid volumes aren't required.
Skids can be a good choice when fueling isn't needed or you want to separate lube and fueling functions. "[They work] well when a contractor wants to designate personnel to the oil change and greasing function only," says Phil Seidenberger, vice president of product development, Sage Oil Vac. "This allows job specialization and the contractor doesn't have engine mechanics performing oil change tasks."
Even large fleets can benefit from a lube skid, says Bryan Hayes, owner, Valley Engineering. A skid can easily service a few pieces of equipment brought to a jobsite before the bulk of the work begins or those left on site once the majority of the work is finished. "They need some way to service smaller spreads," he adds, "and it makes sense to use smaller lube equipment for just a few machines."
Moving to a lube trailer provides many of the same advantages, but with greater capacity. Their enclosed environment also protects against vandalism, theft and the elements. "Water is a contaminant," says Hayes. "Also, if you have oil filters and other consumables in boxes, they can't be exposed to the weather."
An enclosed unit also stays cleaner. "Any time you get [dirt] on a reel, hoses, etc., you have a chance for contamination," says Hayes.
Ease of transport is another benefit. "It's common for a smaller contractor to have several jobs going at once that can be scattered on opposite ends of town," says Hayes. "A trailer is easy to move between those jobsites."
When maximum fluid capacity is needed, you will likely need to move to a lube truck. "More products and quantity of products can be transported with a lube truck," says Seidenberger. "Contractors with more pieces of equipment or larger equipment might have the need for 150+ gal. of used oil or new oil tanks, which are not common capacities for lube skids."
You can also incorporate fueling or fueling top-off into a lube truck. However, fleet size typically determines whether you can justify the capital expense required.
"This point typically occurs when the contractor is running a job or series of jobs where the combined fuel use of the equipment is about 750 to 1,000 gal. per day," says Halt. "At that point, there is enough equipment running that the expense of fueling and maintaining the equipment on a daily basis can be absorbed by the operation."
A side benefit of adding fueling to the lube truck is a qualified service person sets eyes on each machine every day. "This person is able to track and forecast maintenance events," Halt comments. "[This] helps the contractor plan maintenance intervals that prevent small maintenance items from progressing to catastrophic failures, which cause downtime and cost real money."
There is a tendency, however, to focus too much on the refueling aspect. "Many times, contractors will operate a fuel and lube truck combination utilizing 1,000 gal. of diesel," Seidenberger says. "The demand put on the truck for fueling distracts from the lubrication and oil changes that need to be performed, resulting in equipment going too long without an oil change, or improper greasing intervals. This may be a good opportunity to separate oil change and fueling functions by purchasing lube skids for oil changes and having dedicated fuel trucks or tankers."
Calculate capacity
Mobile lube equipment can be configured to carry oil products, grease, fuel, antifreeze and sometimes water. Many contractors also opt for systems to recover used oil and antifreeze, as well as used filters.
Check with your lube equipment supplier to see if they offer a program for determining how much of those fluids you're actually using and how much capacity you will ultimately need.
"That relates directly to a recommendation on size of lube equipment," says Worman. "Then you balance that with your preventive maintenance schedule. There really isn't any set standard. It"s about understanding the application and the equipment you're servicing."
It also relates to how often you anticipate being back in the shop, or how close you are to your fluids provider. "If you're in the shop every day, you can get by with smaller equipment," says Worman. "If you're back every three days, you will need something larger."
"The bigger the tanks, the cheaper per gallon your cost will be for fluids," adds Hayes, since you can buy in volume. However, you need to pay attention to weight. "Consult with the manufacturer to ensure you don't overload your truck, which can shorten vehicle life and lead to fines [due to overloading]."
Keeping a lube truck below 26,000-lb. GVW is a desirable goal to avoid CDL requirements. "Larger trucks are available if you need that much capacity," says Hayes. "But if you don't, you don't have to have a dedicated CDL driver."
With a lube skid mounted in the bed of a mechanics truck, take into account the weight of the truck body, crane, air compressor and all tools and parts. "You have to be careful with the amount of payload you have left so you can even carry the lube skid," says Worman. "You have to look at the entire package and how it integrates together to maintain legality and still do your job."
In an effort to keep the payload low, IMT offers polyethylene tanks. "A 50-gal. poly tank will weigh 80% less than a 50-gal. steel tank," says Worman.
Options abound
Various options and features are available to customize mobile lube equipment to your application.
For example, in colder climates, you can add heat to enclosed units to maintain the viscosity of oils when temperatures plummet. Tank heaters can be added to further maintain a more favorable environment.
Filter crushers can be advantageous in situations where storage space is at a premium. Additional supply tank filters can further minimize contamination. Generators can be added to run 110-volt lights. And pressure washer systems can assist with cleaning and maintaining the equipment being serviced.
There are also a number of filling systems available, depending on the manufacturer.
IMT offers a quick-fill system designed to minimize the introduction of contaminants and provide the ability to fill the lube truck tank from a bulk supply area without opening the tank.
Sage Oil Vac skids, trailers and trucks feature pumpless used oil recovery and fresh fluid delivery, so you can vacuum fresh fluid from drums or totes without a drum pump or other pumping system. "If the jobsite is remote, this will come in handy since the contractor may not have good means for pumping oil from 55-gal. drums or totes," says Seidenberger.
Other options can enhance operator productivity. Sage Oil Vac offers outside storage capacity and outside work lights, and IMT offers compartments down the side of the truck for accessing filters, parts, etc. "When the operator has to climb in and out of the tank deck, that takes away from the productivity at the jobsite," says Worman. "If the operator keeps his feet on the ground, he's being productive and can get the job done faster. Outside storage is a key feature for our equipment."
Also take a look at the pumping system. Many units come with some type of air supply that can be used to clean the radiator and pump fluids.
Sage Oil Vac lube trucks can be spec'd with a large air compressor driven by a small gas or diesel motor. "The air compressor creates vacuum that is good for four to five oil changes, so the air compressor doesn't have to run continuously. This allows the lube system to be operated without idling the truck engine," says Seidenberger. "That's an important feature with today's fuel prices and diesel particulate filters on new Tier engines."
IMT systems are hydraulically driven. According to Worman, they're quieter, more efficient and have a higher rate of flow without having a large compressor to drive air.
In the end, Hayes suggests including your service manager in any decision about mobile lube equipment. "He's the one who is aware of the types of oils and quantities needed," he says. "He'll also be aware of any accessories that can be beneficial."