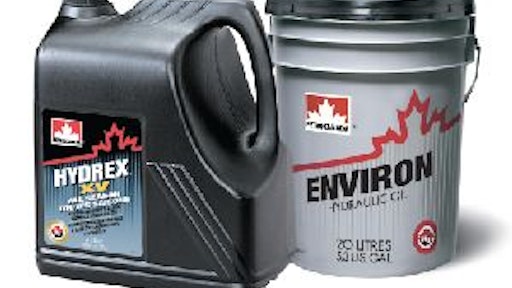 The reliability of a construction company's equipment has a great influence on profitability. This is why companies like Taggart Construction Limited depend on lubrication products to keep equipment up and running.
The Ottawa-based company was founded in 1948 by Harold Taggart. It got its start building homes, but is now involved in various projects including the construction of bridges, roads, sewage treatment plants, sewers and water mains, retaining walls, box culverts, solid waste management facilities, storm water management systems and water treatment plants. Currently, the company employs 200 people and is part of the Taggart Group of Companies.
Tony Labadie, equipment manager, takes care of the company's equipment and trucks, which include varying sizes of excavators, dozers and track loaders. As with many construction companies, Taggart Construction's equipment must operate in a wide range of conditions. These conditions can create a variety of challenges.
"Last year was especially cold," says Labadie. "We had lots of problems with cylinders leaking, so we spoke to Petro-Canada Fuels and went to HYDREX XV just for cold weather starts."
Since the switch, Labadie hasn't seen a single leak. "Our hydraulic equipment sounds a lot better when it starts in cold weather," he notes. "Downtime is my biggest fear. When we're down, we're not making any money. Using a quality hydraulic fluid helps eliminate possible downtime. With cold weather the possibility of blowing seals increases, which would create downtime. That's where HYDREX XV has helped."
HYDREX XV is a long-life, anti-wear hydraulic fluid designed for use year-round in heavy-duty hydraulic systems. It delivers increased productivity in all seasons and reduced costs through product consolidation.
"I actually plan to turn our entire fleet over to HYDREX XV," says Labadie. "Currently, about 30% of the fleet switched over, and every time I get a piece of equipment in I always switch."
Environmental Responsibility
Labadie also has environmental concerns to take into consideration. "When we work around water, we need to be especially careful, so we switch to a non-toxic hydraulic fluid," he explains. "Basically, it's more of a precaution than anything else."
"Just over a year ago, we had a job working in a river," says Labadie. "We weren't asked to use a product designed for environmentally-sensitive areas, but thought it was a good idea to eliminate any possibility or chance for the unforeseen. So we drained our regular hydraulic fluid and switched to a non-toxic fluid. It's been great."
Taggart switched to ENVIRON AW, which are non-toxic, inherently biodegradable and recyclable hydraulic fluids designed for use in both mobile and stationary heavy-duty hydraulic systems. Both HYDREX XV and ENVIRON AW are formulated using the patented HT purity process, which produces 99.9% pure base oils. Petro-Canada then blends these base oils with specialty additives to deliver optimal hydraulic performance.
"The switch to ENVIRON was totally precautionary. It bought us peace of mind," says Labadie. "We haven't drained the ENVIRON since our job in the river; we've been so busy that it's been difficult to switch. It functions well, so there is no need for an immediate drain."