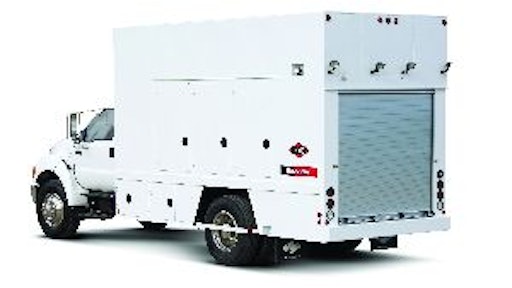 IMT SiteStar Enclosed Lube Truck
The enclosed SiteStar comes in a 17- or 13-ft. body, and is designed to shield product tanks and personnel from elements when doing lube services in the field.
More than 260 interchangeable tank configurations available
Polyethylene product tanks provide an 80% reduction in tank weight, cleaner storage, easier tank replacement and contamination control
Fuel tank can be easily installed ahead of the main platform
Rypos Diesel Engine Filter
The HDPF/CT diesel engine filter has been shown to reduce soot by 93% and nitrogen dioxide by 96%, while scrubbing particulates from the exhaust.
Traps soot in a sintered metal mesh
Filter elements cleaned by application of an electric current that heats the metal
Automatically regenerates, reducing pollution, fuel consumption and maintenance costs
Designed for OEM manufacture or retrofit to 134.1- (100 kW) to 2,682-bhp (2 MW) engines
ConocoPhillips Triton Synthetic Gear Lube
Triton Synthetic Gear Lube 75W90 and 80W140 are certified to meet the latest Dana SHAES 256 Rev C specification for extended drain gear oils.
Approved for 500,000-mile drain service in

Dana

heavy-duty final drive axles
Meets O-76 N (75W90) and O-76B (80W140) for 500,000-mile drain service in ArvinMeritor heavy-duty axles
Mack GO-J Plus (75W90) approval for extended drain service in Mack axles
Sage Oil Vac 11126 Lube Trailer
The 11126 lube trailer features a patented vacuum and pressure system with no pumps required.
One 120-gal. used product tank and five fresh fluid tanks with 360-gal. capacity
Reel cabinet with 25-ft. spring retractable hose reels
8-hp onboard air compressor
Baldwin Channel Flow Air Filters
Channel Flow air filters incorporate a flat, corrugated media that is inherently strong, eliminating the need for a centertube and metal wrappers.
Durable frame encloses media pack, protecting it from damage and preventing air from being drawn in through the sides
Stronger media support protects against increases in differential pressure
Non-metal filter element for more environmentally friendly disposal
Shell Malleus GL Grease
Shell Malleus GL and Malleus OGM are designed for the lubrication and protection of open gears and wire ropes subjected to extreme load and temperatures.
Contain EP (extreme pressure) chemistry and a combination of solid additives to enhance load-carrying capability
Lead- and solvent-free Malleus GL can be used as a multi-service lubricant for the entire machine
Lead-free Malleus GGM medium contains a solvent to enhance pumpability for extreme ambient climate conditions
Chevron Extended Life Coolants
The enhanced Delo and Texaco Extended Life Coolants provide protection for the life of the average heavy-duty engine cooling system.
New formulation protects cooling systems of on-road vehicles for eight years or 750,000 miles and off-road vehicles for 15,000 hours without the use of chemical additives or extenders
Formulated to provide enhanced heat transfer capabilities, reduced electrical conductivity and improved corrosion protection
Suitable for engines using EGR or ACERT technology
Castrol Blue Hydraulic Plus
This high-performance, anti-wear hydraulic fluid offers greater hydraulic stability to protect hydraulic systems from the harmful effects of water contamination.
Formulated with up to 50% more performance additives
Delivers a higher margin of safety and provides optimal deposit control
Clean Burn Energy Systems
Clean Burn furnaces and boilers transform used oil into free heat.
Used oil coil tube boilers recycle used oil into hot water technology
Used oil furnaces available in low-profile versions for areas with limited ceiling heights, and large-volume versions to provide high-volume heating capacity
Self-contained used oil recycling center works in tandem with used oil furnaces and has a 250-gal. storage tank
Donaldson Filter Cart
Donaldson's filter cart offers a convenient solution for off-line filtration, flushing and fluid transfer.
Two in-series pressure filters remove coarse/fine particulate matter
Water-absorbing element may be installed to further remove particulate matter and water
1-hp motor coupled with a 10-gpm pump for efficient fluid transfer and filtration
Safety relief valve prevents over pressurizing and damage to pump, hoses and filters
Overload protection switch prevents overheating
Rugged, durable frame
Masterlink Oil Buddy II
The spill-proof Oil Buddy II oil spout allows for easy refilling of fluids in construction vehicles and equipment.
Spring-loaded, automatic on/off valve designed to eliminate spills and extra cleaning
Available in two colors to differentiate between fluids
Fits standard 4- to 6-qt. containers and 4-liter/1-gal. antifreeze coolant and windshield wash bottles
New Pig PIG Drum Filling Shelf
The PIG drum filling shelf allows fluid dispensing containers to be positioned in close proximity to drum pumps to reduce the risks of spills and drips.
Adjustable steel strap brackets attach securely to drum and accommodate various container sizes, weights and configurations
Ribbed top can capture and retain up to 32 oz. of liquid
Chemical-resistant, easy to clean polyethylene construction