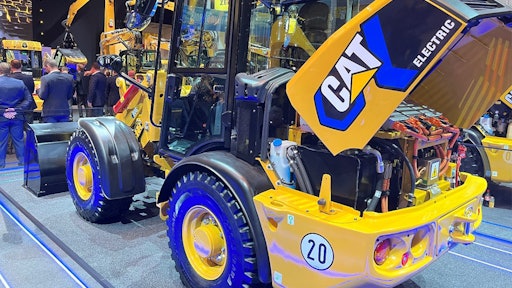 Interact Analysis
The inevitable move from diesel-powered off-highway vehicles has started slowly, but is gaining momentum, and equipment users will see significant changes over the next decade when it comes to the makeup of their fleets. This will have a knock-on effect on the lubricants they choose to use in their equipment, and we predict there will be big adjustments for the oil, lubricant and hydraulic fluid industry, as companies respond to the challenges and opportunities posed by the shift from diesel to new fuel vehicles.
Battery-electric vehicles (BEV) in particular are expected to see sales rise over the coming years, with certain vehicle types, such as trucks, forklifts and mini excavators, already seeing electrified versions developed, launched and proving popular. Higher numbers of electric machines mean fewer moving parts and less lubrication is required, and also makes electric vehicles less likely to break down or need maintenance than diesel ICE machines. Companies switching their fleets from diesel ICE to new fuel alternatives will see a number of differences when they do so and should be aware of what these are – it will serve you well to be prepared for them. When it comes to purchasing oil and hydraulic fluid, this article will examine the changes taking place, predictions for the future and what this all means for lubricant manufacturers and their customers.
Battery-Electric Vehicles to Lead the New Fuel Revolution
The days of diesel as the leading vehicle fuel are numbered. Most of the adoption of new vehicles will be in battery-electric, but there will also be some adoption of hydrogen internal combustion engine (H2ICE) and hydrogen fuel cell (HFC) vehicles, particularly for larger off-highway vehicles with higher load and power requirements, such as mining equipment.
This change is not taking place overnight, but a rapid uptake of battery electric trucks and buses is going to reduce demand for diesel fuel. This has started off slowly, but will accelerate out to 2030, particularly in certain markets. For example, we forecast the total number of battery electric trucks in operation globally will rise to around 1% by 2025, then leap to 7% of trucks on the road by 2030.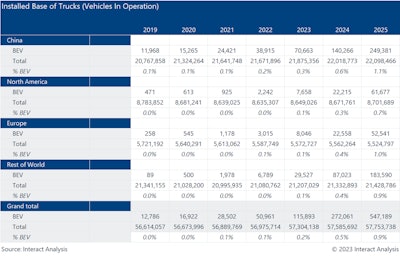 Off-Highway Equipment Transition Taking More Time
The off-highway market is taking a much longer time to transition toward zero emission power trains and away from combustion engines, particularly in relation to larger machinery. Variations between machines, with each often requiring different components or design, often make large-scale production of off-highway equipment more complicated, whereas most trucks have very similar design and components.
However, the market is moving toward new fuel equipment and it should probably come as no surprise that material handling solutions – like forklifts or AWPs – are electrifying fastest as they have low intensity duty cycles and are easy to charge. Larger construction equipment could be better suited to hydrogen ICE and more tailored formulations in the longer term as it is not easily powered by BEV technology, and machinery deployed in remote locations cannot be easily recharged.
As you can see from the chart below, material handling solutions such as forklifts or AWPs are electrifying fastest as electrification is already well-established in these applications. Compact construction equipment (eg smaller excavators and CTL/skid steers) are also performing strongly but are unlikely to reach 20% BEV penetration rates by 2030 in most countries. Larger equipment and machines deployed in remote locations will be much slower to electrify by 2030.
Electric vehicles have fewer moving parts and so will require less lubrication than diesel ICE engines. However, progress within the off-highway commercial vehicles market is particularly slow and there are very few large vehicles currently available that are electrified.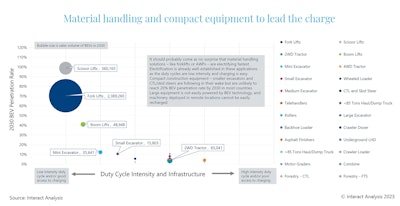 Some Lubricant Manufacturers Have Made a Start
The clear trend towards electrification, in particular BEV, has prompted some lubricant manufacturers to launch e-lubricant formulations onto the market or to start developing them.
When it comes to new fuel vehicles, there is more need for lubricants in Hydrogen ICE vehicles, as the engines are more similar to conventional ICE.
Now is the ideal time for oil and lubricants manufacturers, OEMs, and their customers, to think about what these new formulations might consist of, and what gets the best performance out of an electric, hydrogen or biodiesel engine. We advise lubricant manufacturers to forge partnerships with companies like OEMs and new fuel engine makers as this could result in big payoffs in the future for those companies that get new formulations right. We expect to see new lubricants and formulations coming onto the market that are specifically designed to get the best performance out of zero emission vehicles and their engines.
In this new report, Global Truck, Bus and Off-highway Vehicle Electrification and Alternative Fuel: How will electrification and alternative fuels shape the commercial vehicle fuel and lubricant markets?, we stress that lubricant developers, manufacturers and vendors need to make preparations for the huge changes taking place in their industry over the next decade, including making sure they have access to more information and analysis about what it means for them.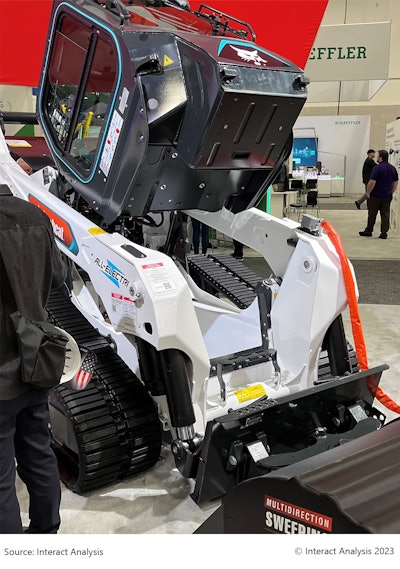 What are the Potential Pitfalls, Benefits for New Fuel Equipment/Lubricant End Users?
For equipment users and lubricant customers, such as construction contractors, there are relatively few potential problems and many benefits to gain. One of the issues companies who are switching from diesel BEV to new fuel vehicles, such as battery-electric, should look out for is the potential requirement for some maintenance technicians to retrain. With some battery-electric and hydrogen-electric vehicles being high voltage, those responsible for the maintenance and upkeep of fleets could need additional qualifications to be legally able to do so, depending on where in the world they are operating, and will need to develop a different skillset in order to work with radically different engines.
However, construction contractors and other end users will also benefit from the significantly lower demand for maintenance offered by battery-electric and hydrogen-electric vehicles. For end users, the switch to electric is going to mean a change in how often they need to perform maintenance (much less often as no oil or filters to change) and, consequently, the cost of maintenance. This also means that the machine will have more 'uptime', so that it can be used for more of the time and generate more revenue.
Tailored e-lubricants could play a role in enhancing the efficiency of off-highway machines, with products that improve the performance and longevity of moving parts, and some companies are already working on new formulations for electric vehicles. Reducing friction and energy consumption is even more important for new fuel vehicles in order to improve battery life or reduce time between refuelling, and the oil, lubricant and hydraulic fluid formulations of the future are likely to reflect this.
In addition, there are environmental benefits for companies operating battery-electric and new fuel vehicles beyond reducing their contribution to greenhouse gas emissions. For example oil spills and hydraulic fluid spills are bad for the environment and can affect a company's reputation and bottom line when clean ups are required. With greater demand for more sustainable and environmentally-sensitive products, there are opportunities for lubricant companies to develop greener formulations. In fact, products are already being developed for the forestry industry and other areas where the environment is of greater significance.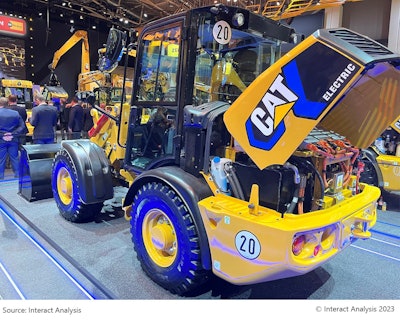 The Future Will See New Formulations for a Growing Number of New Fuel Vehicles
The move towards new fuel vehicles both on and off-highway is inevitable, with legislation requiring the switch to zero emission machines increasing and more incentives to include them in fleets. As is evident from our research, there is still time to prepare for the changes, but manufacturers, including lubricant developers, need to start now in order to be able to offer the market what they need to get the very best out of battery and hydrogen-electric vehicles.
Equipment end users should be aware of the developing trends and of what they can do to ensure they have the best possible machines to meet their needs, selecting the right formulations for oils, lubricants and hydraulic fluids in order to get the highest performance and energy efficiency from them.