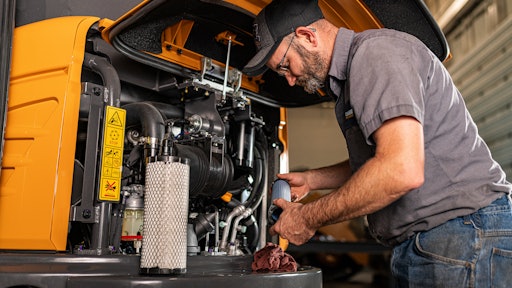 CASE
In the world of construction, where projects are bound by tight deadlines and rigorous demands, there is no time to waste on equipment downtime and unexpected maintenance issues. For operations to run smoothly, proper maintenance must be a top priority, as every minute your machinery is down leads to revenue loss. That's why shifting gears to a more preventative maintenance approach will help you elevate your operational success. Implementing a proactive strategy has been shown to increase worksite productivity, ensuring that your projects stay on schedule and that your equipment continues to operate at peak efficiency.
By implementing a planned maintenance program, your construction operation can concentrate on its core business without the added concerns associated with unexpected maintenance, such as finding skilled individuals to perform the necessary maintenance tasks.
What a Planned Maintenance Program Has in Store for You
What does it mean to have a maintenance program? Essentially, it's a comprehensive maintenance agreement that covers all manufacturer-recommended maintenance tasks, allowing dealer technicians to effectively service and maintain your equipment.
In terms of benefits, regular maintenance and inspections conducted by experts at recommended intervals can enhance equipment performance and efficiency, reduce overall downtime and operating costs, increase equipment longevity and resale value, and improve safety on the jobsite. Another advantage of a planned maintenance plan is the use of Original Equipment Manufacturer (OEM) parts and fluids specifically designed for your machine's optimal performance.
Proper equipment functionality enables projects to progress efficiently without costly interruptions and downtime, ultimately resulting in increased profitability of the operation. Moreover, performing routine maintenance tasks, such as changing filters, lubricating parts and adjusting components, is far less expensive than repairing or replacing damaged equipment. This adds up to a higher return on investment and operational cost savings in the long run. Additionally, equipment with a detailed maintenance history can retain a higher resale value as it demonstrates to potential buyers that the machine has been properly cared for.
For equipment reliability, well-maintained machinery experiences less wear and tear, preserving its integrity and extending its lifespan. Having equipment in good working condition also helps with reducing the risk of incidents caused by machine malfunctions on the jobsite.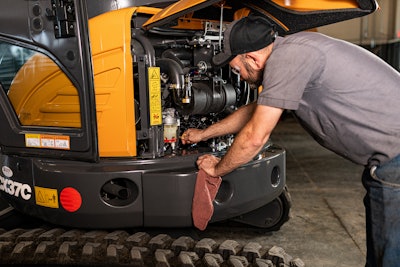 Building, Implementing & Tracking Your Maintenance Strategy
When it comes to building a maintenance strategy for your machinery, having a strong relationship with your OEM is crucial, as they have the expertise and industry knowledge necessary to guide you in your maintenance journey.
In order to develop a successful maintenance plan, it is important to communicate with your dealer regarding the specific demands of your equipment, its rate of usage —in a given day, week, month or year— and any other observed issues or relevant concerns that you have about the machine.
Fortunately, thanks to advancements in telematics technology, there is much better visibility today than in the past regarding how much the equipment is being operated and the level of usage of that equipment.
By taking into account the construction application of your equipment and its operating conditions, your OEM can customize a comprehensive maintenance program that is specifically tailored to meet the needs of your machinery. Your maintenance plan will outline the recommended intervals when routine service tasks and inspections will be required within a well-structured maintenance schedule. This ensures that maintenance is properly planned and executed and that the machine achieves its intended goals.
In terms of scheduling, maintenance services can also be arranged to the flexibility of your construction operation. Whether it's after hours, on weekends or during times when the equipment is not in use, your OEM will work with your schedule.
On the other hand, it is important that you keep track of when your machine services need to be done. To stay on top of your equipment maintenance schedule, take advantage of any maintenance tracking systems or software offered by your equipment dealer to monitor service history, track upcoming maintenance tasks or receive timely reminders.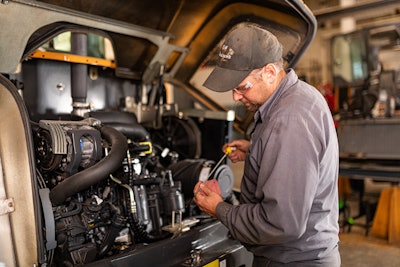 Monitoring Your Plan's Effectiveness
To make sure your maintenance plan continues to meet your equipment needs over time, it is essential to monitor its effectiveness. Keeping a comprehensive record of all maintenance tasks performed on your construction equipment is one way to assess if your maintenance program is delivering the desired outcomes and goals.
Accurate record-keeping also aids in identifying areas that need improvement so necessary adjustments can be made to improve your equipment upkeep. If you notice an increase in downtime or repairs, make sure to notify your dealer so that they can evaluate what changes to make.
Another valuable source of insight into the functionality of your maintenance procedures is the equipment operators themselves, since they interact with the machines on a daily basis.
Overall, this is a proactive, cost-effective and customizable maintenance solution that offers construction businesses the opportunity to optimize their equipment maintenance and be more efficient on the jobsite. By prioritizing preventative maintenance and devoting to a planned upkeep program, you can safeguard your equipment investment. A planned maintenance program is a valuable asset as it maximizes fleet performance and equipment longevity, while also reducing downtime and operation costs. Most importantly, it promotes safety within construction sites and provides peace of mind by guaranteeing that your equipment is properly maintained with high-quality parts and certified services.
Don't wait for costly downtime; choose the proactive path of conducting regular maintenance with your equipment dealer. By doing regular maintenance and addressing potential issues before they become major, you not only save time and money, but you also improve operational productivity, ensuring that your equipment performs optimally.
Talk to your OEM today about the right proactively planned maintenance strategy.