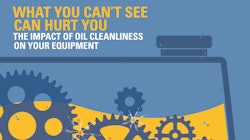 Your equipment is being damaged by contaminants in the oil that you probably can't even see.
Particles are typically measured in microns. A micron is one millionth of a meter, which is equal to 0.000039 inches or 9.906e — 5 centimeters. Most people cannot see something that is smaller than 40 microns.
The particles that do the most damage are in the 1 to 10 micron range. These clearance-size particles enter the lubrication zone between machine parts and generate wear. The particles typically enter the oil after floating in the air or from water vapor.
It doesn't take much to contaminate clean oil. As little as one teaspoon of dirt in 55 gallons/208 liters of oil could equate to about a billion particles 4 microns
and larger.