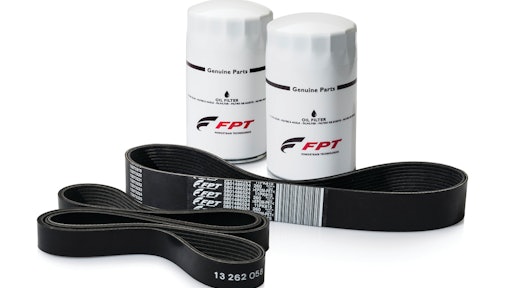 In a presentation to investors and media at the CNH Industrial Investor Day last week in Auburn Hills, MI, Dino Maggioni, global brand president, highlighted the company's mission and goals for its Parts & Service business segment.
"Our mission is to support machine sales, make dealers more effective and minimize machine downtime and total cost of ownership," Maggioni stated. "It's not inconvenient if a machine goes down – it means it's not earning money.
"Our plan is to provide service excellence to the customer," he continued. "We will work with dealers to ensure over-the-counter parts availability, and to offer the best value proposition for parts and service. Our plan is to improve parts penetration by 10%."
To achieve this, CNH Industrial, parent company to the Case and New Holland brands, is leveraging its existing fixed infrastructure and systems to deliver productivity improvements. "We are working on a comprehensive efficiency plan across the group," said Richard Tobin, CEO, CNH Industrial. "We have identified aspects to improve production capacity and competitiveness across the business."
CNH Industrial currently has 57 parts depots globally capable of shipping 36 million lines per year. It plans to expand modestly to 61 depots that are capable of shipping 50 million lines per year.
"We are working to manage parts inventory on a worldwide basis," said Maggioni.
This will include the co-location of parts depots to allow more depots in closer proximity to the dealers, and global inventory management to ensure efficient inventory levels are maintained in each region, with adequate safety stock and critical parts.
Support for the Life of the Machine
As equipment ages, parts consumption typically increases. CNH Industrial plans to address this need by supplying service, parts and accessories that support the entire life cycle of the machine.
Maggioni noted that parts penetration by the OEM tends to decline over the life of the machine. As a machine moves from the original to a second or third owner, support tends to shift to third-party service and parts suppliers.
CNH Industrial intends to interrupt this shift by providing a wider offering of parts, service, accessories and attachments. "Our goal is to shift the parts penetration trend line up to capture more parts sales and customer loyalty through Second Line parts," Maggioni stated. "We plan to expand in the 'sweet spot' of three to eight years of age. Second Line parts are dedicated to the second and third owner that are very sensitive to price."
CNH Industrial is also introducing a common branding strategy for its Genuine parts, introducing savings via standardization, packaging and inventory. "We have more than 2 million part numbers with a high number of common parts between brands," Maggioni indicated.
He also pointed to the company's remanufactured parts joint venture (CNH Reman LLC) as a "true success story in North America." Based in Springfield, MO, the 50% joint venture produces reman engines and engine components, drivelines, hydraulics, electronics and injectors and compressors and turbos. A second dedicated FPT powertrain manufacturing facility is located in Garchizy, France. The Parts & Service group plans to leverage the knowledge built up in NAFTA and Europe to expand its offering to customers in Latin America and the Asia Pacific.
Service agreements represent another strategy to retain customer loyalty over the life of a machine. "Maintenance and repair contracts are becoming standard in the industry," Maggioni commented. "An increasing number of customers want full control of costs without any surprises."
Services available through these agreements – such as telematics technology in the form of ProCare for construction equipment – allow equipment owners to take advantage of technology to monitor and effectively manage machine performance.
Bigger Piece of the Pie
The strategies being implemented by the Parts & Service group are intended to better service the customer over the machine life cycle, while allowing the company to capture further share in the parts and service market.
"We have a lot of initiatives. Basically, all our competitors are trying to use the same weapons to get more market share," Tobin acknowledged. But he added that the space for growth is big. "We have a share in line with competitors, but room for improvement is quite huge. I think 10% [growth] is absolutely realistic."