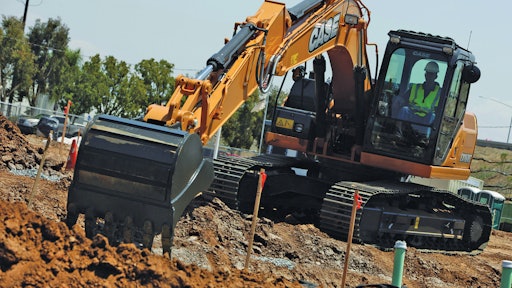 During the CNH Industrial Investor Day, held May 8 at the Chrysler Technology Center in Auburn Hills, MI, Massimiliano "Max" Chiaro, chief financial officer, discussed elements of CNH Industrial's five-year business plan, which includes the objective to reach $38 billion in net sales from Industrial Activities (up $5.6 billion from 2013 actuals of $32.7 billion) and nearly triple net income to $2.2 billion by 2018.
The manufacturer of Case and New Holland construction and agricultural equipment, Iveco commercial trucks and buses and FPT powertrain components also intends to grow operating profit from Industrial Activities to $3.4 billion over the five-year period from 2013 to 2018, an increase of $1.3 billion over 2013 levels. Operating margin is forecast to improve from 6.4% to 9.0%.
CNH Industrial Announces Q1 2014 Revenues of $7.5 Billion, Net Income of $101 million
Chiaro further cited the company's ongoing investment in organic growth within its various product segments. CNH Industrial plans to invest $11.7 billion during the period to support product renewals and powertrain energy efficiency programs. According to Chiaro, investments will be weighted toward the highest return on capital businesses:
continued ag and construction equipment expansion in the Asia-Pacific (APAC) region
commercial vehicle and construction equipment production and range expansion
completion of production footprint rationalization
and moves to increase equipment and vehicle fuel efficiency and productivity
These investments are expected to enable the company to be debt free by the end of the plan period, said Chiaro. The forecast calls for net industrial debt to improve gradually in the first part of the plan, and then accelerate to a net positive balance of $500 million by 2018.
Construction Equipment Segment
Construction Equipment net sales for the company are forecast to increase $1.3 billion during the five-year period, reaching $4.6 billion by 2018. This represents a more than 8% margin improvement from -3% in 2013 to +5.1%.
Construction Equipment at the company is split into Heavy and Light segments. The Heavy segment includes crawler excavators, wheel loaders, dozers and graders targeted to large contractors, municipalities and other heavy industrial equipment users.
"The Heavy segment is tailored to large building construction and public works (infrastructure) projects," noted Richard Tobin, CNH Industrial CEO and brand president of Case and New Holland Construction. "The Heavy segment includes mission-specific products specifically designed for large-scale applications. Total cost of ownership, machine uptime and vehicle service packages are important [to these customers]."
The Light product segment includes loader-backhoes, mini-excavators, skid-steer and compact track loaders, lift equipment (telehandlers and rough-terrain forklifts) and compact wheel loaders. Markets for the segment include rental, residential construction and landscaping. "We have a historically strong position in the Light segment in NAFTA as evidenced by our market positions in skid-steer loaders and loader-backhoes," Tobin indicated.
From a global perspective, the construction equipment industry is expected to grow over the next five years in total unit volume, spurred by market expansion in the APAC and NAFTA regions. The largest growth for the company is expected in the APAC region (+5.1% by 2018), driven by China and India. The NAFTA region is expected to improve by 2.9%.
CNH Industrial's Heavy product line represented 75% of its total construction equipment sales in 2013. Both the Heavy and Light product ranges are expected to maintain the same proportion of the total industry over the next five years. Wheel loaders are expected to continue to be the highest growth rate product within the Heavy range. Among Light products, mini- and midi-excavators are expected to maintain a sustained growth rate.
CE Strategic Initiatives
During his Investor Day presentation, Tobin identified three strategic initiatives for Construction Equipment over the five-year plan period:
Case and New Holland brand repositioning
Excavator strategy development with a single partner
Growth in emerging market business development
CNH Industrial is continuing the process of repositioning the Case and New Holland brands that it started in 2010 in the NAFTA region. According to Tobin, the strategy for the group is to position Case as a full line brand with its own dedicated distribution network and a focus on technology (e.g., proprietary SCR technology) and a comprehensive service offering (ProCare). New Holland, which serves as a light and compact equipment supplier, will now have access to the New Holland agriculture brand network. The company hopes to grow market share by leveraging sales within its Agriculture brand distribution.
Key product initiatives for the Heavy product segment will include a new full-size crawler excavator family. CNH Industrial announced last month that it had entered a new licensing agreement with Sumitomo Construction Machinery Co. to manufacture Sumitomo-designed crawler excavators (ranging from 13 to 35 tonnes) at designated plants within its manufacturing network. The agreement also extends the existing global supply agreement to the Case and New Holland brands and Sumitomo. Sumitomo has supplied excavator models ranging from 7 to 80 tonnes to CNH brands since 1992.
According to Tobin, this single supplier strategy will provide CNH Industrial with increased commercial flexibility for product customization and speed to market; increased manufacturing footprint activity in Europe (EMEA); and the ability to utilize FPT powertrain components within the excavator product family. "We have finalized our strategy in excavators," he stated, "and firmly believe our competitiveness has improved."
CNH Industrial further plans to grow its Construction Equipment net sales by focusing on emerging markets business development. It plans include reinforcing its product line-up in Latin America; expanding its line-up in India; strengthening and development of its distribution network in the APAC region; and developing a low-cost product range for export from established Indian manufacturing sites.
Companies in this article