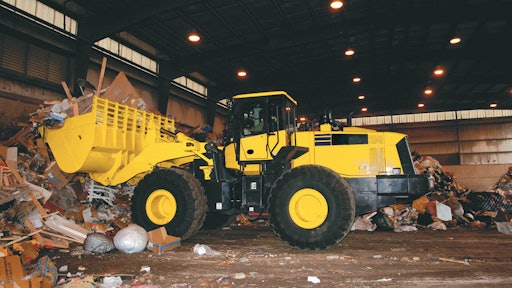 Efficiently running a recycle/scrap handling operation often requires wheel loaders to switch between attachments several times a day. Choosing the right attachments for your application needs and knowing how to properly maintain them can help you spend less time making these adjustments and increase your overall ROI.
Couplers: Promoting Versatility
Couplers can dramatically improve the efficiency of a wheel loader. With increased attachment flexibility, couplers allow operators to safely switch between two completely different attachments in a matter of seconds without leaving the cab or requiring the assistance of another person. This means more productivity, less downtime and greater job efficiency, which translates into improved profitability.
When buying a wheel loader with a coupler, make sure the coupler has the proper interchange to work with your existing attachments. Most companies offer couplers with one of the many common industry interchanges as well as couplers with their own interchanges. Other companies sell couplers that can work with more than one interchange. For example, the JRB Multi-Pick-Up Coupler, manufactured by Paladin Attachments, can pick up JRB 416 Series attachments as well as ISO attachments, making it even easier for operators to switch between attachments.
The fit between the coupler and attachment is very important and should be checked regularly. With the coupler locked to the attachment, check the fit by rolling the attachment forward and measuring the gap between the stop block and the rib stop surface. In general, the maximum allowable gap is 0.080 inches (2.032 mm). Check your operator's manual for exact measurements. A very tight fit may not allow free movement of the plungers.
Buckets: Move More Material
It may seem like a simple attachment, but choosing the right bucket can help you perform specific jobs more efficiently—saving you time and money. Before you buy a bucket for your wheel loader, think about how you will be using it most often and what type of material you will be moving in order to choose the best fit for your application:
General Purpose Buckets – Standard buckets appropriate for use in most basic hauling and loading applications.
Refuse/Transfer Buckets – Specifically designed for use in landfill and transfer station applications, they feature a spill guard to help keep material in the bucket.
Multi-Purpose Buckets – One bucket, multiple tools. These buckets easily convert to dig, load, spread, grab and doze.
Side Dump Buckets – Use these buckets to easily dump material from the side in confined, hard to maneuver areas.
It is important to know the size and hydraulic capabilities of your wheel loader as well as the weight and abrasiveness of the material you will be hauling before purchasing a bucket attachment. Depending on its size, a wheel loader can only handle a certain capacity. If you aren't sure what bucket attachment is best for your machine and application, ask your local dealer what he recommends.
"Our dealers are trained to ask specific questions when customers come in to buy a bucket attachment," commented Jamie Adams, JRB sales and product manager for Paladin Attachments." If they can tell their dealer the size of their machine and what kind of conditions they're up against, he can recommend the right bucket for them."
Grapples: Tighten Your Grasp On Tough Loads
Designed to help you pick up bulky, unusually shaped or long materials, grapple attachments contain material that would not stay in an ordinary bucket. Depending on your job requirements, you can minimize time spent switching between attachments by purchasing a grapple/bucket combination attachment. A grapple will help hold oddly shaped materials tightly in place since their bulky shape and size may prevent them from staying in the bucket.
Forks: A Scrap Yard Staple
Available in a wide variety of carriage and tine lengths, fork attachments help extend your wheel loader's versatility when transporting pallets and other items such as pipes and logs. It is important to always space your fork attachment tines correctly for the load you will be handling. Also, make sure forks are completely under a load before lifting it. Loads can fall off of incorrectly spaced forks. Choose from the following fork attachments for your recycle/scrap handling operation:
Car Body Forks – Designed specifically for use in auto salvage yards, car body forks use tapered tines with beveled tips to ensure easy separation of cars from a load. Most are available in two different lengths to handle cars the long way or the wide way.
Construction Utility Forks – Turn your wheel loaders into a versatile heavy-duty forklift to safely transport large loads. Drop-forged, fixed tines provide increased sturdiness and reduce material movement while it is being transported over uneven terrain.
Utility Pallet Forks – These standard fork attachments are designed to lift and transport pallets and other long materials with ease.
Increase Your Attachment's Lifespan
Keep your attachments in top condition. Proper storage of attachments for an extended period of time can be your biggest asset in increasing their ROI. Following these steps to keep your attachments running smoother, longer:
Clean the attachment thoroughly, removing all mud, dirt and grease.
Inspect for visible signs of wear, breakage or damage. Order any parts required and make the necessary repairs to avoid delays when starting next season.
Tighten all loose nuts, capscrews and hydraulic connections.
Lubricate all grease fittings.
Coat the exposed portions of the cylinder rods with grease.
Connect the hydraulic couplers together to protect the hydraulic system from contaminates.
Touch up all unpainted and exposed areas with paint to prevent rust.
Replace decals if damaged or unreadable.
Store the attachment in a dry, protected place with a cover, if possible. Leaving the attachment outside will shorten its life.
Take time up front to choose the best attachments for your application needs. This, along with proper storage, can increase the lifespan of your wheel loader and attachments, giving you a greater return on your overall investment.