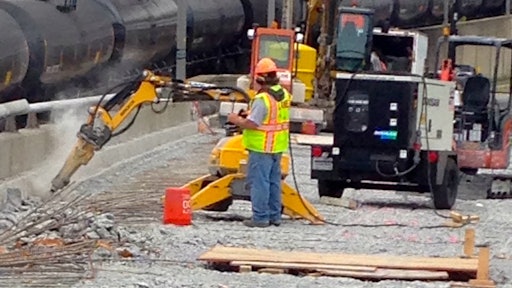 The demolition contractor who walked into the Walter S. Pratt & Sons' rental office in late 2013 had a problem. Workers were quitting almost as fast as he could hire them. He knew the cause – fatigue from operating handheld air hammers – but wasn't quite sure what to do about it. 
With a big project coming up, the contractor needed a solution. He'd heard about Brokk machines, how they could take the repetitive, percussive work out of the hands of multiple workers and keep them safely away from the dangerous parts of a project. Did Walter S. Pratt & Sons have one?
Wayne Pratt, the rental company's co-owner, saw not just one opportunity, but several.
See a problem, solve a problem
In the contractor's predicament, Pratt sensed a chance to not only gain a new customer, but also to expand the business into specialty areas it hadn't been able to serve before. The fact that Walter S. Pratt & Sons would be able to help improve worker safety and longevity was a bonus.
"Finding workers that can operate 60- to 90-pound breakers for a few hours, let alone an entire day, is becoming more and more of a challenge in the labor market," Pratt said. "A lot of times, those workers just quit because they can't work like that for a full day. That leaves contractors struggling to find new employees and scrambling to make up for lost time."
The project in Albany, N.Y., entailed replacing 35- to 40-foot-tall concrete piers that road salt had eroded over more than 30 years. It required extensive, elevated concrete demolition. Based on what the contractor had heard from others in demolition, operators would be able to hoist the remote-controlled Brokk machines over the piers and use the attached hydraulic hammers to quickly and precisely break apart the concrete. This would eliminate fatigue caused by air hammer vibrations and was safer than putting a worker on top of a crumbling pier with a pneumatic hammer. If that were the case, the contractor would be able to use workers who would have been running air hammers all day elsewhere on the job.
"At the time, we didn't know too much about Brokk or its machines," Pratt said. "But after speaking to people at other rental companies, we thought there was an untapped market for more robotic units in specialty applications, not to mention a better future for crew members who were running demolition tools all day long. With a Brokk machine, those companies only need one person working the controls to complete all kinds of projects."
Walter S. Pratt & Sons bought three machines – a Brokk 100 and two Brokk 160s.
Train-Train-Train
Mechanic and operator training began shortly after Walter S. Pratt & Sons received the Brokk machines in December 2013. Brokk's field sales application expert, August Scalici, visited the rental center to spend a few days training rental staff and members of the local labor union. After a basic introduction to the Brokk machines, they split the course between mechanics and operators.
While the mechanics learned about components that make the Brokk machines tick, such as the hydraulic and electrical systems, the operators learned how to use the machine effectively and efficiently. Safety was another major focus. With the Brokk unit's remote controls, operators can safely stand yards away from the working surface to avoid being hit by flying debris and have more time to react in an emergency situation. The emission-free electric motors make a difference, too, Scalici said.
"When operators sit inside the cab of a machine, they're stuck with the diesel fumes and need to think about how to get out if there's an emergency," he said. "With the Brokk unit, operators can stand up to 1,000 feet from the machine. That puts them two steps ahead when it comes to safety because they only have to walk away from the machine if worksite conditions change for the worse."
The laborers also liked the fact that they would be liberated from vibrating tools; operating bulky, vibrating equipment, quickly strains the body and leads to dull, long-lasting pain.
A Triple Win 
Pratt quickly recognized another opportunity in training, one that created a win-win-win for the business, its customers and the manufacturer. The rental company took a step not many businesses take in a world of tight budgets: it loaned the Brokk machines to labor union trainers and operating engineers, no charge.
As more union members received training, the Brokk machines came back from jobsites with less and less wear. That saved contractors on repair costs when they returned the equipment. It also helped brand Walter S. Pratt & Sons as a leading rental location.
"More workers are becoming more familiar with Brokk machines, so contractors are getting more comfortable with renting them," Pratt said. "When a contractor calls a union to find someone to run the machine, the worker can say he was trained on Brokk equipment from Walter S. Pratt & Sons. It's good for everybody."
With increasing utilization, there's more visibility for the Brokk product line, as well. If contractors are interested in purchasing a Brokk machine for their own fleets, we can introduce them to a Brokk regional sales manager," Pratt said. "If a company decides renting a Brokk machine will better fit their needs, Brokk can refer them to our rental center."
New Generation, New Tools
It's no secret that in a tight economy large construction companies make money by shaving time off of projects. They're always looking for new pathways to making that happen, and the next-generation construction leader uses technology to find the right equipment.
"Young superintendents and project managers want to work smarter, not harder, and more and more often it's falling to them to find those efficient and economical solutions," Scalici said. "The old way was to take a unit to the jobsite, do a demonstration and wind up with a new customer. Now, before they even start the job, they do their homework and include Brokk from the beginning."
What they learn is that a construction crew using Brokk machines can perform better and finish projects sooner than other contractors using hand tools and rolling scaffolds. Further, they can work these time and cost savings into their bids to gain a competitive edge.
Scalici says he's seen instances where contractors tried to get by with handheld tools, but wound up opting for a Brokk when the project became too difficult. "Instances like that are getting less common because we are getting more well known," he said. "As people share their opinions and experiences over coffee and on the Internet, there's more understanding about what they can do with Brokk machines."
Building Up By Tearing Down
Walter S. Pratt & Sons' latest problem is meeting the demand for the Brokk machines. It's one of those good problems you hear about, Pratt said, especially for a rental company.
"We're building up customers and utilization; we'll be expanding our Brokk fleet and looking at other attachments, such as shears. We're learning how to rent the Brokk machines, but for now we expect to finish the biggest year we've ever had."
As for the contractor who started it all, with remote controls in hand his crews were able to demolish the piers just as he had hoped. Cranes hoisted the Brokk units to platforms on top of the piers where the operators broke apart the eroded concrete to create an optimal surface for workers to set new concrete. And all from a safe, efficient and cost-effective distance.