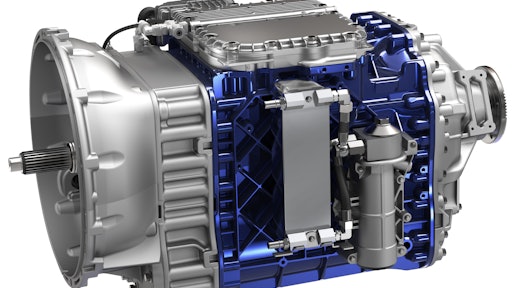 Volvo Trucks North America today launched several new integrated powertrain solutions offering increased fuel efficiency, productivity, reliability, packaging, comfort and uptime. Integral to the new powertrain are enhanced design features that were engineered to provide optimal performance, productivity, fuel efficiency and an improved total cost of ownership.
The new powertrain offerings include multiple engine enhancements, such as turbo compounding for the D13 engine; the introduction of the Volvo I-Shift with Crawler Gears automated manual transmission; and a one-box Exhaust Aftertreatment System (EATS).
Engine Enhancements
For the first time in North America, the 2017 D13 engine will be available with turbo compounding, a technology that recovers wasted exhaust heat and converts it to usable mechanical energy that is transferred back into the engine. The result of this recovered energy is up to a 6.5% improvement in fuel efficiency compared with previous engine models. Applications that benefit most from turbo compounding include long-haul, steady-state driving.
In another first, Volvo's XE – eXceptional Efficiency - powertrain package with the D13 turbo compounding engine will be available to customers desiring to run in top gear in states and provinces that have 55-mph speed limits. Through downspeeding, XE allows the engine to cruise at up to 300 rpm less than the average truck sold today – significantly improving fuel efficiency. More than 27% of all Volvo models sold in 2015 featured an XE package.
The 2017 11-liter D11 engine and the 2017 D13 both received numerous updates designed to improve fuel efficiency. The updates include: a proven common-rail fuel system that reduces engine and cab noise, while optimizing fuel delivery; an available two-speed coolant pump that reduces parasitic loss; and redesigned pistons for greater combustion efficiency.
These improvements boost D11 to up to 425 hp, while improving fuel efficiency by up to 2.2%. The 2017 D13 will see up to a 2.5% improvement in fuel efficiency.
I-Shift with Crawler Gears
Offering vocational and highway customers improved startability and maneuverability, the I-Shift with Crawler Gears automated manual transmission (AMT) is suited for applications requiring a slow speed and maneuverability – such as concrete mixers with curb-pouring capability, asphalt paving, spreaders, dump trucks, heavy haul and line painters. The I-Shift with Crawler Gears also ensures startability for heavy haul and up to 220,000 lbs. GCW or more with application approval.
I-Shift with Crawler Gears will be available in two versions:
14 forward gears, including one low crawler gear (19.38 gear ratio) and one ultra-low crawler gear (32.04 gear ratio), which can operate down to 0.6 mph with 3.58 rear axle ratio
13 forward gears, including one low crawler gear (17.54 ratio).
Available as an overdrive in Volvo VHD, VNX, VNM and VNL models, the I-Shift with Crawler Gears can be spec'd with Volvo D11, D13 and D16 engines.
In addition, all I-Shift models, spec'd in a record 83% of Volvo-powered vehicles in 2015 received revised hardware for increased durability, including an upgraded countershaft for faster shifting and improved performance. 
I-See System
I-Shift efficiency also received a boost from the Volvo I-See system, which works in tandem with the I-Shift transmission. Launched in North America today, I-See is a new feature which learns the topography of the road, memorizes it and stores it in the transmission for use the next time the driver travels the routes. The system stores up to 4,500 different hills. 
The built-in electronics constantly monitor factors such as road grade, speed, weight and engine load to help maintain the most efficient gear possible. When the truck is operational, it automatically uses its knowledge to save fuel during the driving cycle. It optimizes gear shifting on rolling hills and hilly terrain. I-See handles hills efficiently by building speed before the hill, then curbs speed before the crest, Eco-Rolling down the hill and engine braking if necessary
"Rugged jobs require durable equipment that can stay ahead of the pace," said John Moore, Volvo product marketing manager – powertrain. "The integration between the transmission and the engine is critical to getting the best performance and efficiency possible. Drivers are now going to get more power for less fuel spent."
I-Shift is a key component to the XE  powertrain package. The inclusion of the new I-Shift with Crawler Gears in the XE Adaptive Gearing package expands the capabilities of XE from 80,000 up to 110,000 lbs. GCW as the low gear ratios maintain startability and enhance slow speed performance on softer ground. 
One-Box Exhaust Aftertreatment System
A new one-box exhaust aftertreatment system (EATS) combines the diesel particulate filter (DPF) with the selective catalytic reduction (SCR) and diesel exhaust fluid doser into a single unit. The system also features a new copper-zeolite coating that improves low temperature NOx conversion for improved emissions.
The design configuration results in better thermal performance for improved efficiency, smaller packaging requirements and an approximately 17-lb. weight reduction compared with the two-box unit. This provides additional frame rail space for added packaging flexibility.
The new one-box EATS will be standard on the D11- and D13-equipped powertrains. The two-box solution will remain on the D16.