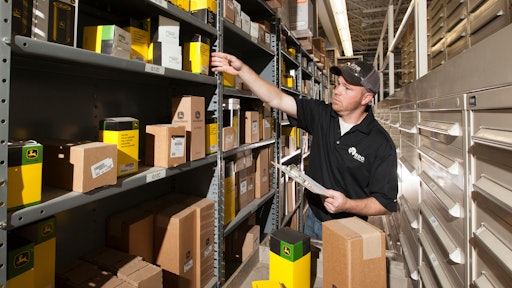 While renting customers good, quality equipment is a high priority for any rental center, parts support is just as crucial. To effectively contribute to customer satisfaction and the company bottom line, a parts department must operate smoothly and efficiently.
The biggest key to a high-performing parts department lies in communication. Every organization, from a small rental center to a large dealership that rents and sells equipment, has a lot going on – a lot of "moving parts" so to speak. If parts employees aren't communicating effectively, mistakes will happen and opportunities will be missed.
Here are the six ways a parts department must communicate – both internally and externally – to run the most efficient, effective operation.
Parts to Service
A communication breakdown between parts and service – or lack of it altogether – can lead to unhappy customers or missed rental opportunity. When a machine is in for service, the goal is to get it back out on the jobsite or rental floor as soon as possible.
With proactive, effective communication, parts specialists can ensure service technicians have what's needed to complete work and get it done in a timely manner, and either get the customer back up and running or get a machine out of the floor, ready to rent. Having the right parts is also crucial for technicians going to jobsites to repair machines, as it eliminates any return trips and extra downtime for the customer.
Parts to Sales
Because parts professionals don't typically have direct contact with customers, communication between parts and sales can lead to better, more personalized service. For example, a parts department may do electronic invoicing as the standard, but some customers prefer a mailed, paper invoice. By knowing this simple preference, parts can proactively accommodate and deliver a customer service win.
In addition to frequent communication between parts and sales teams, effective parts departments can offer a direct line of communication with customers. If there's ever an immediate need and a customer can't reach his or her sales professional, having an established line of communication with the parts department gives the customer an option to get what's needed quickly.
Parts to Parts
While easy to overlook, good communication within a department goes a long way to efficiency. Especially for a parts specialist with little experience, the opportunity to ask questions and learn on-the-job from colleagues is a great way to get training while contributing to the team's efforts.
Each member of a parts team also offers unique perspectives on the most popular and more specialty items, important when laying out a show floor. Good communication between a manager and the team can help determine the optimum placement of parts on the floor, as well as what should be kept off the floor, inaccessible to walk-in customers.
Parts to Manufacturers
Most manufacturers offer recommendations for which and how many parts to stock, based on machines offered at the store. Good communication with these partners ensures the department has the right selection of parts for customer uptime and profitability potential.
Established parts-to-manufacturer communication also comes in handy for specialty or timely orders.
Parts to Stores
In the case of companies with multiple locations, effective communication between stores contributes to efficiency and greater customer uptime.
For example, RDO Equipment Co. has seven locations in Texas alone. The company's inventory process includes a monthly cycle count, which all stores share amongst each other. If a part is needed at one store, it may be faster and easier to source from another location versus ordering.
Parts to Systems
Finally, it's difficult to imagine running a parts department without technology. Virtually all operate some sort of electronic system, everything from inventory to invoicing to ordering. While there isn't one single system that's right for every company, what is crucial for all is that their parts team effectively "communicates" with the system, including being properly trained on how to operate it, as well as taking care to avoid data entry or other human errors.
Technology offerings will continue to expand, not just for companies, but customers as well. Parts departments that are on top of the ways to communicate with technology can implement and offer more of these opportunities to customers.
Bring It All Together
Between managing inventory, pricing strategies, and a dozen other factors, communication may seem like the lowest priority for a parts department. However, effective communication between parts and several internal and external areas is among the most crucial pieces to the management puzzle.