Summit Supply LLC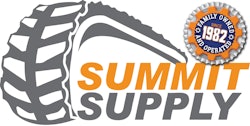 Non-marking rubber is essential in work conditions where traditional rubber would leave black marks during usage. Non-marking rubber protects finishes and keeps floors clean. This specialty rubber compound is great in new construction areas in which ground disturbance is a concern.
Non-marking rubber pads have high tear and tensile strength as well as outstanding abrasion-resistance to extend pad life, reduce downtime and increase value. Summit Supply products are available in bolt-on, clip-on and roadliner styles.
Solid tires in non-marking rubber protect finishes with no downtime due to flat tires, quick and easy installation, and increased operator comfort. Summit Supply offers a variety of tread patterns.
Non-marking rubber tracks are available in an extensive selection of tread patterns, are resistant to abrasion and tears, and are tempered for unmatched strength and durability. Enhanced surface protection, improved traction, and guaranteed fitment with Summit OEM rubber tracks.
All of Summit solid tires, rubber tracks and rubber pads are available in special order non-marking rubber compound. When it comes to ordering your products, think about what purpose it will serve. If using tires, tracks, or pads in an indoor application or on concrete, non-marking rubber may be a perfect fit.