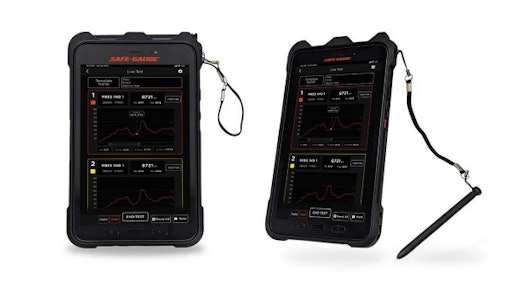 SafeGauge

The SafeGauge MultiTool Pro with wireless Bluetooth technology enables maintenance technicians to conduct routine inspections from a safe distance of up to 50 meters (164 ft.). This product is designed to Eliminate Live Work (ELW).
The wireless testing solution supports safety measures and heavy vehicle maintenance processes. By eliminating the need for technicians to work in close proximity to operational heavy vehicles (inside the machine footprint), technicians can remain safe during operation and maintenance procedures.
The MultiTool Pro allows technicians to connect to 12 SafeTest gauges simultaneously, from up to 100 meters (328 ft.) away. The plug-and-play touchscreen interface comes with several new features, including data-logging and graphing, with the ability to generate reports that can be exported and shared via in-built cloud connectivity. Fit for industry heavy duty applications, it comes with a rugged IP68 designed casing, with attached stylus pen.
"We are thrilled to be a part of IMARC 2023 and share our latest innovations with industry professionals," said Luke Dawson, managing director at SafeGauge. "SafeGauge is dedicated to transforming the landscape of heavy vehicle maintenance, and our wireless testing solutions are a testament to our commitment to safety, efficiency and innovation."
Request More Information
Fill out the form below to request more information about
SafeGauge Launches MultiTool Pro