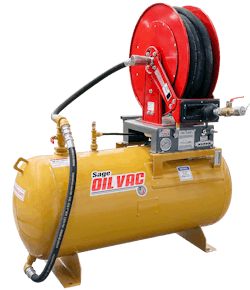 Sage Oil Vac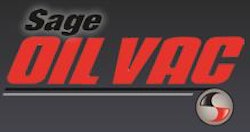 Sage Oil Vac has unveiled the new VacBuilt system, serving as ready-to-use mobile service solutions. The first offering in the lineup is a waste oil tank for service technicians who don't require a new bulk oil tank when completing preventive maintenance on vehicles and heavy equipment. A single waste oil collection solution can capture fluids from a mix of different vehicles utilizing different types and grades of oil.
This VacBuilt product combines a 30- or 60-gal horizontal used oil tank with mounting options for a hose reel and controls. A removable mounting plate provides flexibility to either mount the hose reel and controls to the top of the tank or they can be mounted remotely, depending on the configuration for the application.
This initial product offering features tank capacities that meet the demands of both mobile automotive fleet service and heavy equipment applications.
"Mobile service is gaining popularity in the automotive world. Getting used oil out of the vehicle is the most important part of that oil change. A 30- or 60-gal capacity will handle many oil changes on passenger vehicles. It is a good initial investment for a company that wants to get into that business," said Aaron Sage, Sage Oil Vac CEO.
Sage Oil Vac plans to expand the VacBuilt line with larger-capacity tanks in the future as it continues to innovate products based on its pump-free technology. Clean, sealed tanks protect the operator and the environment, reducing spills.
Assembly and Components
A single used-oil tank solution has always been available through Sage Oil Vac's LubeBuilder system. However, the product line required customers order the desired components and assemble the system themselves. To meet demand, VacBuilt systems are now assembled at the factory.
"With this used oil solution, it is ready to go. We have taken a common specification and packaged it together. Just hook your air source to it," said Sage.

The addition of two brackets welded to the top of the used oil tank allows the control panel and hose reel to be mounted on the system. The control panel includes a pressure gauge, a ball valve with a pressure relief setting and a ball valve with a vacuum setting. Customers can choose between a 1-in. by 50-ft. hose reel or a 3/4-in. by 25-ft. hose reel.
Features
The vacuum-generator-operated VacBuilt comes with the features of Sage Oil Vac's no-pump vacuum technology with additional configuration flexibility. The vacuum generator includes a push-on fitting at the air inlet to simplify operation. Compressed air is used to build vacuum pressure to move fluids to and from tanks. The operator can vacuum hot motor oil from equipment at up to six to eight gallons per minute.
The enclosed, no-pump system protects the operator and the environment as tanks are not vented to the atmosphere.
Adaptable for the Shop or Truck
VacBuilt systems are for both mobile and shop applications. In the shop, these used oil tanks eliminate the need for centralized lube systems. These tanks will also fit in the bed of a truck for customers performing mobile lube services.
Request More Information
Fill out the form below to request more information about
Sage Oil Vac Introduces VacBuilt System