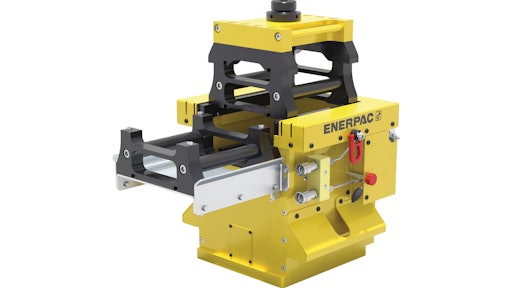 Enerpac's SCJ-50 Self-Locking Cube Jack is a compact, portable hydraulic solution for incremental lifting and lowering of heavy loads. The jack uses a base lifting frame and self-aligning, lightweight steel cribbing blocks for high-capacity and stabilized lifting. The incremental system mechanically locks the load as each cribbing block is manually added or removed. Once the lock engages, the lift cylinder retracts and another cribbing block can be added or removed.
Up to 11 35-lb. steel cribbing blocks can be stacked onto base frame
Operates with standard 10,000 psi hydraulic pressure
Compatible with standard Enerpac pumps

Maximum height: 79 in.
Minimum initial jacking height: 19.4 in.

Base frame footprint: 19.8 in. by 16.9 in.