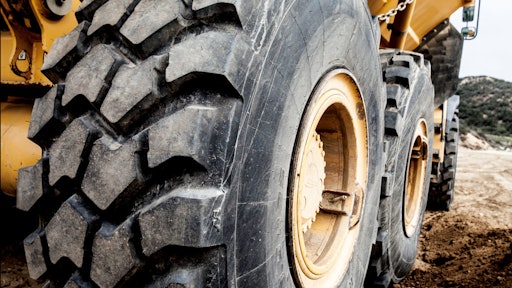 Varied applications and working conditions make it necessary for tire manufacturers within the construction industry to offer a range of solutions. Expanding these product offerings was the theme for many during CONEXPO-CON/AGG 2017 earlier this year.
According to Gary Pomp, manager field technical services, BKT USA Inc.,"The most important trend BKT has seen in tires for the construction industry is using multiple design cues to increase operational efficiency on the jobsite. As such, the company integrates various technologies into its tire designs to meet these efficiency needs."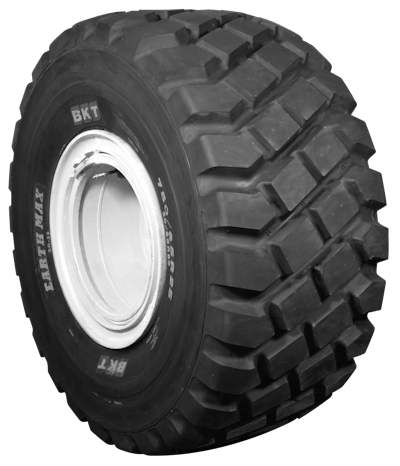 For example, its new Earthmax SR 35 tire includes steel belts to resist snags and punctures, helping ensure the longevity of the tire's lifespan. The tire also includes a cut-resistant compound to extend tire life.
Trelleborg announced it is adding to its line of pneumatic tires. Part of this offering includes the Mitas range of construction tires, which became part of Trelleborg following the acquisition of CGS Holdings in June 2016.
"Mitas has a strong presence in Europe through its agricultural range and has developed a good position within the construction market through some notable OEMs," says Marc Margossian, marketing director for Trelleborg Wheel Systems in the Americas. "In North America, Trelleborg has been a strong player in specialist construction niches through its solid OTR range and construction tracks. By adding the Mitas range, we become a true single source supplier with a full range of proven, quality products."
Scrap Tires Drive Next-generation Design
Over the last two years, Camso has undertaken an initiative to re-evaluate many of its legacy tires — including those for skid steers, telehandlers and its multi-purpose tire line — through a scrap tire analysis. The company studied both its own tires and those of competitors to see why and how they fail. It found sidewall and puncture damage to be among the leading causes. It is using this information to develop its "Next Generation" tires, and plans to rebuild two-thirds of its compact construction tire lineup.
"[The scrap tire analysis] really helped guide our hands to develop smarter tires providing added performance and durability," says Mike Dembe, Camso product management director, North America and LATAM for Construction.
One of the tires developed is the MPT 753, a multi-purpose tire set to be launched in Europe first and in North America later in 2017. A key feature of the MPT 753 is its non-directional tread, which has a higher lug to void ratio so there is more rubber to wear off, making the tire last longer on abrasive surfaces. Camso used one of its most premium rubber compounds for the tire to further aid abrasion resistance and durability. Void guards on the tire — patches measuring just a couple of millimeters — were included to provide tread impact resistance.
"We wanted to do something without sacrificing tread depth," explains Dembe. "We have these little void guard protection patches and what we found was a 10% better tread impact resistance, so 10% fewer flats. It's just a tiny bit of rubber, but it's using that rubber smartly."
Another development is the impact guard and reverse sidewall concept. Camso's previous sidewall design consisted of a tapered wedge shape. This design has been completely reversed so the thicker part of the tire is further away from the shoulder and is now closer to the bead area. This removes the "shelf" that previously existed and was the weak part of the tire.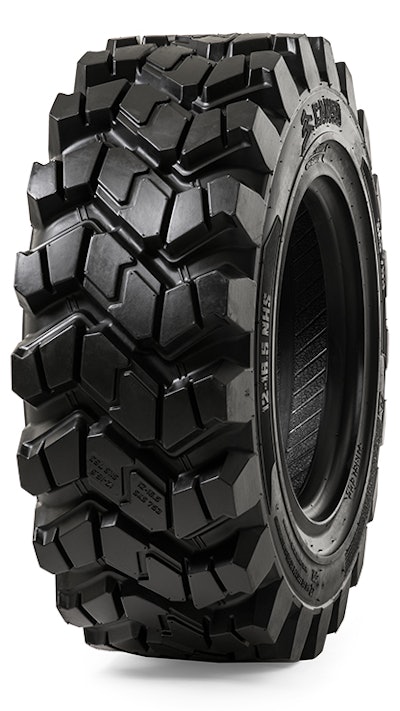 "Tires don't like hard edges or angles [because] it's something more to rub up against and actually cause structural damage," says Dembe. "We removed that stress point and, in reversing the sidewall, there's a wedge shape at the bottom."
This wedge pushes material and objects away from the tire before they can cause any damage. Due to the success of this design, Camso will include it on all of its next-generation tires.
Radials on the Rise
The use of radial tires has been increasing in construction over the past 15 years, says Steve Vandegrift, product manager - Construction, OTR, Alliance Tires Americas.
The increased flotation, improved traction and additional stability radials can provide relate directly to improved production, which helps make them an attractive option for fleets. "While there is still demand for bias tires, veterans in the industry are feeling more comfortable with radials now, which is causing the increase in demand," says Pomp.
Vandegrift notes the move to radials was first driven by OEMs whose engineers appreciated the technology advancements occurring in the tire market. "They realized a more flexible sidewall, significantly larger footprint and the capacity to increase the load on these radials," he says. "Since then, the replacement market has been picking up as machinery owners see the benefits of radials, or just replace the tires that were original to the machine. Either way, it's creating increasing demand for construction radials."
Among the many benefits radials offer is their larger, more evenly distributed footprint. This is due to the body plies being oriented at a 90° angle with the bead, creating a strong sidewall that is more flexible, says Vandegrift; whereas, body plies on a traditional tire meet the bead bundle on a bias, or slant. The layers of overlapping fabric create a stiffer sidewall, which lifts the edges of the tread so less of the footprint is in contact with the ground.
The wide footprint and the fact that the radial construction distributes torque more uniformly across the tire's circumference produces more even tread wear and a longer tread life. "The larger, more uniform footprint of radials also provides better flotation and less rolling resistance, improving fuel economy," says Vandegrift.
Research data has shown radials can offer a 16% increase in fuel efficiency, up to 20% less rolling resistance and up to 13% higher machine productivity compared to bias-ply tires.
Research data has shown radials can offer a 16% increase in fuel efficiency, up to 20% less rolling resistance and up to 13% higher machine productivity compared to bias-ply tires.
The flexibility of the sidewalls enable the tire to better conform to the terrain, enhancing ride quality for improved operator comfort. In addition, the sidewall acts as a suspension system that absorbs shock, further improving comfort as well as reducing machine wear. "Many customers tell us that the time and money they spend maintaining the frames, suspensions and axles of their equipment have gone down after a switch to radials," says Vandegrift.
The initial cost of radial construction tires is about 20% higher than an equivalent-sized bias ply tire. However, Alliance Tires has seen radials last twice as long on jobsites "so the return on investment, figured by dividing the purchase cost by the service life, is outstanding," Vandegrift states.
While both Alliance Tires and BKT see increased use of radials, there are applications in which bias-ply tires are still the better option. The thicker sidewall of bias tires is particularly suited for low-speed construction jobs where there is a high potential for sidewall punctures to occur. Applications in which sidewall stability is paramount — such as telehandlers whose center of gravity can shift as the load is raised or lowered — would also benefit from the stiffer sidewall of a bias-ply tire.
Radials are best suited for equipment that runs on the road, especially for long cycles, such as rock trucks and backhoe-loaders shuttled on the street. The flexible sidewall creates a broad, flat footprint for a comfortable ride on this surface type.
"Radials are most appreciated by construction contractors who track the actual cost per hour of running their equipment — the money spent on tires per hour of operation, the amount of fuel consumed per hour on a contract and the cost of downtime, which of course is less frequent with longer-lasting tires," says Vandegrift.