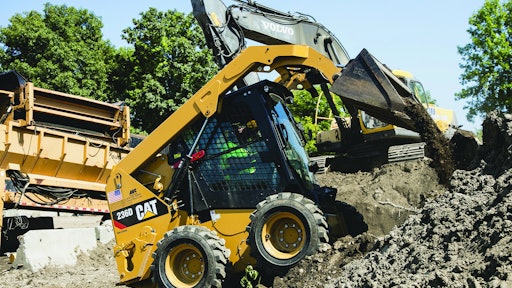 Proper skid-steer tire selection can increase uptime and cut cost per hour of operation.
"Tire wear is a fact of life for skid steers," says Marc Margossian, marketing director within Trelleborg Wheel Systems in Americas. "The biggest elements will always be environment, operator and application. Aligning tire choice with these three will always reduce accelerated tire wear. Beyond this, regular tire inspections and rotating tires around the machine itself will have an additional impact on tire life and safety."
Purchase price alone isn't a good indicator of your actual operating cost. "Very rarely is the cheapest tire the best tire," says Michael Dembe, executive director, product management – construction business unit, Camso. But he also points out that the most expensive tire is often not the best tire either.
"When looking for the lowest cost of operation, one should step back from the tire purchase price detail and consider the overall picture to determine how the tire affects the machine contribution to a task," says Dilip Vaidya, president and technology director of BKT. "Does the skid steer play a vital role and is everything around it determined by its job contribution or is it a support tool that makes performing certain tasks easier?
"You must understand how and where you are using the machine, what kind of solutions that you really need and which solutions maybe you don't need," he continues. "Most users today want to use the lowest cost per hour tire. That means there may be a trade-off between a slightly more premium product that lasts twice as long."
Tires that come as factory fit most often feature an off-road tread. "Typically, the OEMs look for a cost-effective, off-road tire choice for their production line vs. a more premium solution," says Dembe. "Tires with off-road patterns typically have less tread rubber, they are lighter weight and they cost less. Sometimes a fleet owner can specify tire upgrades from the OEM for a more tailored, better overall choice given operating conditions."
Specifying a more premium tire with more tread depth often yields longer life. "Tire wear life is actually determined by the tread compound's resistance to wear, directly influenced by its chemical composition and by the amount of rubber on the tread," says Vaidya. "A tire with more rubber in the tread, i.e. more tread depth and/or a higher rubber/void ratio (fewer grooves), will account for more kilometers/miles on the clock than the same tire with the same tread compound but less tread depth and/or more grooves."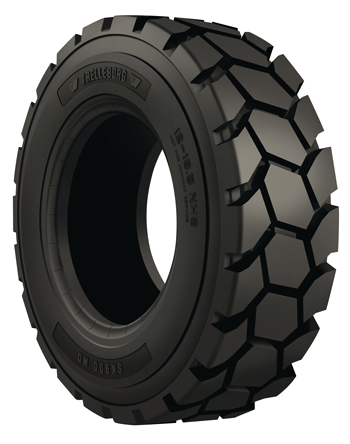 Premium tires are constructed from premium rubber compounds that are specifically engineered to deliver a higher performance in terms of load, damage resistance, heat buildup, grip and tire life. Many standard range tires are cheaper because they use a lower grade of rubber compounds.The ROI on a premium tire can be easily calculated. "You might have to make that initial investment, but what you are ultimately going to do is increase the amount of tread life on that tire," says Johni Francis, OTR product manager, Titan Tire. "If that tire lasts you twice as long as a conventional tire and you cut out a service call, your initial investment is not going to be twice as much, so you are really making a wise investment." The longer you can run a tire, generally the lower the cost per hour.
Visually, it can sometimes be quite hard to distinguish between a premium and a standard tire. "Premium tires are constructed from premium rubber compounds that are specifically engineered to deliver a higher performance in terms of load, damage resistance, heat buildup, grip and tire life," says Margossian. "Many standard range tires are cheaper because they use a lower grade of rubber compounds. This is often a false economy as the tire will not be able to deliver the same performance or lifespan as a premium tire."
Camso uses a higher percentage of natural rubber in its compounds. "Natural rubber is cut resistant, chunk resistant and heat resistant," says Dembe.
Another important characteristic in a premium tire is the ply rating, according to Francis. The higher the ply rating, typically the fewer issues you will have when transitioning to different applications where loads can increase.
"It is commonly misunderstood by most users that a higher ply rating means somehow a thicker, stronger tire — a tire that is more resistant to impact," explains Dembe. "That is actually not the case. You need a higher ply rating to carry more load capacity. The higher ply rating allows you to inflate to a higher air pressure that carries the load. So it gives you a stronger balloon that you can put more air into. It is purely a function of load carrying capacity."
"There are applications where additional protection is necessary, even on a premium tire," says Margossian. "These would typically be where the risk of sidewall impacts or damage from on-site materials such as rock and wood shards or from heat would be higher. Rim guards and reinforced sidewalls can mitigate some of these risks, but advice from a professional company should always be sought for special environments."
Match Tread to Application
"The best thing you can do as a user is understand the surface and working conditions you are dealing with," says Dembe. "Take time to think about how and where you use your skid-steer loader and make sure you select the optimal tread pattern. Oftentimes, it is not the tread that the machine came with."
Surface conditions can be divided into three main categories. "You have off-road surfaces where traction can be a real issue at one end of the spectrum, and then you have hard surfaces at the other end," Dembe indicates. "You have two extremes and then you have something that we identify as mixed surface where you are doing some combination of on- and off-road work."
"When it comes to selecting the correct tread pattern for a skid-steer application, you really need to start with the kind of surfaces that they are running on," says Francis. "On an improved surface, you really want to choose a tread pattern that has more of the surface contact to the ground. If you don't have that contact area on the surface, you are actually going to wear the tread out pretty quick." The lug to void ratio should be at least 2:1 on an improved surface.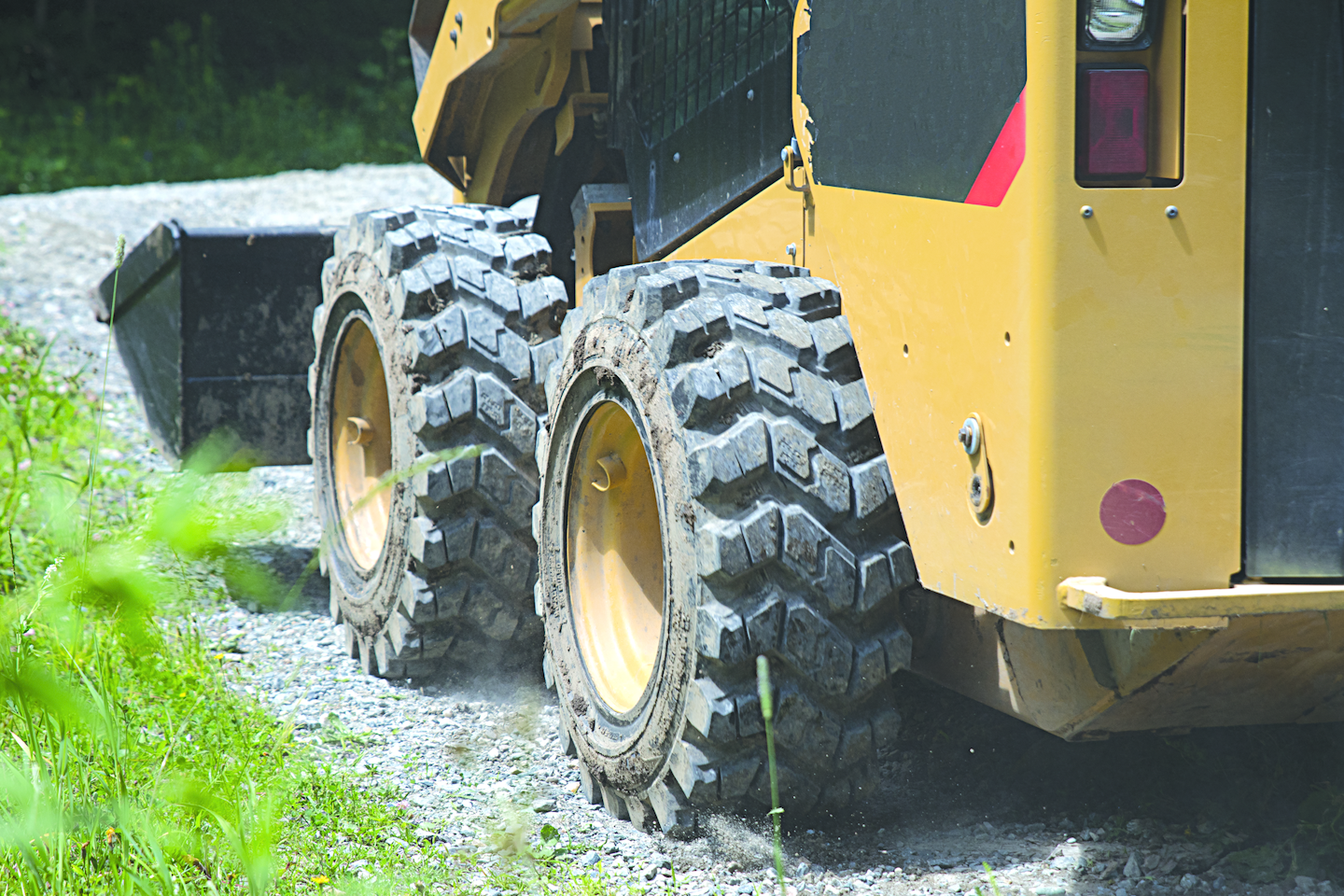 For most mixed to hard surface applications and those leaning toward that spectrum, you will want to use a non-directional tread pattern, such as on Camso's SKS tire. This pattern typically features a higher lug-to-void ratio.Tread patterns are designed to provide optimum grip on different surfaces including rough (stone, rock, gravel), soft (mud, grass, sand) or mixed (a combination of all surface types). "It is critical to ask qualifying questions to help determine which tread pattern is the best fit. Options include directional and non-directional, smooth or traction, wide lug or deep lug," Margossian points out.
"For most hard surface applications and those leaning toward that spectrum, you are going to want to use a non-directional tread pattern," says Dembe. "Typically, it features a higher lug-to-void ratio, so there is more rubber on the tread pattern. On hard surface applications, one of your most important performance metrics is durability. You have a high abrasive situation. You are scrubbing off the tread."
"Depending upon the load being carried, a solid tire may be the right solution," adds Margossian. "Equally, a pneumatic tire may deliver a more comfortable ride and better heat resistance."
Traction is one of the most important performance metrics when you are working off road. In an earthmoving application, you want a deeper tread depth. "You want a higher ply rating to carry the weight," says Francis. "You need more void in soft ground conditions because you need that traction."
"While running on sand, mud and gravel, a stronger side wall and self-cleaning tread pattern will aid traction and provide sufficient damage protection," says Margossian.
"Depending upon region and climate, the conditions could vary from sand to muddy conditions," explains Vaidya. "To avoid the machine digging itself in, skid steers working in sandy conditions are ideally equipped with a non-aggressive tread pattern and run at the lowest possible pressure for better flotation. Muddy conditions, on the other hand, would require a tread pattern that is aggressive with an open auto-cleaning pattern renewing the grip capacity at every tire rotation."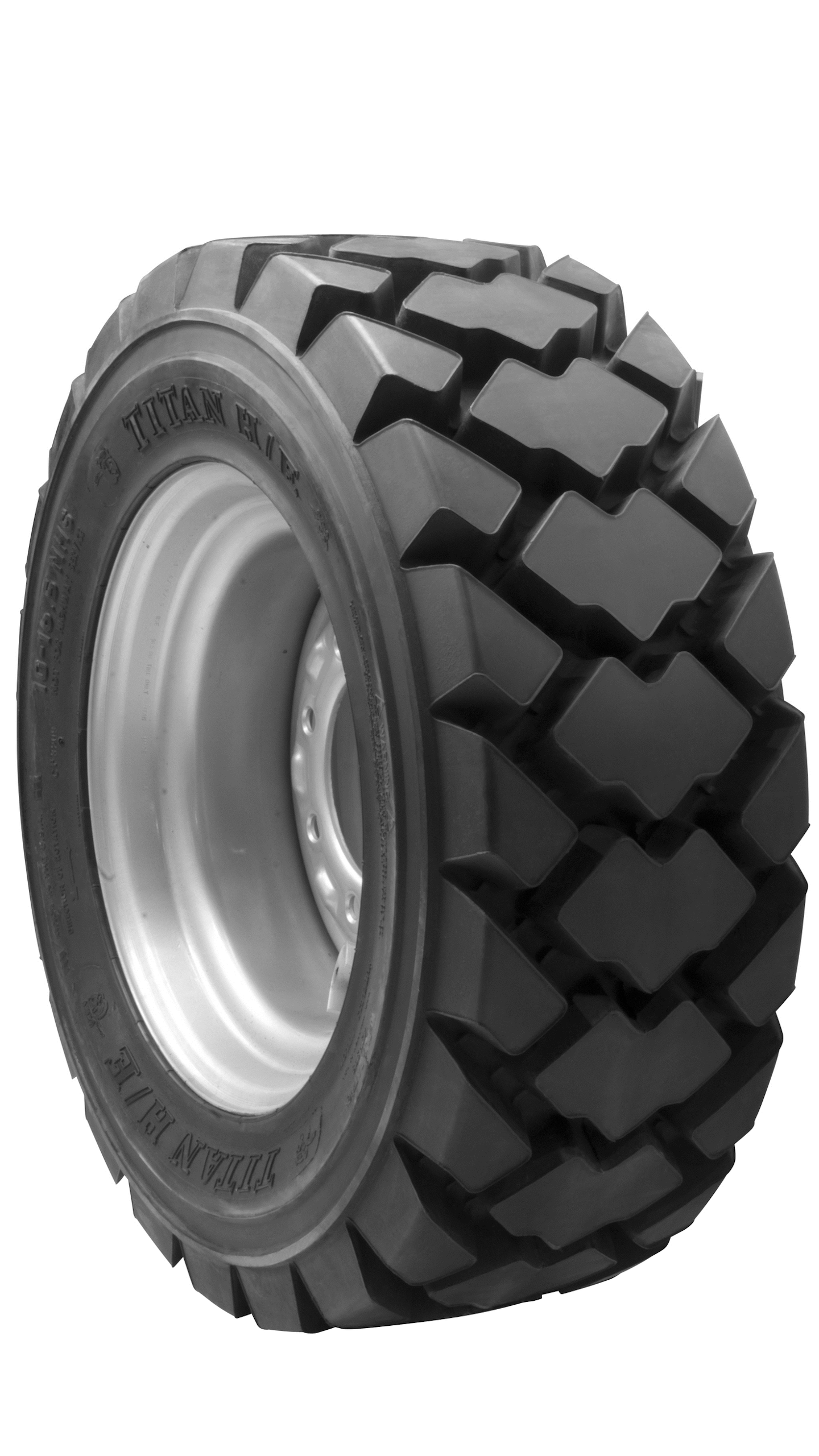 Tires with more rubber are going to last longer. Another important characteristic is the ply rating. The higher the ply rating, typically the fewer issues you will have when transitioning to different applications where loads can increase.Mixed-service applications can be more tricky and require optimization between hard surface and soft surface properties. "We have some tread patterns that really stand out with the versatility that users need in those kinds of applications," says Dembe.
If the skid steer is going to be used more than 50% of the time on asphalt and concrete, operators may be more productive with a non-directional tread better suited to operation on hard surfaces. Conversely, if they're going to be in dirt all the time, then an off-road tread would be preferred to assist with needed traction.
In certain cases, it may be worth investing in a second set of wheels. "In cases where machine usage can vary over relatively short periods of time, it may be worth considering having multiple fitted tire-wheel assemblies available to ensure the skid steer performs at its best in varied circumstances," says Vaidya. "A quick assembly change will allow for getting any job done efficiently while getting the most of your tires."
Some applications, such as demolition and recycling, are best suited for specialty tires. "In a waste management type of application you really want more of a 1:1 ratio because you need that traction," says Francis. "And obviously you are going to choose a deeper tread when it comes to that for added puncture resistance."
"Demolition is clearly a specialist environment that requires a specialist solution," says Margossian. "For a pneumatic tire, a customer should choose a product with a reinforced sidewall, flatter footprint and a deeper void ration. Typically, many customers will choose a solid tire to eliminate punctures and other tire damage as well as to benefit from a higher load capacity and longer service life."
Puncture-resistant Options
There is a current trend toward solid tires as technology continues to evolve. "For about 15% of the machines out there we see that users are opting for solid tires, and that is a growing trend," says Dembe. "Years ago with older solid tire technology, it was relegated primarily for severe-duty applications only — waste and recycling, scrapyard, demolition. But the technology has improved. Today, they are much more of an everyday solution vs. the niche solution back only a few years ago."
The key has been increasing the ride quality. "Aperture technology has come a long way," says Dembe. "Our engineers put a lot of focus and thought into a specific design and geometry of our apertures. It is an optimization between ride quality and resistance to cracking."
"Solid tires are evolving," agrees Margossian. "Many designs now feature sidewall apertures, which can greatly enhance the ride comfort." For example, Trelleborg recently launched a Soft Ride Compound specifically designed for the waste management industry that delivers a 40% improvement in deflection.
There are multiple benefits to running a solid tire vs. a pneumatic in specific applications. "A solid tire is designed to run in applications where a pneumatic tire is unable to perform at the required level in terms of life, damage protection or required load, or has a higher risk of failure," says Margossian. Common reasons for choosing a solid tire include:
Rapid wear due to operating on hard surfaces due to excessive abrasion (wearing away of the rubber)
Sidewall impact damage tearing at tire
Wheel damage — certain specialist environments carry additional risk to wheels and rims, which can then catastrophically damage tires
Unnecessary downtime caused by excessive flats — if a customer is routinely incurring loss of productivity caused by punctures, a solid tire is often the solution.
The decision between pneumatic tires and solid tires often comes down to trade-offs. "There are pros and cons to using either technology. However, what should always be considered is the operating cost per hour of a tire over its whole life and the cost of lost productivity," says Margossian. "A solid tire may have a higher purchase price, but will also deliver enhanced productivity. A pneumatic tire may be more prone to failure, but may be more flexible in different applications."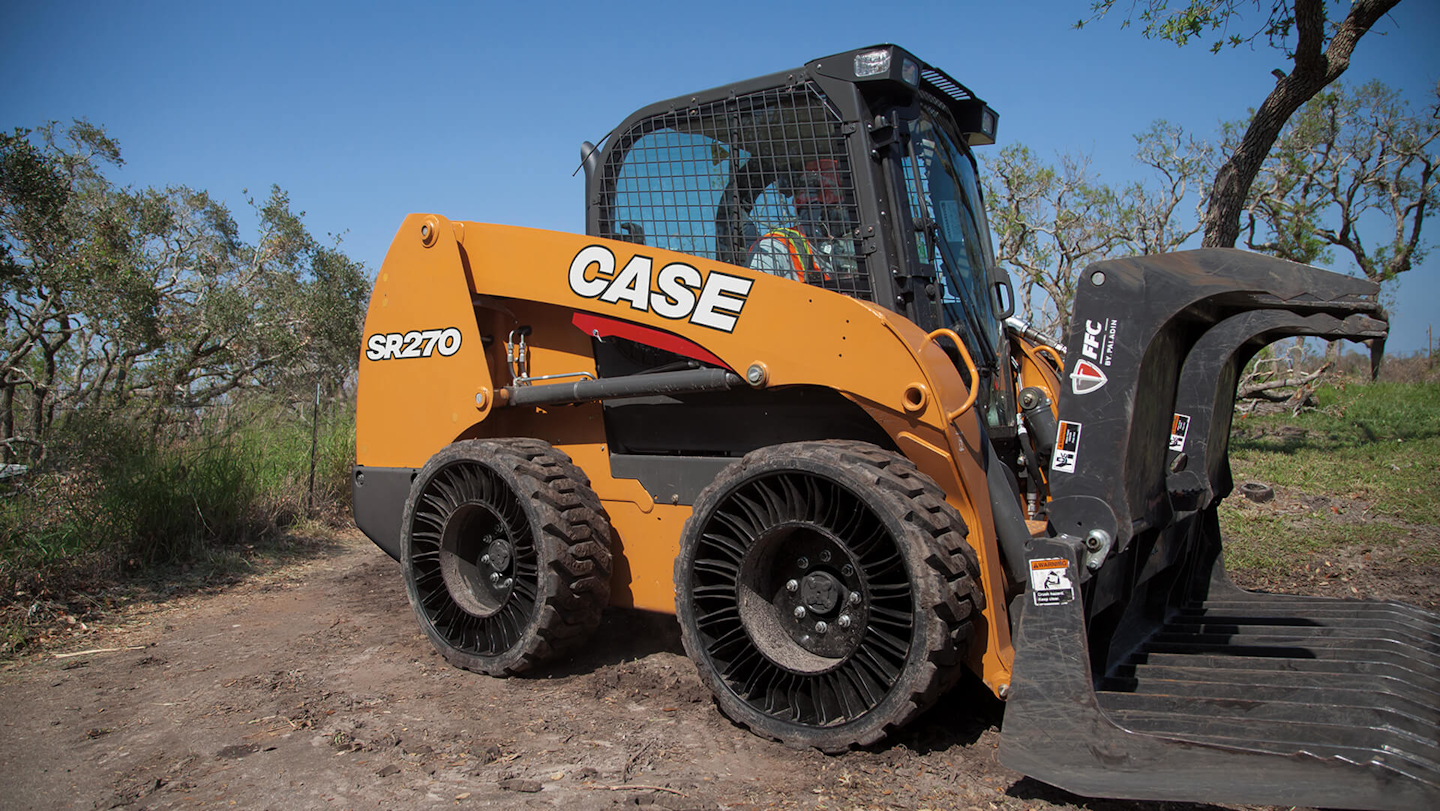 Case recently became the first skid-steer loader OEM to offer the Michelin X Tweel SSL All-terrain Airless radial tires as a factory-approved/supplied option on all skid-steer loader models. The airless radial tires perform just like a pneumatic tire, but without the risk of downtime from penetrations and impact damage.Many rental companies are now opting for a solid tire right from the factory. "They see that fits with zero downtime, no-flat tires," says Dembe.
Another low-cost entry point for no-flat performance is foam-filled tires. "Foam filling has been around for a long time," says Dembe. "Camso is one of the largest processors of polyurethane fill — what you would call foam fill. You have a pneumatic tire with the cavity filled with polyurethane, which is now turned solid, so it acts much like a solid tire," says Dembe. "Essentially, what you have is a thin skin of a pneumatic tire that is encapsulating the urethane fill. If that carcass is to get compromised or punctured, torn open, splits open or is otherwise destroyed, you really have nothing holding that urethane fill in and you can have a lot of problems as a result."
Solid tires are a more durable solution. "But a foam-filled tire is a very popular choice," says Dembe. "If flat tires are your No. 1 concern and you are in an application that cannot suffer any downtime, but you are looking for the cheapest solution, foam fill is it. It is your lowest price, flat-free solution, but in many cases it is not your most durable or your lowest cost per hour solution."
"Foam filling happens quite a bit in demolition, scrapyards and recycling yards — anywhere where there is a lot of abrasive material that could puncture tires," says Francis. "Foam filling also plays a part in the end user selecting a particular tire. They might not need a deeper tread because they foam fill.
Titan offers the low sidewall (LSW), a pneumatic tire that is between a solid tire and a traditional pneumatic tire. "The LSW is the wave of the future for pneumatic tires," Francis asserts. "We have taken a 12x16.5 rim and made it a 12x19.5, so we went from a 16.5-in. rim diameter to a 19.5-in. rim diameter." The size of the wheel was increased along with the ID of the tire, but the OD of the tire remained the same. The sidewalls have been shrunk, reducing the amount of sidewall in the tire. "When you reduce the sidewall, you reduce the number of cuts you can make to that sidewall."
It also increases stability. "You do gain more stability with the LSW than you would with the conventional tire," says Francis. "You get less sway. Another benefit would be if you are going to foam fill it, you are not going to use as much foam. Your cost on the foam fill is going to be virtually cut in half."
The biggest trade-off for polyurethane fill is weight. Generally, it tips the scales at about the same weight as water, about 8.33 lbs. per gallon. A typical 10x16.5 tire will take about 135 lbs. of fill. If you're in very soft or muddy conditions, that extra weight could possibly bog down the machine.  
Companies in this article