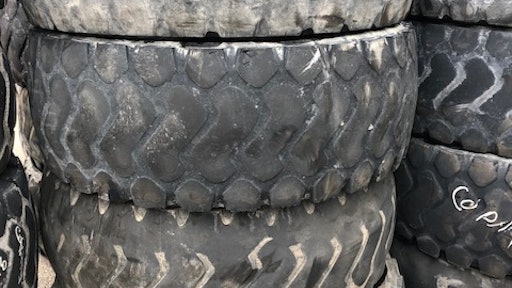 Pretty much every shop has a pile of scrapped tires. While at first glance it may seem like these tires have no value, they actually hold clues on how you can reduce tire expenditures.
Bridgestone Americas explains that if you can learn why tires were removed from service, you may be able to reduce or help prevent that kind of removal in the future through better tire selection, better mounting procedures or better tire and equipment maintenance. The company suggests looking at scrap tires as soon as they come off the vehicle. One of the most important parts of effective scrap tire analysis is good record keeping.
"Scrap tire analysis is crucial to optimizing tire operation cost," says Roberto Zampieri, segment leader construction EMEA & global product manager for the construction segment at Trelleborg Wheel Systems. "Understanding how tires have performed and the reason why they have been removed can help you determine the proper tire type (pattern, technology, compound, etc.) suitable for your fleet and select the manufacturer that gives you the best total cost of ownership."
He adds, "Tracking the reasons why operators replace tires can increase understanding of how to optimize both operations — in terms of operating cycles or operators' behaviors — and tire selection, from the brand to the specific tire characteristics."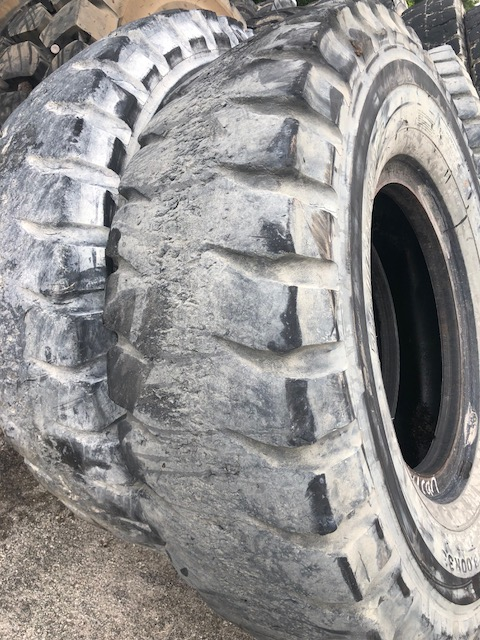 If you have a large scrap pile, it's best to recruit a small team to conduct it – which may include your tire dealer or tire manufacturer representative. Some of the tools that you'll want to have on hand include a large awl, leather gloves, long-nose pliers, a flashlight, a tire crayon and tread depth gauge and a pen and notepad.To get started, it's important to analyze the tires that are already in your scrap pile. This analysis can be an opportunity to determine why tires are coming out of service. For example, it could be because you're running a tire that isn't the best option for the application. Many manufacturers offer a selection of tires specifically designed for certain uses or conditions.
"With a tire scrap pile analysis, equipment owners can look for common signs of premature failure to help avoid those problems in the future," says Matt Miller, tire technology manager, R&D, Titan International, Inc. "This is something often done with the help of your local tire dealers. Common problems that can be spotted in a scrap pile analysis include uneven wear, damage to sidewalls, separations in the tire and damage to the beads or lining."
Prepare prior to conducting the actual scrap tire analysis. "If you have a large scrap pile, it's best to recruit a small team to conduct it, which may include your tire dealer or tire manufacturer representative," Miller suggests.
Gather tools needed for the job. According to Miller, some of the tools you will want to have on hand include a large awl, leather gloves, long-nose pliers, a flashlight, a tire crayon and tread depth gauge, and a pen and note pad. Information he recommends documenting includes:
tire brand
tire construction (radial or bias)
tread type (e.g., E-3, L-3, E-4, etc.)
number of retreads (if any)
current tread depth
reason for being removed from the equipment
"The tire's serial number is helpful to correspond back to which wheel position it was on, along with the final tire hours," Miller adds.
When recording the reason for removal, make sure to look beyond the obvious. Bridgestone recommends you do a thorough check of the whole tire, not just the obvious areas of damage.
One type of damage is misapplication. Another is due to an improper repair. For example, a cut introduced into the tire can allow air and water to get inside. Water travels along the cord filaments and causes rust to spread, sometimes far from the initial entry point. The broken or damaged cords are no longer carrying their share of the load. As the intact or undamaged cords get rusty, they lose strength and become brittle. Careless use of mounting equipment can also damage the bead rubber.
Trelleborg advises collecting information on how many tires have reached the end of their lives, how many accidents (punctures, sidewall damages, etc.) have occurred or whether the tires have manufacturing defects. For tires that have reached the end of their lives, it is important to collect statistics on the hours or mileage achieved to estimate the average life and calculate the cost of ownership.
"Tire performance can vary significantly from application to application and from site to site," says Zampieri. "End users must collect statistics from their own sites and operations, whereas manufacturers must collect as much information as possible from a large number of different sites/operations. At Trelleborg, we are in direct contact with a large number of end users who monitor tire performance and track the reasons for tire replacement."
Trelleborg works in the U.S. with large national account chains and rental companies with multiple locations and machines performing similar activities/job functions. "These track their tires in operation," says Zampieri. "They report that driver behavior has a significant impact on tire life, and with driver training they are able to extend tire life. When comparing Brand A with Brand B, they were able to understand their cost-per-hour performance and make different buying decisions in order to reduce their operating costs in the long term."
But no two construction fleets are likely to see the same causes for tire removal. "Gathering statistics on the most common causes of tire removal in a construction fleet is challenging, as tire performance and life expectancy vary according to sites and operations," says Zampieri. "Generally speaking, a high percentage of premium-quality tires used in standard applications reach the end of their useful lives, especially considering that tires can often be repaired following accidental impact (punctures, cuts, etc.)."
He adds, "Knowing when to replace industrial tires is critical. By replacing them too early, there is a higher risk of increased costs due to unnecessary tire replacement and machine downtime, while replacing them too late can lead to higher risks related to machine and operator safety."
Interpret the Results
Scrap tire analysis is hard work but the information it can reveal could save you a lot of money in the long run. The stories told by the tires will give you subject matter for future meetings with your shop technicians and drivers.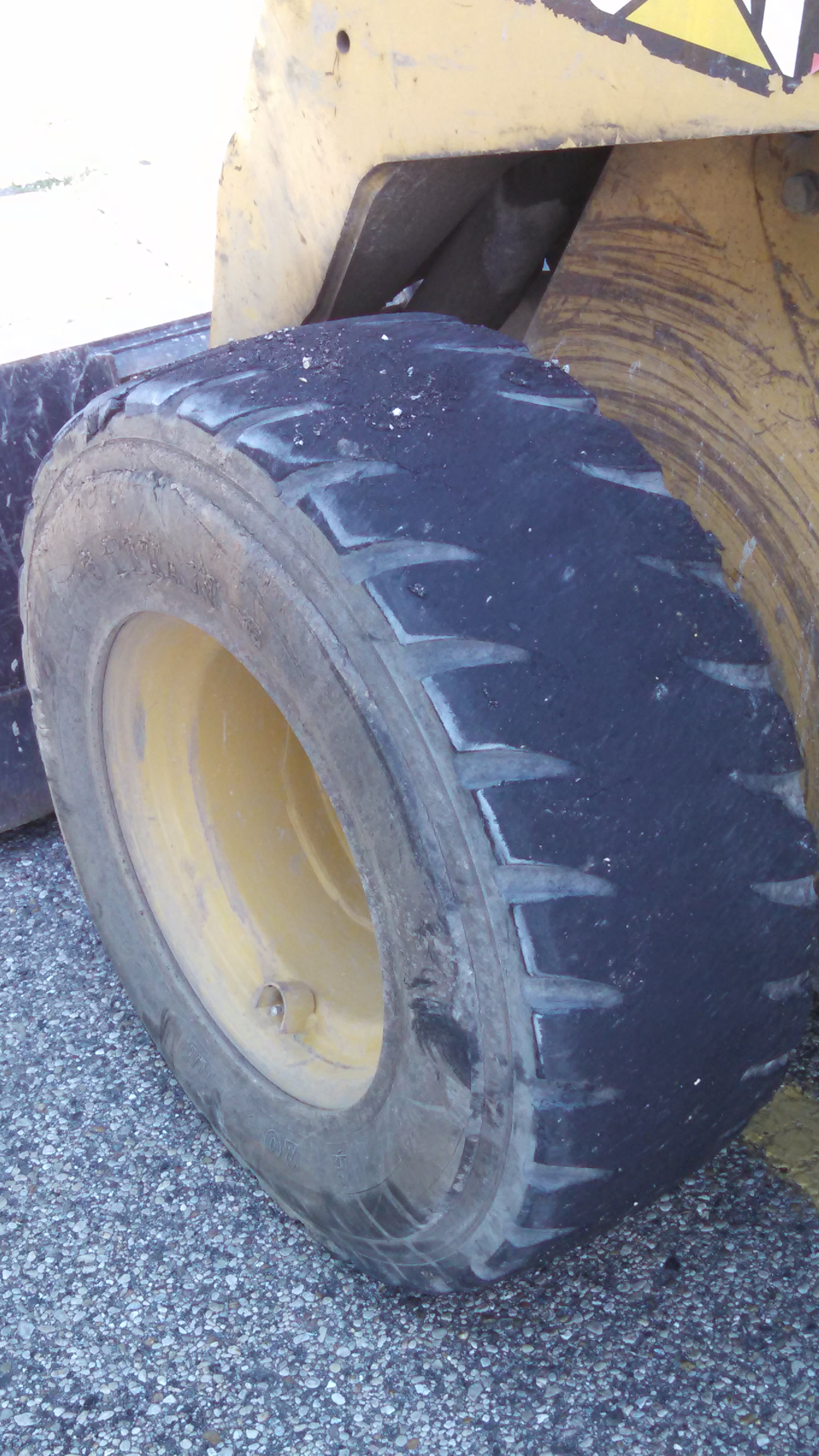 A high percentage of premium quality tires used in standard applications reach the end of their useful lives, especially considering that tires can often be repaired following accidental impact (punctures, cuts, etc.).
A scrap pile analysis also gives you information for choosing tires with the proper tread designs and the right retreading methods, as well as assess how well new tire developments may work for your fleet operation. A good analysis program can help you avoid past mistakes and can result in reducing future tire costs.
Common failures can identify operations or maintenance practices that need to be modified. "Separations in the tire and uneven wear toward the shoulder often point to issues with overloading, under-inflating or running the tire beyond its recommended ton-mile-per-hour (TMPH) rating," says Miller. "On the other hand, over-inflation may be the culprit behind impact damage and uneven wear around the center of the tire.
"Frequent tearing or chipping of the treads may indicate that the fleet manager should select a different tread compound on their tires," he continues. "Establishing this baseline of performance will help tire professionals make recommendations on better maintenance and operations practices, as well as better informed tire selection moving forward."
The common causes of tire failures on the jobsite vary by application and preventive maintenance. "This depends on the jobsite and what kind of tire management program they have in place," says Miller. "The better the program, the more you will get from your tires. In general though, improper inflation pressure is the common cause of premature tire failure."
Bridgestone reiterates that the place to learn about tire management is your scrap pile. The information it provides can be a valuable asset in getting maximum value out of your tire investment, and can give your tire management program a new life and purpose.
Track Tire Data
Tire tracking software helps identify true costs by evaluating a list of parameters including tread depth, length of service, reason for removal, etc. It compiles this data into reports that can help determine if a particular tire is a good investment for your application.
Tire tracking helps identify any issue early. "Tracking individual tire data throughout the life of the tire pays off because you can spot potential issues during use, rather than once they are in the scrap pile," says Miller. "Service logs are a simple and easy tool to help with this. But for larger fleets, some owners choose to use tire management software, often with the help of their dealer."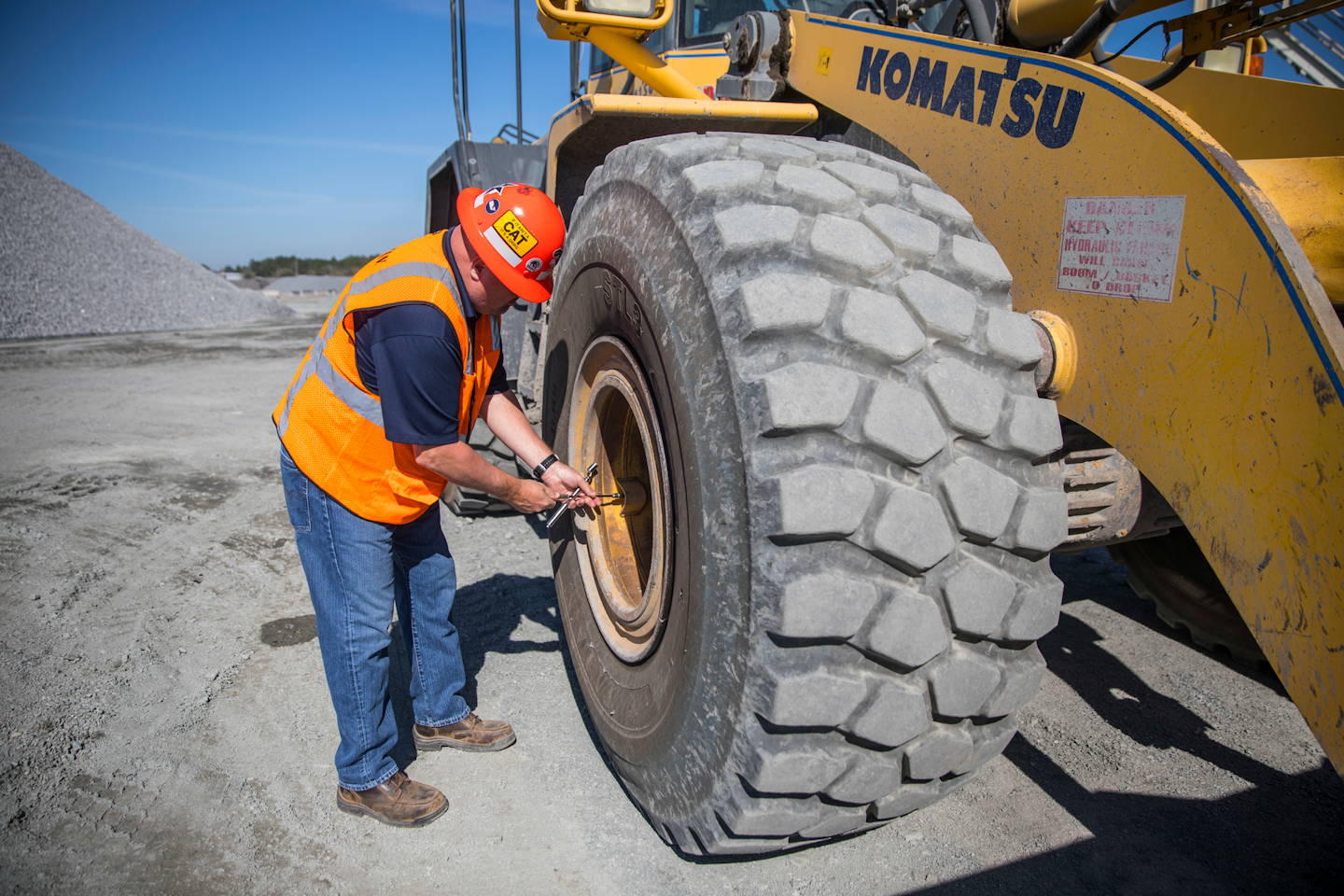 Record keeping along with periodic inspections provides information to maximize tire life.Titan TireAccording to Titan International, tire management software gives fleet managers a complete history book on every tire in their fleet — from original installation to scrap pile — allowing for more in-depth, tire-specific analysis and decision making. "[This] can help determine if different tires working in similar applications in your fleet perform better than one another," says Miller. "Each data point is documented against more detailed descriptions of the tire, including brand, tread style and compound for easy segmentation and side-by-side evaluation to determine which tires are delivering the lowest cost per hour for the site based on a multitude of design characteristics."
This also allows you to document more in-depth descriptions of tire conditions at the time of service to allow for better cause-and-effect analysis of tire problems. "Ultimately, tire management software can help reduce cost per hour through better inventory management, both on site and through the tire dealer," says Miller.
He adds, "The information contractors receive by tracking tire data helps them select future tires that are better suited to their specific environment, operator behaviors, etc., leading to lower operating costs. Tire manufacturers offer a range of application-specific compound and tread designs. Selecting the right tire for the job is critical."
Bridgestone's TreadStat is an off-the-road tire and rim performance tracking solution that helps customers manage the life-cycle cost of tires for increased efficiency and profitability. It's an end-to-end solution that monitors each tire from receiving inventory, mounting inspections, rotation management and repairs on up to disposal. It allows you to monitor, optimize and report on the condition and productivity of all of your tires and rims regardless of your organization's size or location.
"By tracking individual tire data throughout its lifespan, customers gain a better understanding of how the tire needs to be operated and maintained, keeping in mind the manufacturer's indication of speed, load and operating pressure," says Zampieri. "To support customers with this analysis, Trelleborg has introduced several predictive maintenance tools such as a Tire Pressure Monitoring System (TPMS) to enhance productivity in critical applications and to make the operator's life easier in the most demanding environments."
The Trelleborg TPMS is a cloud-based system that integrates tire sensors, a central gateway on the machine and an online platform to fully monitor your fleet operations and to guarantee machine uptime. It allows operators to measure tire pressure and temperature, providing instant monitoring of data through a computer or mobile device.
Set Up Your Tire Maintenance Program 
"A successful tire maintenance program is critical and consists of several things — development of a well-defined maintenance and inspection routine, creation of training programs to make sure employees stick to that routine and, lastly, a process for documenting performance over the life of each tire in the fleet," says Miller. "A well-defined tire management program should be a very tailored approach to the site, its conditions and the equipment running, but should include everything from daily tire inspection guidelines to rotation schedules, inflation pressure guidelines and more."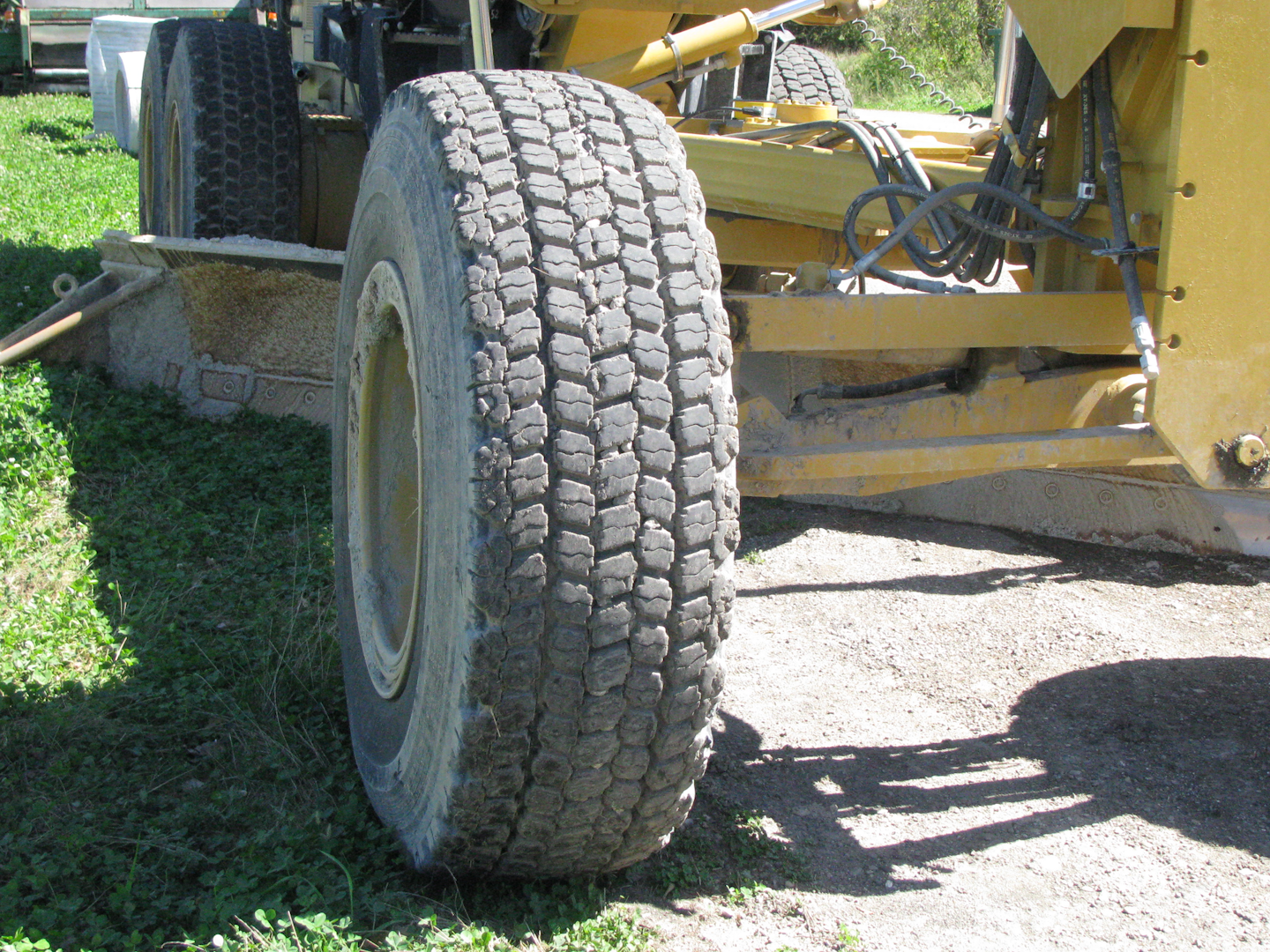 A well-defined tire management program should be a very tailored approach to the site, its conditions and the equipment running, but should include everything from daily tire inspection guidelines, rotation schedules, inflation pressure guidelines and more.Inflation pressure recommendations can be provided by the tire manufacturer. "With inflation pressure monitoring being the most critical, the equipment owner should consult the tire manufacturer's recommendations to ensure it's being maintained at the proper levels," says Miller. "For instance, Titan provides easy to use cold inflation pressure charts in the back of its latest Titan OTR Databook. They're organized by application and tire size then vehicle make/model/revision, and provide recommended cold inflation pressure by axle."
It's also important to consult with your trusted tire dealer and/or a tire manufacturer representative. "For instance, Titan has a network of OTR field specialists nationwide that are available to help provide services like a site evaluation, improvements upon existing programs and/or establishing a new one," says Miller. "This will all ultimately help fleet managers make more informed decisions on not just maintenance, but on future tire tread type and tread selection — with the end goal of achieving the lowest cost per hour of operation."