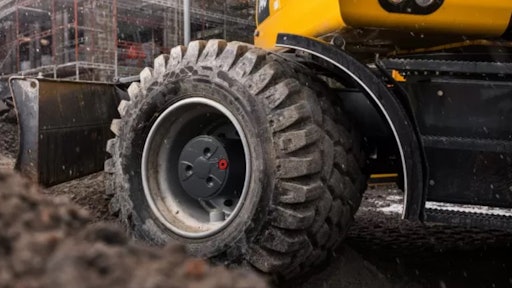 Nokian Tyres
Nokian Tyres Ground Kare is now available in size that fits smaller wheeled excavators in the 9–15-ton range.
With the new size, Nokian Tyres continues to make excavator work easier – especially in cramped city areas, like worksites near households, yards, and such.
The latest addition to the range is the size 600/40-22.5 – fitting many smaller wheeled excavators.
"Compact and agile wheeled excavators in the 9–15-ton range are popular in urban contracting," said Kimmo Kekki, product manager at Nokian Tyres. "Many modern excavators feature four-wheel steering, which further improves their dexterity in tight spaces. By making Nokian Tyres Ground Kare available for these machines we help contractors to minimize soil damage and at the same time offer them a tire with smooth, comfortable and fuel-efficient road transportation features."
Replacement for dual wheels Nokian Tyres Ground Kare has often been used to replace twin-wheel configuration, which is prone to stone-trapping that can cause downtime.
"The new 600/40-22.5 is a suitable option for machines using 9.00-20 in dual wheel configuration," Kimmo Kekki said. "This makes it a drop-in replacement to many modern wheeled excavators."
Efficiency and comfort The steel fortifications of Nokian Tyres Ground Kare makes it very resistant against puncture damage, while its wide block pattern with large contact area enables great traction on soft soil, making it a perfect choice for versatile worksites. What's more, its optimized non-directional tread pattern featuring well staggered blocks with clear offsets ensures a smooth ride.
With the new size, the Nokian Tyres Ground Kare tire is compatible with the even most dexterous modern excavators. By combining the best features of both tires and advanced vehicles it's possible to achieve flexible steering performance, which is crucial when there is a potential risk of damaging the surrounding environment. Nokian Ground Kare does little to no harm for soil beneath, thanks to its big footprint. It also rolls smoothly, making it silent and comfortable on the road.
Traction for real-world contracting Sami Isomäki, who works with an excavator mainly at construction sites around Helsinki-area in Finland, has been a Nokian Tyres Ground Kare user for some time now. He used twin wheels on his previous excavators but has found Nokian Tyres Ground Kare more suitable for his work.
"Before, I had to rely on a tracked excavator on difficult terrain", Isomäki said. "Nokian Tyres Ground Kare has really made my job smoother, as it works well in places where twin wheels would have been stuck. I have also noted that the load-load-bearing capacity is noticeably better than with twin wheels."
Sizes and availability Nokian Tyres Ground Kare has been available in the sizes 600/50-22.5, 650/45-22.5 and 710/40-22.5. Nokian Tyres Ground Kare tire is also available for backhoe machines in size 620/60B30 and 620/60B34, including the special Semi-Slick version for railroad use in size 620/60B34.
The wheel is also equipped with a valve protection including plastic plug, to prevent damage to the valve. The new size 600/40-22.5 is available as of now, both as tire and complete wheel.
Request More Information
Fill out the form below to request more information about
Nokian Tyres Ground Kare 600/40 for Wheeled Excavators