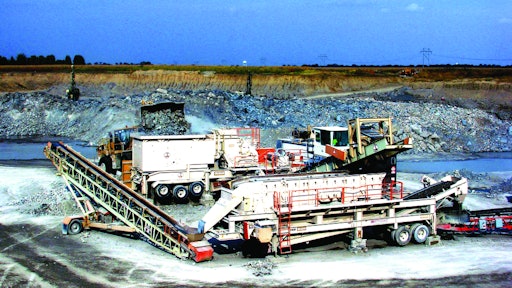 Independence Recycling, a division of Independence Excavating, Independence, OH, started business in 1977 with one stationary jaw crusher at an existing dump site in nearby Garfield Heights. In its first year of operation, the company crushed a total of 50,000 tons of material. Today, Independence Recycling owns 13 portable crushing plants and crushes an average of 80,000 to 100,000 tons per week.
A portable recycling plant, or "spread" as Independence calls it, typically consists of a primary impact crusher, discharge conveyor with electromagnetic separator, a screening plant, a return conveyor from screen to crusher hopper (for oversize materials to be re-crushed), and the required number of transfer and stacker conveyors.
Industry leadership calls for quality tools
Independence operates six recycling facilities in Florida (Jacksonville, Orlando, Lakeland, Tampa, Punta Gorda, Fort Myers) and two in Ohio (Cleveland and Valley View). Local building and excavation contractors, as well as Independence Excavating, truck in concrete/asphalt rubble and C&D debris to the recycling sites, where they are crushed into various marketable materials for the construction industry. Normally, the trucks leave with loads of crushed materials
In addition the company does contract crushing at customer job sites and has worked in 24 states. "We'll go just about anywhere to crush concrete, asphalt and many types of virgin rock such as limestone, sandstone and granite – from several thousand tons to millions," said Ron Brocco, Vice President. "Currently, we're doing two sand-gravel jobs in West Virginia, a quarry job in Illinois, and various crushing jobs with rubble and limestone in Ohio, Pennsylvania and Virginia. We believe we are one of the biggest companies of our type in North America."
The company's goal is to be the leader in portable crushing and recycling. This requires an investment in quality equipment. "We started in business basically using a Grasan recycling spread 30-some years ago and we've stayed with Grasan equipment ever since for larger applications requiring about 300 to 500 tons per hour (tph) production," Brocco noted.
"For smaller jobs up to 150 or 250 tph, we use our own Irock impact crusher plants that are fabricated by our Indy division here in Independence, OH," he continued. "Irock crushers are compact, self-contained, easily mobilized, closed-circuit plants that fit nicely into cramped sites where there are smaller tonnages to be crushed."
Currently, Independence owns seven portable Grasan crushing plants, including 1515, 1315 and 1313 impactors, as well as three portable Irock impactor units, one tracked jaw crusher, and two portable jaw/cone systems. "We're basically impactor people," Brocco explained. "We have the portable jaw/cones and a couple of stationary jaw/cones for granite and other really hard rock applications.
"We use medium chrome blow bars in the impactors about 80% of the time. Sometimes we use two and sometimes four blow bars, depending on the type of material being crushed. Sometimes we experiment," he stated. "On one limestone contract job recently, we started with two blow bars and later switched to four because we felt we could improve production and reduce maintenance costs."
"Blow bar replacement time varies with the material we're crushing. With medium soft limestone, for example, we can sometimes get 100,000 tons from a set of blow bars, turning them at 25,000 tons or so. Harder materials will wear the bars faster, of course," he said.
Buy quality, then maintain it
Equipment maintenance is an essential part of Independence Recycling's management strategy. "One of our Grasan 1313 spreads was purchased in the late 1980s and is still going strong," Brocco exclaimed. "When you buy top quality crushing equipment and take care of it, it lasts a long time. Otherwise, it can be junk in a year."
Typical maintenance for Independence Recycling consists of following manufacturer recommendations plus the company's own established daily procedures, especially with the crusher. After every 10 hours of operation, the crew opens the impact crusher and checks it over carefully for wear or damage. If they see a problem or potential future problem in the making, they can make timely repairs instead of emergency repairs.
"If you don't check often enough or ignore the problems, you're going to be faced with extensive, expensive, not-so-timely repairs sooner or later," Brocco warned.
"Another thing: don't buy equipment based only – or even primarily – on the initial purchase cost. If you do, you're asking for trouble," Brocco emphasized. "You have to consider what it's going to cost to operate and maintain the equipment annually over a period of years, plus what re-sale value you can expect. You need to consider maintenance procedures, parts availability, service availability when you need it, and what are the odds of the greatest profit killer in the crushing industry – unplanned downtime? A good equipment supplier can help you determine these things before you buy. And it's wise to talk to people who are currently using the manufacturer's equipment you're considering, if you don't have experience with it yourself.
As Brocco pointed out, "A lot of people just can't get past the initial purchase cost. With all the equipment we buy, our philosophy is always value first. The initial cost is important, obviously. But quality for the money is king. If you buy quality equipment, you'll be glad while you're using it and glad when you sell it or trade it in, because it will still be valuable."
Companies in this article