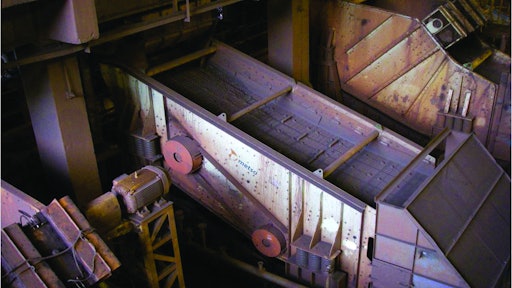 Metso's TS screen design, the flagship product in the North American market fleet, is the only triple deck elliptical banana screen designed especially for construction. Its design allows for up to 40% more production on the same footprint as a typical incline screen. The machine also generates very high acceleration (6Gs) at both the feed and discharge ends. This gives rapid material separation in the feed section with very efficient near size material handling at the discharge. The result is better efficiency and higher throughput in the same footprint.
Metso is preparing to release its new ELLIPTI-FLO screening system, which will provide complete control of critical screen operating parameters. With the ability to dynamically adjust the stroke angle and force, the ELLIPTI-FLO range can produce up to 30% more than a traditional banana screen in the same footprint.
The system can handle material that historically was difficult or impossible to separate, including sticky wet material that would blind a traditional incline machine. The ELLIPTI-FLO system also has newly developed high load, bearingless exciters. Based on Metso's industry-leading mill technology, this innovative design gives the potential for a truly infinite life to the exciter mechanisms. The result is no rebuilds with very simple maintenance.
To make the screens even more efficient, Metso has an electronic handheld vibrating equipment audit tool – the IC80 - that allows quick, consistent and professional commissioning and trouble shooting. And the company is releasing a continuous monitoring system - the IC8000 - that provides a low cost way to protect equipment and improve its availability.
Although Metso's global range of vibrating equipment is produced worldwide, as of October 1, 2010, all North American modern vibrating equipment is produced at its state of the art facility located in Columbia, SC.