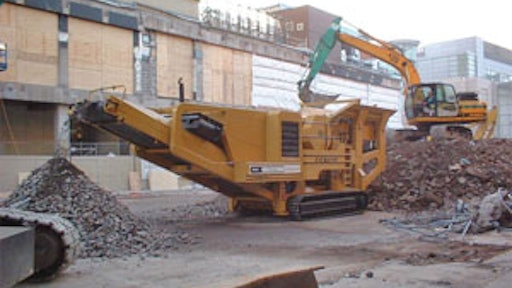 Extec C-12
The C-12 features a fast track system that ensures the clear flow of reinforcing bar when concrete is crushed.
Hydraulically adjusted jaw setting
Small closed size setting
Large gap between discharge point and discharge conveyor eliminates blockages and facilitates cleaning
Thomas ProTough 900
The 22,340-lb. ProTough 900 portable screening plant features a 5-cu.-yd. load capacity and a 46-hp Kubota D2203 diesel engine.
13-ft. 6-in. hopper length and a loading height of 10 ft. 11 in.
Variety of wire cloth screens for easy, efficient screening of multiple material types
Features include air-ride suspension with a fifth-wheel plate and heavy-duty structural steel and reinforced steel plate construction
The Screen Machine 4043T Crusher
The 4043T portable crushing plant features a curtain relief system that allows for remote blockage clearance during operation.
Caterpillar tracks and 300-hp Caterpillar C-9 engine
40" x 43" horizontal impact crusher with 43" x 32" feed inlet opening
Fully remote-controlled operation
Split housing design
40-in.-diameter variable-speed rotor with one-piece shaft design
Three-stage crushing process
Eagle Crusher UltraMax 1600-69
The UltraMax Series 1600-69 portable high-volume, primary/secondary impact crushing and recycling plant features a sculptured three-bar rotor made of solid steel.
Processes a variety of feed material at up to 800 tph
Three-stage crushing action
Standard 500-hp electric power or optional 800-hp electric or 521-hp diesel engine
Powerscreen Horizon 6203 Screening Plant
The Horizon 6203 dry screening plant is designed for large-volume processing of crushed stone, sand/gravel, coal and recycled concrete and asphalt.
Capacity of up to 800 tph
20' x 6' triple-deck with triple-shaft, oval-stroke, adjustable screen
10.73-cu.-yd. feed hopper
Double-deck roll-in chute system with hydraulic trap doors
Four angle-adjustable, hydraulically folding stockpiling conveyors
Grasan KRH1515 Rubble Crusher
This road-portable crushing plant incorporates the Hazemag APPH impact crusher with fully automatic hydraulic cylinder system.
Up to 600-tph crusher capacity
45-in.-high crusher inlet with hydraulic movable inlet base
Diesel or electric power
Skid-on, skid-off hopper
Grizzly bypass chute
Six independent hydraulic support legs for easy setup and tear-down without a crane
Doppstadt SM Trommels
The SM line of trommels is available with several options to accurately match screening performance with the application.
Rear conveyor windsifter option for applications involving light-fraction separation
Star screen can replace the screening drum for more aggressive separation in high-moisture materials
Disc separator option removes oversize products (typically over 8 in.) from source material prior to entering the trommel
Timberwolf Portable Screener
The TW-200 portable screener is customizable for excavators, pit and quarry operators or road crews.
Designed for use with smaller equipment with a bucket size of less than 1.5 yds.
11-hp Honda engine
87-in.-long by 52-in.-wide rubber-mount screen with 1/2-in. coil springs, a travel height of 67 in. and an approximate weight of 3,000 lbs.
Sandvik Crawlmaster 1208i
The Crawlmaster 1208i mobile crushing units feature an intelligent control system that facilitates sequenced startups, close-downs and fault tracing.
Computer monitor with user-friendly icons and symbols
Automatic control of material flow can be manually over-ridden
Jawmaster crusher with 32" x 48" feed opening
Features include crawlers, diesel engines and main product belt conveyors
Terex Finlay J-1175 Jaw Crusher Plant
The J-1175 single-toggle jaw crusher features a heavy-duty vibrating grizzly feeder with automatic control to regulate feed into the crusher, plus hydrostatic drive and reverse crushing action.
42" x 30" Jaques crusher chamber
9.8-cu.-yd. hopper