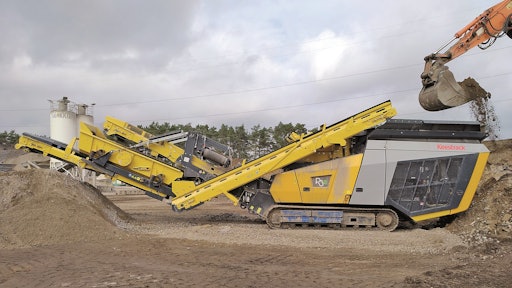 Keestrack, an international specialist in mineral processing technology, will unveil a new modern design for its track-mounted impact crusher unit R3 / R3e in Stand No.: 5A H098 during INTERMAT 2018 in Paris, April 23 to 28. Featuring compact transport and operational dimensions, the 30-tonne model offers the advantages of a diesel electric hybrid concept, which Keestrack is implementing as an efficient alternative drive system in more and more product ranges of its highly mobile crusher and screening plants.
The R3 (formerly Destroyer 1011) is a highly mobile solution with a broad range of applications from short-term construction-site operations to flexible semi-stationary production in medium-sized recycling and production companies. The new generation comes with a modern, attractive design, and is  characterized by fast loading, short set-up times on site and a high level of mobility thanks to the support-less frame construction and rugged undercarriage track frame. Extensive coverings and wide-opening doors and flaps set the standard for accessibility to all operational components and satisfy the requirements for operational reliability and maintainability.
From the spring of 2018, the new crusher will be available in a diesel hydraulic R3 version and as a fully hybrid Keestrack R3e with a diesel electric drive and full electric plug-in power supply. At the heart of both versions is the high-performance impact crusher 48 ICR 100-00 with a large 770 x 960 mm inlet opening. It delivers crushing efficiency up to 250 tph thanks to the heavy-duty 920 mm rotor (diameter: 1100 mm, 3200 kg) and high rotor speeds. Specially adapted crushing tools, a wide adjustment range for both impact aprons (milling beam is optional) and overload system safeguard enable a broad range of applications from concrete recycling with intensive wear to the production of high-quality natural stone grains.
The 235-kW EU IV Volvo diesel engine (option: EU IIIA; 260 kW) and 300-kVA generator serve as the onboard energy source, making the new R3e fully autonomous and highly flexible when deployed interchangeably to construction sites.