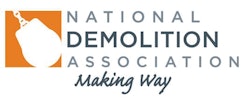 Recognized as the 'final word' in safe work practices on demolition jobsites, the manual has been updated with new information about a variety of topics, including the latest on hazardous material handling and quick coupler safety. It is also more easily searchable on mobile devices.
At a time of increased public interest in the issue of demolition worksite safety, the National Demolition Association has released the newest edition of its highly regarded Demolition Safety Manual, viewed by industry leaders as the final word in safety work practices, according to its executive director.
"Our Demolition Safety Manual is used by professionals around the world and is the cornerstone of the NDA's extensive demolition safety program," said Michael R. Taylor, CAE, noting that it has been translated into many languages. "We work closely with OSHA, which helps fund the manual's development, to correlate the recommended practices it contains with OSHA Construction Standard 29 CFR 1926 and numerous accepted environmental regulations."
The latest revision of the manual enables demolition contracting firms and any other organization involved in the demolition process to manage their own company-specific safety program and promote a culture of safety within their organization. The new content has been studied and recommended by the NDA's Safety Committee and other industry safety leaders.
Among the more noteworthy improvements is updated information on the safe handling of various hazardous materials found on some demolition sites, as well as valuable information onsuch topics as quick coupler safety and the safe use of high-reach long boom arms. In addition, the latest edition of the Demolition Safety Manual is more easily searchable from desktop computers and mobile devices. The manual will soon be available in a searchable format online at the NDA's website.
The new and improved Demolition Safety Manual – offered free to NDA members – can also be purchased online at the NDA Store on the website for $100 for non-members. It joins the newly "harmonized" Hazard Communication Program and the Demolition Safety Talks program, a jobsite tool box safety meeting resource, as the foundation of any company's demolition safety management program.
.
Companies in this article