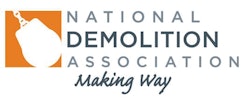 The National Demolition Association (NDA) is pleased to announce that Cheryl Caulfield, IOM, CAE has joined the association as Executive Director. Caulfield will work directly with NDA leaders and volunteers to help guide and execute on the organization's strategic initiatives, programs and policies. Caulfield is replacing NDA Executive Director Michael R. Taylor, CAE, who is retiring from the association after 25 years of service. 
Caulfield has more than 20 years of association experience, including a mix of advocacy, member education, membership development, financial management and meetings management experience. She spent a number of years working for building and real estate associations, including several years at the National Association of Home Builders (NAHB), where she was both a senior vice president for government affairs and, before that, vice president for the NAHB Builder 20 Clubs.  
 
"The Board of Directors is excited to begin working with Cheryl," said NDA President Jeff Kroeker of Kroeker, Inc. in Fresno, Calif. "Her proven abilities in advocacy, membership development and member education will be incredible assets to NDA. We're thrilled to have a leader of this caliber helping to define the future of the demolition industry. I would also like to thank Mike Taylor for his commitment to the success of the NDA and our members over the past quarter century."
Caulfield has also served as president/CEO of the American Bearing Manufacturers Association (ABMA). Working with both global and domestic manufacturing CEOs, she was responsible for the daily management of ABMA and implemented the organization's strategic initiatives and global anti-counterfeiting programs, education, ANSI standards development and industry relations.  She holds a bachelor's degree in political science from Old Dominion University, a Certified Association Executive designation from American Society of Association Executives and a Certified Institute Organization Management designation from the United States Chamber of Commerce.