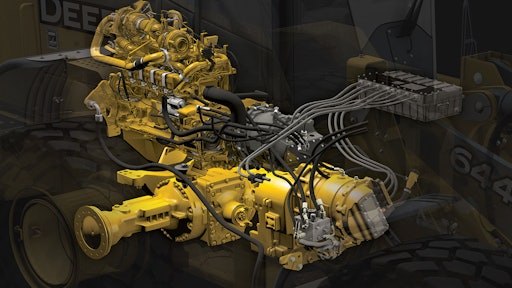 John Deere will showcase its experience developing and integrating electric powertrain solutions for off-highway applications at MINExpo International, Sept. 26 to 28 in Las Vegas. John Deere Power Systems and John Deere Electronic Solutions will be exhibiting together, displaying powertrain and electronic products designed for the rugged demands of mining and construction applications.
"MINExpo International is the ideal platform to feature John Deere drivetrain and power electronics offerings for the mining industry," said Darren Almond, manager, drivetrain product planning for John Deere Power Systems. "We're pleased to have the opportunity to showcase how the John Deere drivetrain and power electronics products can be combined to work in a variety of mining applications."
Electric drivetrain product highlights include:
a family of inverters based on a modular concept and includes power stage, bus capacitor and optional brake chopper with a common control module.
PD400 dual inverter with configurations rated from 150 kVA to 300 kVA is all-in-one solution that eliminates the need for multiple interfaces, allowing system designers the ability to improve machine performance in extreme conditions
Electric generator drive specifically designed to provide the electric power necessary for heavy-duty off-highway traction drive applications - offers a power range of 155 kW (210 hp) for the size 3 model and 400 kW (536 hp) for the size 5 model
three-speed transmission offering a power rating of 145 kW (195 hp) and providing torque and speed ranges similar to conventional off-highway transmissions - provides optimal vehicle controllability and full hydraulic power under any operating condition
In addition, John Deere Power Systems will have on display the CanmetMINING-certified PowerTech E 4.5L Tier 3 engine with a power range of 63 kW to 104 kW (85 hp to 140 hp). The 4.5L engine has full-authority electronic controls, two-valve cylinder heads, a high-pressure common rail fuel system with electronic fuel injection and a fixed-geometry turbocharger in turbocharged or air-to-air aftercooled aspiration systems.
"John Deere is dedicated to providing power solutions for the mining industry," said Darrin Treptow, manager, worldwide marketing for John Deere Power Systems. "The Tier 3 4.5L engine is well suited for the extreme working conditions of underground mining applications."
John Deere will also display products from its lineup of Funk drivetrain components, including pump drives, HMD 18000 transmission and TeamMate II Series 1200 axle.