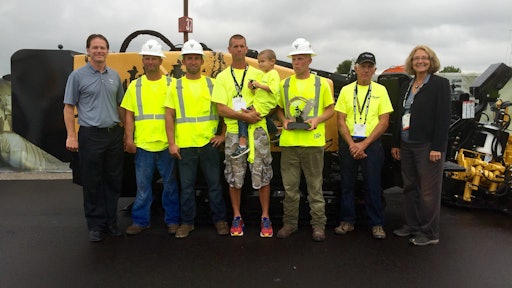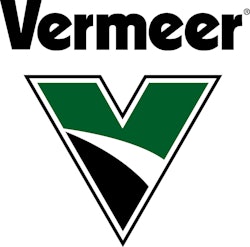 B&T Drainage Inc. from Marshall, IL, has been named the winner of the Ultimate Crew contest, sponsored by Vermeer. B&T Drainage bested three other crews during the Ultimate Crew Underground Showdown, a live drilling competition held at the International Construction and Utility Equipment Exposition (ICUEE) 2015 in Louisville, KY.
A panel of judges scored each team based on time to complete the bore, accuracy, safety procedures and teamwork. The crew's efforts earned the grand prize — the use of a new Vermeer D24x40 S3 Navigator horizontal directional drill for one year.
B&T Drainage Inc. is a family business that was founded by Allen Boyer in 1981. Today, Allen's sons, John, Scott and Steve, run the business along with John's sons, Chase and Colby. There are currently three generations and 10 family members involved.
"We'd like to thank Vermeer for giving us this opportunity. We had so much fun coming to ICUEE and participating in the Underground Showdown," said John Boyer. "I believe that we won today because we came in with a plan and worked well together as a team. Now, we can't wait to get home and try out our new drill!"
Later this year, the crew will be featured in Vermeer advertising running in key underground publications. In addition, they will participate in a "Behind the Job" Web series. Each episode will focus on the challenges faced on HDD jobsites, how the crew works together to complete a job, as well as how they are using technology to succeed and stay productive. The Web series will be hosted on NavigatorNation.com and YouTube.
Vermeer congratulates all the finalists who competed in the Underground Showdown: Martin Hildreth Company Inc., from Rockwell City, IA; Precision Underground Inc., from Bismarck, ND; and Tru Tek Drilling, from Conneaut Lake, PA.
"The Ultimate Crew contest is a true testament to the talented individuals in the underground industry who build the infrastructure that powers our daily activities," said Jean Kaul, marketing manager – underground, at Vermeer. "We witnessed some of the best crews in North America compete head-to-head today. We are grateful for their hard work, competitive spirit and loyalty to our industry — and our brand."
Companies in this article