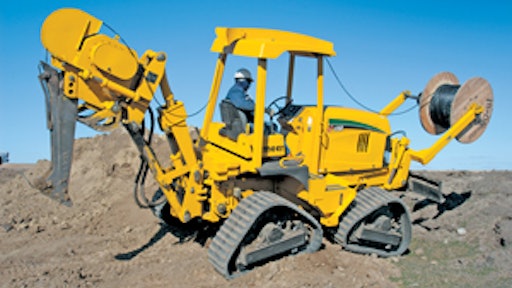 Vermeer RTX1250
The RTX1250 ride-on trencher with quad-track design offers greater traction and stability with added flotation in soft or sandy soils.
Maintains constant four-point ground contact and provides full power to all four tracks
Allows for function of traditional ground drive features such as axle oscillation, four-wheel steer and crab steering
120-hp Cummins turbocharged, charged air-cooled engine
Capable of trenching depths up to 72 in. and widths up to 18 in., as well as pulling plow blades up to 36 in. deep
Ditch Witch HT220 Large-track Trencher
The 220-hp?HT220 hydrostatic trencher is designed for large installations from 12 to 24 in. wide and 4 to 8 ft. deep.
Flywheel gearbox delivers added horsepower to the attachment on demand, while protecting the hydraulic system and other components from shock
Standard trencher stabilizers isolate vibration when digging in rock
Forged, heat-treated, high-alloy steel headshafts
Integrated spoils conveyor
Bit block digging system for easy changeout of one or all bits in the field without chain removal
Astec RT660 Ride-on Trencher
The RT660 can trench up to 72-in. depths with widths of 6 to 16 in.
67-hp Cummins four-cylinder, liquid-cooled diesel engine and four-speed transmission
Hydrostatic four-wheel drive with four-wheel steering
Limited-slip differential and outboard planetaries on both front and rear axles, with optional locking differential axles available
Can power a quad configuration or the combination of various attachments
Barreto Steerable Walk-behind Trenchers
These 900-lb. steerable trenchers feature precise wheel control to help eliminate drifting, making them well suited for trenching uneven terrain or hillsides.
Zero turning radius
Capable of long, arching curves with ¬virtually no extra effort on the part of the operator
1324 ST powered by a 13-hp Honda engine, while the 1624 ST runs on a 16-hp Briggs & Stratton Vanguard V-twin engine
Trench to 24-, 30- and 36-in. depths with a width of 4 to 6 in.
220-fpm forward ground speed
UTI Rock Trenching Equipment
Underground Tools, Inc. offers a wide selection of rock trencher chains, as well as trencher sprockets and booms.
All parts constructed of heat-¬treated steel and carbide
Meet or exceed manufacturer ¬specifications
Designed for long wear life and aggressive rock trenching ¬productivity
Ballantine Terminator/Cup Combination Chains
The bolt-on Terminator combo chains feature carbide teeth that knock out the center of the trench in tough ground conditions.
Cup cutters remove spoil and leave clean side wall
Adjustable tooth patterns and cutter changes
Trench-Tech Series 2000
The Series 2000 chain trenchers include four models offering Caterpillar engines ranging from 300 to 830 hp.
Operating weights range from 75,000 to 300,000 lbs.
Cutting widths from 12 to 72 in. with cutting depths up to 24 ft.
Mechanical power train with four digging speeds that deliver high torque/low speeds for maximum tooth penetration
Replaceable digging boom wear plate system
Elevating cab design
Wolfe/Man 7000 Wheel Trencher
The Wolfe/Man 7000 from A & E Construction Supply is an all-hydrostatic wheel trencher designed for pipeline and drainage work.
7-ft. depth with a 20- to 36-in. width
48,000-lb. operating weight
325-hp Cat engine
Air conditioned/heated cab
Wheel side tilt and center pivot
Ground Hog T-4 Trencher
The T-4 operator-propelled chain-type trencher is designed for jobs requiring up to a 12-in.-deep by 3-in.-wide trench in a short period of time.
Depths of 6, 8 and 12 in. with 4- or 18-in. conversions available
Comes with shark or carbide-tipped rock-type teeth, tapered roller bearings and a powder-coated exterior
One-way ratchet assembly
Designed for easy maintenance
Little Beaver Kwik-Trench Earth Saw
The Kwik-Trench Earth Saw makes clean, narrow trenches and deposits soil on one side to minimize backfill and clean up.
For installing lawn sprinkler systems, landscaping edging and other shallow trenching ¬applications
Trenches up to 30 fpm at 12 in. deep depending on model