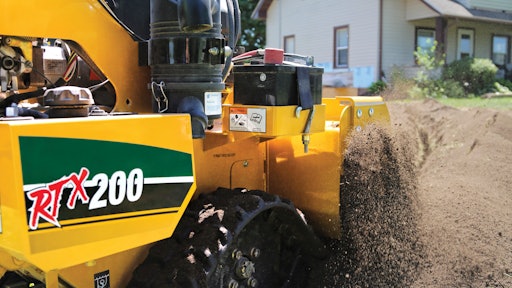 Pedestrian trenchers are evolving away from the rigid, wheeled machines of the past in favor of more maneuverable tracked rigs, thanks to manufacturers who are working to supply robust and durable products that are simple for the operator to use and profitable for rental companies to own.
"Over the past decade, the trencher market has been trending toward rubber tracks as an alternative to rubber tires," explains Chris Thompson, Ditch Witch product manager, compact equipment. "New track systems give operators more balance and ground traction, allowing them to conquer a variety of terrains with one piece of equipment."
Maneuverability in tight spaces
It seems every manufacturer is working to improve the user experience with various advancements in their track technology. Ditch Witch, for example, has eliminated the trail wheel on its CX-Series walk-behind trenchers, which include three models with dig depths ranging from 36 to 48 inches. Exclusive to Ditch Witch, the CX units have a patent-pending track design that's shorter on the left side and longer on the right. This design delivers improved traction, Thompson explains, making it easier for operators to efficiently move around compact jobsites and in tight spaces.
"As jobs continue to demand installation in smaller spaces, compact machines like walk-behind trenchers will be in higher demand," Thompson says. "Newer innovations allow these machines to still pack a punch, too. With updated designs, the smaller trencher models help operators reduce their jobsite footprint while maintaining or even improving productivity. New units have more power and can dig deeper than previous walk-behind units."
Matt Hutchinson, product manager at Vermeer, agrees, noting that previous generations of trenchers were very difficult to steer and were very slow getting to and from a jobsite. For this reason, Vermeer introduced "VZ steering," its exclusive system developed to allow a novice operator to intuitively be able to guide a trencher with minimal effort. 
In addition, the hydraulic system has been enhanced for improved productivity.
"We've optimized the trencher drive motor to better utilize the available power of the machine and made enhancements to the VZ steering system, which provides operators more control in difficult ground conditions," Hutchinson says.
"The trencher drive motor is optimized by sizing according to the available horse power and chain speed requirement," he explains. "This provides maximum torque to the chain, while still spinning quickly enough to keep the trench clean."
Vermeer recently introduced two new pedestrian trenchers to serve the rental, landscape, utility and irrigation markets. The RTX130 and RTX200 are available with 24- to 36-inch cutting booms and 6-inch cutting widths to help landscape contractors install irrigation systems, drainage tile and outdoor electrical lines more efficiently.
Better trenching performance, improved operator experience
For its part, Barreto Manufacturing recently introduced its patent-pending Independent Floating Track System on its new STK track trenchers that were designed for big-trencher capability in a smaller package.  
"We had a need in our trencher line for a tracked trencher that could accommodate 24- and 30-in. dig depths," notes Tim Phelps, product/sales manager at Barreto Mfg. "When we compared our RTK and TKD Series to our competitors, we have a 1,800-lb. machine with a very large track footprint, and it does very well at dig depths of 36 in. and beyond. But at a weight that's 40 percent heavier than the competition, and a higher price point as a result, customers would often go with a 24-in. machine. We were losing sales because we didn't have anything to compare to those lighter machines, but we liked how our trenchers performed at deeper dig depths."
He continues, "So we wanted to come out with a smaller, lighter, tracked trencher. And in doing that, we could see our competitors' smaller machines really weren't getting the traction that our larger machines do because we have a lot more track contact with the ground and more weight.
"We could have just put a smaller track on the STK, but we didn't like the lack of traction that resulted. So, our engineers designed a track with a pivot system built in."
This pivot system, known as the Independent Floating Track, Phelps explains, allows the tracks to move over small obstructions without the rigidity that most tracks display. The result is more track maintains contact with the ground at all times. "There's no teeter-totter effect," he says. "So it greatly helps with traction, plus it smooths the machine out when going up and over stuff. This machine kind of just floats across the ground, while other machines feel more rigid."
An important benefit is that while trenching, the pivoting track system has the ability to absorb impact from obstacles in the ground, so the depth of the trench remains more constant, improving the end result.
More maintenance?
One might think that all these technological advancements might translate into more maintenance, but that's not necessarily the case.
"Our latest trencher designs have changed to ease serviceability," says Thompson at Ditch Witch. "The units have no daily grease points and are designed to offer easy access to all the machine's components. This simplifies maintenance and keeps the machines rental-ready, helping rental centers increase their overall profitability and operators improve productivity on the job."
Hutchinson at Vermeer points out that tracked undercarriages do typically require more maintenance over rubber-tired units, due to greater complexity, but they never go flat. "The tracks allow a machine to be used in more ground conditions, extending a machine's ability to be rented more often," he says.
Newer design developments are keeping today's walk-behind trenchers hassle-free, Thompson adds. "We know time is money, so we've designed our newest trenchers to stay rental ready, with minimal prep time. This helps rental centers improve ROI, and helps keep operators profitable and productive. The newest Ditch Witch walk-behind trenchers eliminate grease zerks, and they also operate with high-quality, sealed bearings. This helps keep the machines running efficiently day after day. Designed with greater machine accessibility, any maintenance and upkeep is also simplified. Additionally, maintenance teams have quick access to machine components to identify problems faster."
Changing expectations
There's no question that customers now expect more from equipment than ever before. Both rental companies, and the end users they serve, look for equipment that won't break down and is simple to use.
"As in most industries, contractors are seeking to get the most bang for their buck," Thompson says. "Rental centers need to keep their machines at maximum capacity. Newer trencher innovations have aimed to help rental centers do just that – with the minimization of daily maintenance points."
Phelps at Barreto says equipment design is constantly evolving to improve the ownership as well as the user experience.
"I think we're addressing the difficulties that people have with trenchers," he says. "We're trying to make our machines more robust and easier to work on, and we're giving them more intuitive controls so they're easier to use. From the rental company's perspective, if your customers have a bad experience using your machine, they're not going to want to rent it again."
He continues, "The other side of that is with added features and benefits, the price of the machine goes up. But it's our hope that the user can get something done faster with the higher-priced machine. So the rental could cost them less, or the same, but the experience will be better. Then they'll want to rent the machine again and they might even spread the word."
Thompson agrees, noting that in the past, rental centers and operators selected lower-horsepower trenchers with the intention of saving on upfront costs. 
"The challenge is that the lower-powered machines did not provide the necessary power and durability to match the evolving and more demanding jobsite environments and requirements," he says. "Today, as operators demand more powerful yet compact units, walk-behind trenchers are evolving to provide double-digit power in a small package. Newer trenchers are designed to help rental centers reduce total cost of ownership, and to provide operators the necessary power to get landscape and utility projects done on time and on budget."