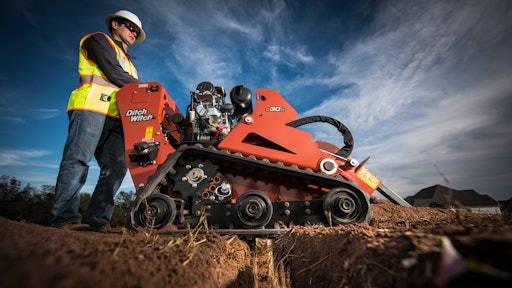 Ditch Witch
By Tyler Schwandt, Ditch Witch product manager, parts and telematics
Advancements to compact walk-behind trenchers are creating new reasons for renters, landscapers, and other green industry pros to use dedicated trenchers. Available in a variety of sizes, trenchers are efficient and effective digging machines for installing pipe and cable.
While technology enhancements assist with efficiency and productivity, users looking to extend the life of trenchers must also conduct routine maintenance and equipment care.
Consistent Care
To keep trenchers hard at work on the job and in peak performance, operators and rental yards must monitor and maintain the machine and components over time. Chain, teeth, and sprocket (CTS) components need to be replaced regularly – with frequency depending on use and jobsite conditions.
The most common cause of CTS wear and tear occurs when a system is forced to perform a task beyond what the trencher is intended to do. Often, this happens when operators rush and plunge the boom into the ground too quickly, as opposed to allowing the boom to pull through the ground. Moving too fast can send your machine to the shop and negatively impact your productivity.
Signs and Causes of Wear and Tear
To prevent abnormal wear and tear on trencher chains, it's especially important to ensure proper chain tension by regularly checking the chain's fit.
Chains come in multiple sizes and shouldn't sag, or they'll vibrate the equipment and cause unnecessary wear. Chains also shouldn't be too tight, or they'll begin to create different wear patterns on the sprocket or sidebars. A good rule of thumb when checking tension on a walk-behind trencher is to remember two fingers should fit between the chain and the lowest part of the boom when the boom is parallel to the ground. This translates to approximately 1.5 to 2 in.
Additional signs of wear and tear include: worn chain rollers, digging teeth, side bars, and sprockets. If you notice these signs, take a look to see what's happening and consider these four tips for extending the life of your trencher and CTS:
Look over your machine to check for signs of wear and tear before starting new projects.
If your trencher has broken teeth, replace them immediately.
Replace chains and sprockets simultaneously to increase overall system life.
Monitor digging chain tension and adjust as needed.
As with all machinery, check your operator's manual for machine-specific guidelines and other important safety recommendations.
Companies in this article