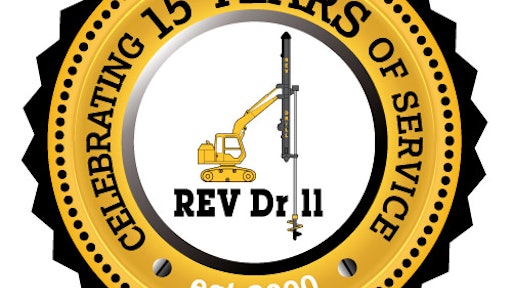 In January 2001, the first Rev Drill was delivered to Andreini Brothers in Half Moon Bay, CA. Fifteen years later, Rev Drill has organically grown from its two original prototypes to delivering over 100 new rigs and over 30 rental units working throughout the U.S.
Originally designed as a short auger earth drill, applications now range from larger diameter rock drilling utilizing downhole hammers and cluster drills, to anchors, continuous flight applications, vibratory install jobs and other applications.
Providing economical solutions to fill the void in the deep foundation industry has been the basis of Rev Drill's business model. But over the years, it has discovered new opportunities to offer its clients, including value engineering plans, supporting and providing equipment/tooling, handling logistics or on-site support and more.
"It seems like yesterday pictures were being shot of the first drill delivered on that beautiful Northern California shoreline," says Ed Amos, Rev Drill president. "Although 15 years goes by very quickly, Rev Drill has taken full advantage of its journey. By teaming up with its clients, listening, learning and growing, it has found a space to be successful in.
"Rev Drill doesn't claim it can drill it all," he adds, "but what it can, we feel like it offers the most economical in the industry."