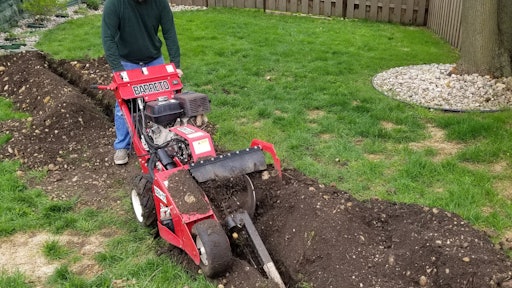 A trencher rental is a trencher rental is a trencher rental, right? It can seem that way to anyone who's ever used one of these machines more than once. Ubiquitous in rental inventories, walk-behind trenchers are simple, durable creatures that typically go out on rent and come back without incidence. And so it was with this particular rental… if there even was a rental at all.
Boy, that was cryptic. Read on to find out what happened.
[VIDEO] Renters' Review 2019: First-Try Trenching Gets It Done
Laying lines in Beloit, WI
This year's Renters' Review took us to Beloit, WI to the home of a co-worker's son who aimed to install gas and electric lines from his house to his garage. The plan was to rent a walk-behind machine to dig a trench approximately 50 feet long in his yard. A simple enough job.
The homeowner, Nick Bower, called Digger's Hotline to mark for utilities a week or so before our target date for the project. I then began calling around to find a rental company that could supply the machine. Our plan was to have it delivered on a Friday, do the work over the weekend and have the machine picked up on Monday.
Fortunately for our Renters' Review, Beloit is a new market for us, ostensibly full of rental companies we've never rented from before. Our goal for each review is to utilize a new company, but this has proven difficult since there are only so many businesses within the southern central Wisconsin market that we call home. Oddly enough, however, we found out Beloit proper is somewhat limited in its rental options, so I had to expand my search to Rockford, IL and beyond.
My first choice was a rental company in Rockford that listed walk-behind trenchers on its website. I made the call and was told the rental rate would be $120 for four hours or $180 for a full day, which would amount to the entire weekend, if I rented on a Friday. Delivery, I was told, would be $75 each way, bringing the grand total to $330, which isn't far off of what I estimated the cost to be. The person I spoke to on the phone mentioned the need for someone to be available to receive the machine, which would be delivered before 2 p.m. on the Friday.
For comparison, I always like to call a national chain. In this case, the one I chose offered a similar machine, but charged $324 for an eight-hour rental and recommended I bring a pickup truck big enough to transport it, or rent a trailer for $75 more, bringing the total to $399. I thought that was just too expensive, considering we would have to handle transport ourselves.
So far, everyone had been very polite, but not very solicitous. Running out of local options, I called a company in Janesville, which had very reasonable rates and a friendly voice on the phone, but no trencher available on the day I needed it. That's when I remembered a company I had called before but never rented from. This company is an equipment dealer with a fairly extensive rental inventory. I spoke to someone in the rental department and was told a trencher was available on the day I needed it. The weekend rate was $142.50 plus an $80 round trip delivery fee. Talk about reasonable! The only problem was they said they couldn't get the machine to us until Saturday morning, which wasn't a significant issue, so I gave them my credit card number, booked the rental and we agreed upon an early Saturday morning delivery.
The following Friday, the day before our project, I received a call from the rental company letting me know they had just delivered the trencher to the job. While it's nice to have the machine ready to go ahead of time, this meant that no one was there to receive the machine and get any sort of familiarization on how to operate it. When I mentioned this to the person at the rental company, he said we could call with questions if we couldn't get the machine started.
Skeptical, I told Nick about the change of plans and that a trencher would be waiting for him in the driveway when he got home that day.
We got the red one
I arrived at Nick's house the next morning and was excited to see the machine waiting for us was a Barreto 1324 ST wheeled walk-behind trencher. I'm familiar with Barreto machines and I know they're simple to use and are robust, which I figured would come in handy with the rocky, wet soil we'd soon be trenching.
I had wanted to document machine start up because often, that's a moment of confusion with novice operators and rented equipment, but right away I discovered that Nick had had no problem getting the machine started and maneuvering it into position. Impressed, I took a look at the controls and was reminded the 1324 ST is steerable due to its two-pump, two-motor wheel drive system that allows one-hand operation of both wheel controls for traveling. Even before the boom was lowered into the ground, Nick was already singing the praises of this feature which Barreto pioneered over a decade ago. And because the terrain we would soon be trenching included a fairly significant incline, the machine's precise wheel control would help us minimize the drifting that's common with walk-behinds.
Gettin' it done
The moment had arrived to actually begin trenching. Once again, Nick had no trouble getting the machine started. When it came time to lower the boom and engage the chain, however, things got a little more complicated. To operate, it's necessary to hold the digging chain control in the ON position. With ground speed control in neutral, you then pull up the clutch lever and slowly lower the digging boom to the depth needed. Then, slowly move the ground speed control in the reverse direction until the right speed is reached. In short, as Nick said, "I could use three hands!"
But it wasn't long before he got the hang of it and began making progress. It didn't take long at all to trench 12 feet, at which point we needed to turn and make the incline up toward the garage. Nick reasoned that it would probably be most effective to work with gravity and begin at the garage and work backwards, down the hill, to join up with the initial trench. So that's what we did.
The entire trenching process took a couple of hours, punctuated by only a couple of challenges. The first came when Nick struck what initially appeared to be a big stick but turned out to be conduit containing wires of unknown significance. He suspected they were a past homeowner's work, but it wasn't until he checked out the garage that he discovered the wires were supplying power to the garage door, which was now operational. The locator who visited the property didn't mark for these lines because they are private, not owned by a public utility. The damage was done, so there was nothing left to do but continue with the project.
The next hiccup came when it was time to join up the two trenches. Nick had done a phenomenal job handling the machine and keeping the trenches on track, but when they joined up, the wheels of the trencher threatened to dip into the trench, reducing productivity and increasing the man power needed to stabilize the machine. At one point, it took three men to right the ship once the trencher tilted into the trench. It's interesting to note that Barreto's newer tracked trenchers are designed to easily traverse crossed trenches. In the final analysis, the trench turned out perfectly and the machine did what was asked of it without complaint. It was a job well done.
I didn't stay for the installation of wires and conduit, but I'm told it was a long day that ended with a burger and a few beers. We'd been told the machine would be picked up on Monday or Tuesday, so Nick parked it in the driveway and that was the end of that.
This is odd
After a couple of days it occurred to me that I never received a receipt, so I called the rental company and requested a copy to be emailed to me. Oddly, the employee I spoke to could not find any record of my rental despite me repeating the correct spelling of my name, my credit card number, my email and more. She said she would check with the rental personnel and email a copy of the receipt once she located it.
A couple of days went by and I had not seen an email, so I called again. She said the rental staff were investigating and I would be contacted. Meanwhile, I noticed my credit card had successfully been billed for the rental, so I was puzzled as to why there was no record of the rental on the company's end. Surely, they must have something in the computer, noting the delivery and pickup? It was then I realized that not only had I not received a receipt, but I also never signed a rental contract. And by the way, the trencher was still sitting at Nick's house on the Wednesday following our work, four days after we were done using it and two solid days after we were told it would be picked up. Did the rental company lose their trencher? Did they not know where it was? If they had no record of the rental, how would they know where to pick it up? In their books, did it even happen?
I never investigated why I was never given a contract to sign, but my imagination did run wild with the potential problems the lack of one could cause to the rental company and myself. What if the equipment was severely damaged as a result of drastic misuse? Would they ever be able to recoup the cost in that case? What if, since the machine had essentially been abandoned at Nick's house, we decided to sell it and claim it was stolen? What could they do about it, without a contract? What if someone had been hurt while operating the machine? Who would be liable for medical expenses? We'd never received instruction of any kind, after all.
And what about my personal exposure? Without a contract, the rental company could conceivably have charged my credit card whatever it wanted to. They could claim damage and say it's my fault. A lot of outrageous scenarios are possible, albeit unlikely, but the simplest one is that they would just not be able to find the equipment to pick it up because there was no record of it ever being rented!
Epilogue – It's the little things
Most every aspect of this rental was positive: friendly staff, accommodating service, top-notch equipment… but this little glitch in record keeping does make me wonder how this operation is managed. In this day and age of data-driven decision making, it's hard to imagine not having copious documentation of every transaction. The fact that this company, which by all outward evidence has been successful for decades, is perhaps a bit sloppy in this area is a testament to the fact that we still have a ways to go toward widespread industry sophistication.
That being said, nothing bad happened either. The rental company finally picked up their trencher on Thursday, five days after we were done using it and seven days after it was dropped off. All for a weekend rental rate. That, in and of itself, could illustrate a lack of concern for profitable utilization. Is this company so successful that it isn't vitally important to have all pieces of equipment accounted for and ready at any given moment? To be fair, this company is an equipment dealer first and foremost, so rental is a side hustle, so to speak, but there's no denying that a lackadaisical attitude in a less-than-crucial area suggests it could arise elsewhere as well, in a much more critical way.
Professionalism is one of those "soft" terms that can be interpreted a number of ways, depending on the circumstances. Still, no matter how successful you are, never underestimate the importance of professional business practices and the impression they leave with customers, not to mention the vital role they could play in your bottom line (if, say, a piece of equipment goes missing for a significant period of time).
In this case, a formalized rental procedure, complete with a rental contract/receipt that can be sent electronically, is a sound business practice that protects both parties and instills a sense of security for all involved. The best rental companies are typically flexible and are happy to work with customers who need special exceptions to the usual procedure, but establishing predictable processes and following them is good business for business owners, employees and customers too.