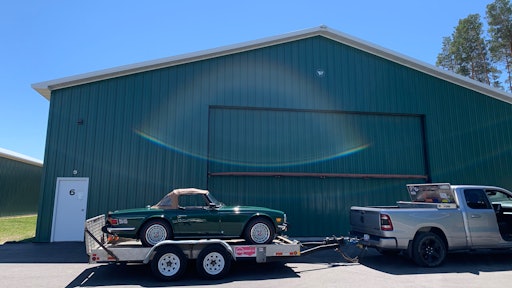 Renting a trailer was an experience.  
As I was told by the nice young woman at a well-known national chain when I called about such a rental, "Trailers for cars are very rare."  
Yes, you read that correctly. Trailers for cars. You see, I had a unique situation arise in the last few months that led to an opportunity for a test. A test to see how rental companies could step up to a non-contractor transport challenge.  
My dad needed someone to go pick up his Triumph convertible four hours away in northern Michigan, where I've spent my summers since I was a little kid. He asked Dave, my husband, if he knew anyone with a trailer, offering to pay them for the job. I quickly interjected, "We can do it!" My mind circled around renting a trailer for this story; a unique approach centered around a piece of "equipment" not often featured and a project with a scope not frequently written about.  
So, here we are. I offer you a tale of a trailer.  
Starting Out 
I started the entire process doing what most people my age might do: I Googled equipment rental houses by me. Unfortunately, there weren't many. The options could be counted using both hands, and even then, it wasn't all 10 fingers.  
I started browsing websites, paying particular attention to the smaller businesses. Chains and large powerhouses are great and all, but I try to always support the little guy if I'm able to. Unfortunately, most of the locations by me didn't offer trailer rentals. Great. My first strike. After a little more digging and expanding my search radius, I found two that offered trailer rentals. Under the "Contact Us" tab on both websites, I found an email address that seemed to go to a direct person. I wrote out what I wanted, what the project required, and so on and so forth, then sent it.  
From there, I moved on to the larger chains with hopes of getting a quote and finding a rental. I started with one particular national chain. Their website was incredibly easy to navigate, and I found various trailers that would fit the job. The car is 13-feet long, so we needed a trailer around 14- to 15-feet long with no bigger than a 10,000-pound capacity. We were also looking for one with ramps, as we had to get this sports car up on the trailer easily and carefully.  
After typing in my zip code on the website, I found a few options. A 14-foot deck tandem axle trailer under 10,000 pounds and a 14- to 16-foot lift bed tandem axle trailer. For a novice trailer expert, the options were somewhat confusing. They were all too similar to one another with only slight variations that I didn't know how, or if, they would affect our project.  
I priced out the options on the website, then decided to directly contact them instead. Just like the smaller rental houses from earlier in my search, I wanted to test their digital and email prowess. So, I reached out to two different locations through email. I pushed "send" and went back to my research.  
Next came another national chain. I started browsing the website and was quite put-off by it, as it was more complicated than the others and harder to navigate. I couldn't get pricing or do anything of use without logging in first. As a first-time renter, I wasn't sure I wanted to create an account, so I just ignored that step. I found a few options like a utility trailer that was tandem axle and a hydraulic ground-level equipment trailer. The location I was interested in renting from didn't have an email associated with the business, so I broke my own test and decided to call.  
I spoke with a woman named Rachel, who was incredibly sweet and had a calming voice that quickly put me at ease. She asked what I needed, then proceeded to browse all the different locations around my address for trailers. At one point, her dogs started barking in the background and she quickly became apologetic. I laughed and appreciated that I was talking to a "real" person, not someone in a call center or someone who was callous.  
Unfortunately, we had no luck. There were no car trailers anywhere in our area, and Rachel had checked every location in my general vacinity. We hung up, and I started to get nervous. I figured I would wait for some emails back and put a hold on my search until the next day.  
A Great Success  
The next day, and the day after, zero emails hit my inbox. A swing and a miss. Strike two. The deadline was looming, and the search was on, so I started calling even more rental locations, expanding my search perimeters even more.  
I zeroed in on a smaller local chain with a few different locations in my area. I called the closest one and got an abrupt reply, "Yeah, we don't have any." His attitude slightly deterred me. Why be so short to a potential customer? With that phone call echoing in my ears, I called another location and (thankfully) spoke with an incredibly helpful gentleman.  
He told me that they do rent trailers, but because we were trailering a sports car, he didn't think the angle of their ramps would work, as he didn't want to scrape the car in any way. He offered a recommendation to another local rental place whom I didn't see on any of my lists.  
Let me insert a side comment here to say how impressed I was that this guy offered for me to call his not-in-the-same-city, but-close-enough competition. Not only did he prove that he was a trustworthy guy, but he made a lasting impression on me. I would rent from him in a second.  
Anyways, I called the small, local company he recommended. The woman on the phone was not only friendly, but helpful. They had a trailer that was perfect for the job, but she told me that they usually don't allow people to take their equipment that far. My heart sank, and I started envisioning my strike three crossing the plate. But suddenly, she told me to wait a second and ran to ask her boss.  
She came back and said we would be liable, but it wouldn't be a problem. From there, she offered to hold a trailer for us. I pumped my fist in the air and, keeping with the baseball terminology, hit a home run with two strikes on me.  
Away We Go
My husband picked up the trailer Friday evening after work, and according to him, the process was quick, simple, and painless. When he got there, he went inside and was greeted by the woman he spoke to on the phone. She ran through the bill and charges with him including the hefty deposit, which would be credited upon the trailer's return, took a copy of his ID, and scanned his credit card. 
She then told him he was all set, to go ahead and meet a guy out back, and to just show him his receipt. The guy was waiting patiently, and when Dave moved the truck in front of the trailer, the gentleman put the hitch in and attached the trailer. Then he provided a quick walkaround, gave a run-down of all the features, and showed Dave how to properly operate it. He asked my husband to get back in the truck and test the lights, so he could make sure both the brake and running lights were working. I'm not sure if this is normal operating procedure, but I appreciated the care and consideration of the entire process.  
The rental house also offered that if we were interested in returning the trailer after hours, they would give us a padlock for a secure return. And they offered a receiver/ball part to rent for only $5. All of this to say, I was quite impressed. 
We left early the next morning for our northern Michigan trek, traversing hundreds of miles in our four-hour trip. The empty trailer was fairly loud throughout our journey, but overall, functioned and operated well. Sunday morning rolled around, and we went to the storage facility to pick up and load my dad's car.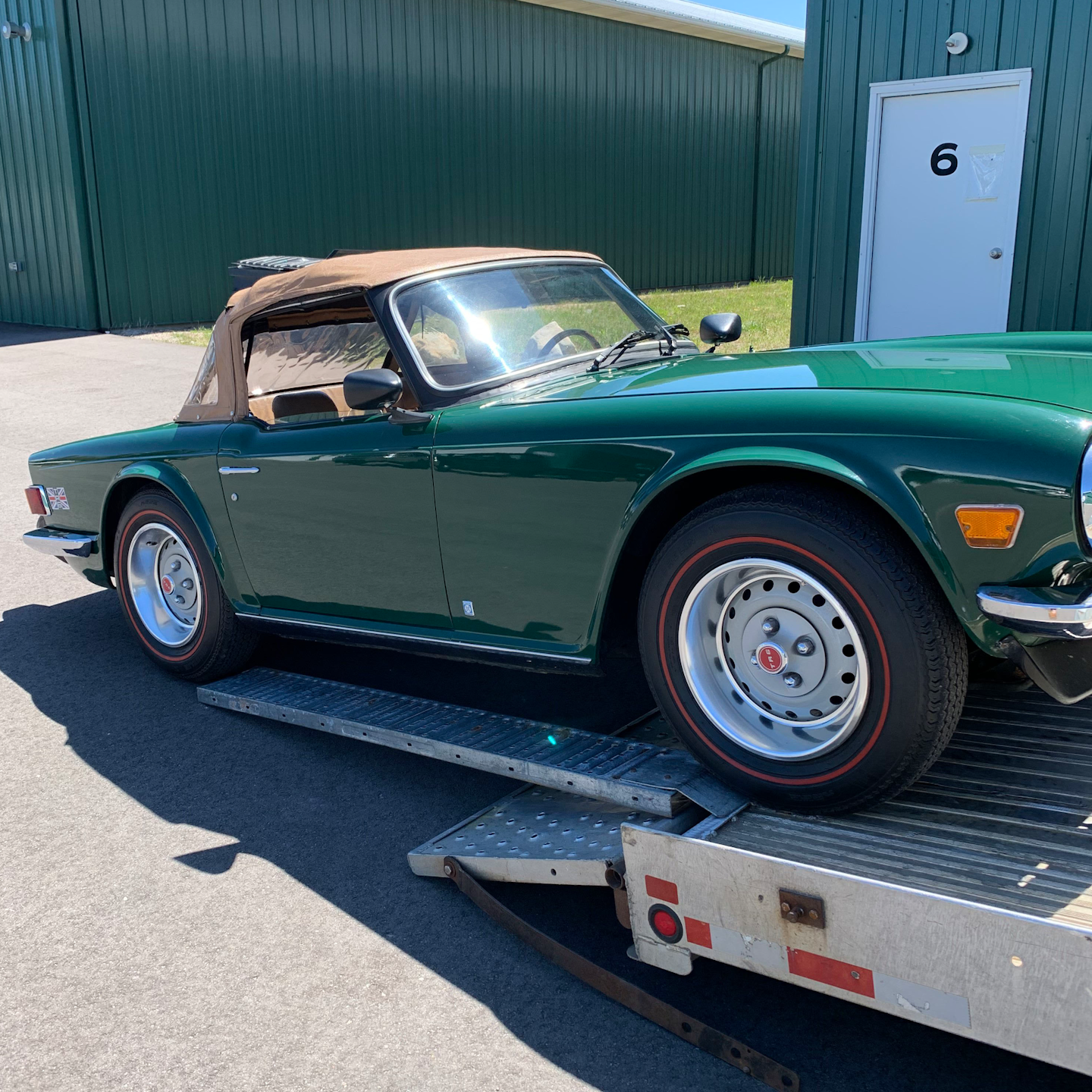 Now, there is a possibility that my novice background in trailer loading provided me an extra set of nerves during this process. Or maybe it was because my new husband and I were responsible for driving, loading, and trailering my dad's expensive and rare racing green beauty. Or maybe it was both of those things combined with the fear of having a rental trailer that we were completely liable for. But my heart was racing like never before.  
Dave lowered the trailer with ease, then after carefully considering the angle, decided he needed to also use his own ramps so he wouldn't scrape the bottom of the car. I positioned myself at the top of the trailer and made sure the two ramps were aligned with the wheels. At this point, my anxiety was through the roof. There's nothing like trying to navigate a vintage car on two, very narrow metal ramps, with all responsibility of them being perfectly positioned on you. "Okay, you can go," I called, giving him a thumbs up. He pulled the front wheels carefully onto the metal ramps and started to ascend the ramp. That's when things got tricky.  
The angle was all wrong. The car has pipes in the back, and since it's such a low-to-the-ground car, the trailer's slope made them dangerously close to scraping. I frantically told Dave to pause, and he stopped the car part way onto the trailer. At this point, my nerves were shot, my anxiety was high, and I finally told him to call someone from the storage facility to come help, as I could not and would not be responsible for getting this automobile onto the trailer.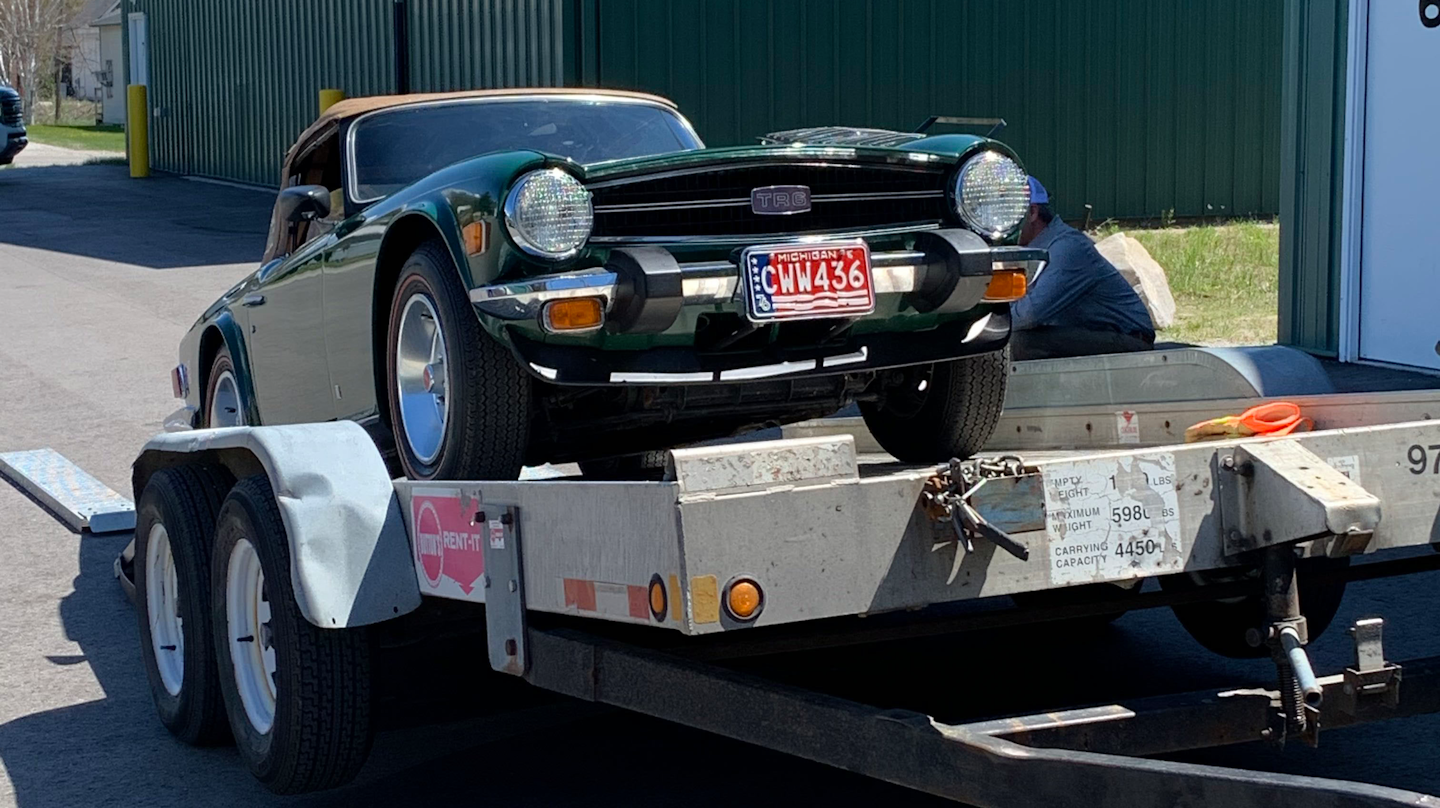 About 20 minutes later, a nice gentleman named Chris showed up, so I went to hide in the truck and cover my face with my hands until the process was over (just kidding... kind of). Chris got my husband situated, and they started the loading process again. Slowly, the car inched up the ramps. That's when there was a loud crash, and the whole truck and trailer shook like we were suddenly in an earthquake. No one was there to tell me otherwise, but I'm positive the color drained from my face. I covered my mouth and went to survey the damage.  
The front two wheels being on the trailer left the back two on the ramps, and because the car is a rear-wheel drive model, it shot one of the ramps backwards when Dave pushed on the gas. That shift caused the car to not-so-subtly crash down on one side onto the trailer's ramp and the cement of the parking lot.  
Chris directed my husband to reverse, so they could try again. I climbed back into the truck and waited for the impending crash, bang, and pop. Yes, I'm fully aware I'm a chicken; I'm not going to deny it. The guys ended up tying the ramps onto the trailer, so they couldn't slide backwards. With a final pull of the strap, Dave climbed into the driver's seat to try again.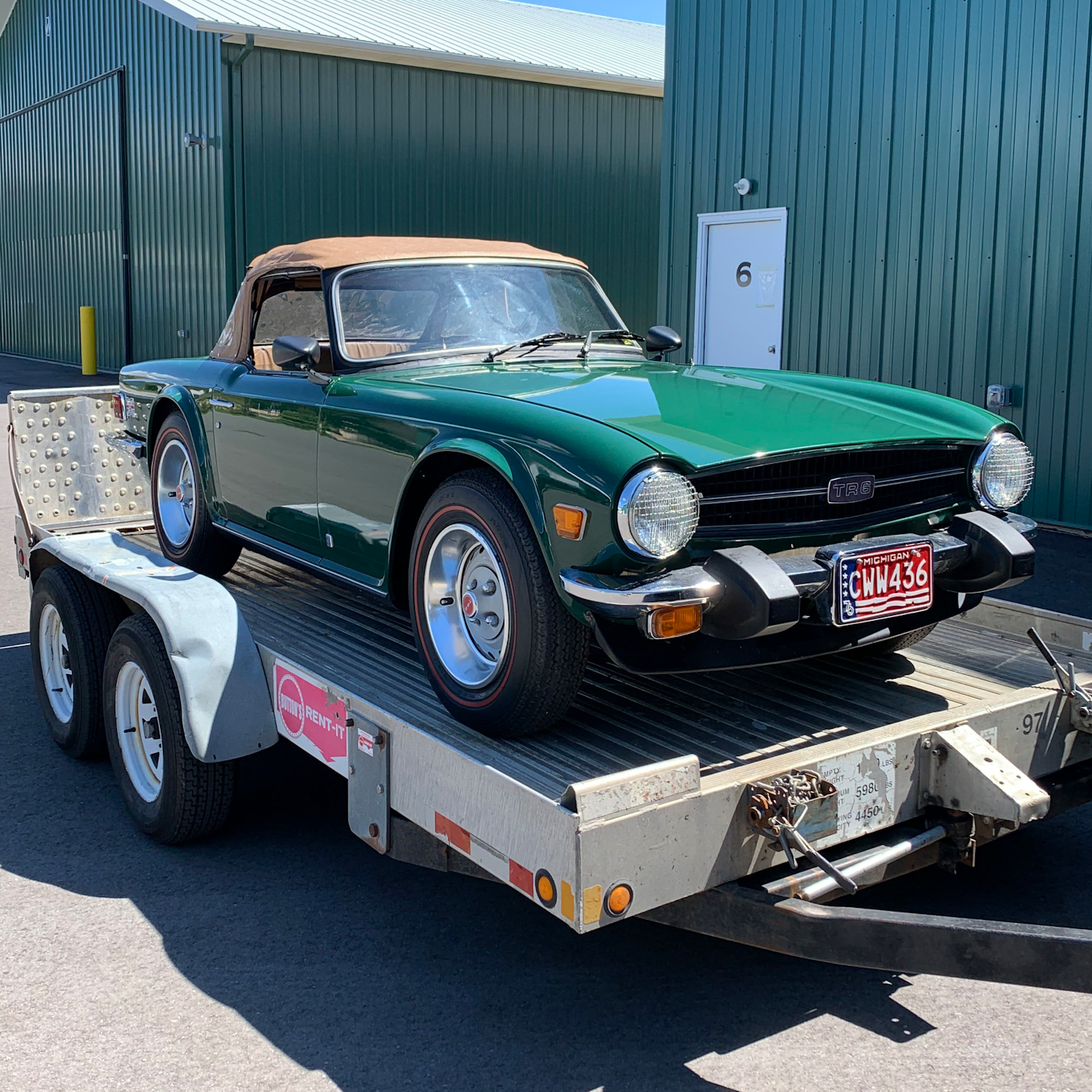 Up, up, up the car crawled! Finally, all four wheels were on the trailer. After a brief moment of panic when the car started to roll backwards, and another moment of pure terror when Dave pushed on the gas to inch forward and almost shot over the front of the trailer, the car was parked. Chris moved the two ramps, and we thanked him for his help before bidding him farewell. From there, there were lots of chains clanking, cranking, and double-checking.  
Though I don't mind getting my hands dirty, and I can operate equipment with the best of them, I'm glad that I was primarily a set of eyes for this job (even though those eyes sometimes peered out from the cab of the truck). After lots of sweat, no tears, and thankfully no blood, we headed home.  
Conclusion and Lessons Learned
Though seemingly much longer than it was, the trip home was a smooth one and the trailer did great. But now came another tricky and nerve-wracking part of the process: getting the car OFF the trailer. Just thinking about it caused my heartrate to skyrocket.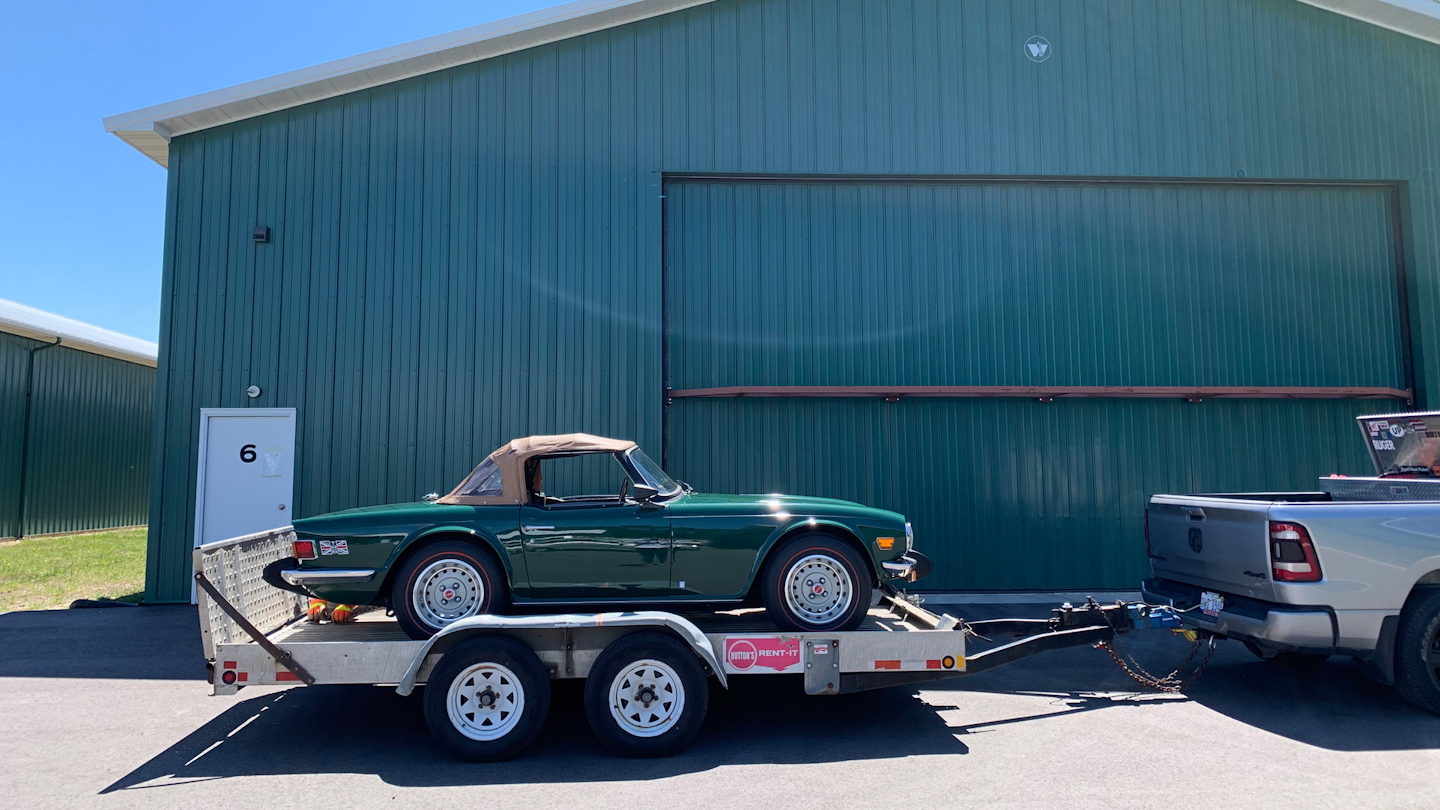 However, the entire process took not even a-third of the time that it did loading the Triumph. Dave used longer ramps than he did before, as well as a hill to provide some much-needed slant. The car rolled off without any damage or consequence, and all of the anxiety and worry was for naught!  
Due to what time it was after our excursion, we ended up keeping the trailer an extra night. We called the rental company the next morning to check in and let them know we would be returning it slightly later than we originally planned. They told us it wasn't a problem, thanked us for letting them know, and told us we just needed to return it before 8 AM the next morning as to not get charged an extra, extra day. 
My husband returned the trailer the following day after work, and once again, the process was seamless. There's no locking gate at the store, so customers just pull up and return equipment in the parking lot at their leisure, even after hours. Like I mentioned earlier, they gave us a padlock, so Dave locked the trailer to a cable on the ground and that was it! Our trailer rental experience came to a close.  
All in all, we were incredibly pleased with the company, their customer service, and the trailer itself. Although I don't think I will ever go through the stressful experience of hauling a priceless sports car ever again, if I did so happen to lose my mind and do it once more, I would rent from them again in a heartbeat.  
Although this Renter's Review was unique, and what some may call simple at best, there was a series of lessons to be learned. For one, emails don't work when it comes to renting equipment. After all this time, I haven't received one response from my initial inquiries. With the world's digital-obsessed mindset, it was a surprise to me. Why have an email address listed if you don't respond to potential customers? Why not utilize email to capitalize on new business? Emails are here to stay; it's time to use them!  
The next lesson would be to not sign yourself up for incredibly nerve-wracking and high stakes situations. Oh, maybe that's just a lesson for me. My apologies.  
The most important lesson, however, is to make sure you're renting the proper equipment for the job at hand. We rented a great trailer and had a wonderful experience, but to be honest, we should have considered the car and the scope of the project more thoroughly. We needed a trailer that was better suited for a low-clearance automobile. If my husband wasn't prepared with extra ramps, we would have been out of luck.  
So, take care to understand, recognize, and consider all aspects of a project before renting. That means environment, potential challenges, size, space, weight, etc. Every little thing counts. You may think you've rented the perfect machine, but then the proverbial ramp could slip out from under you in an instant.