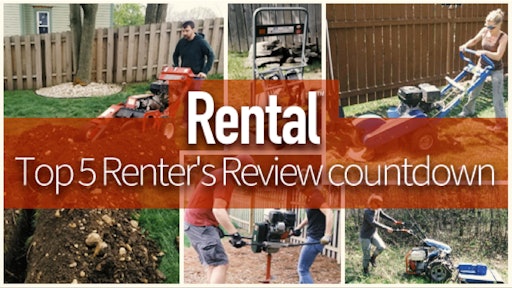 My predecessor, Jenny Leschohier, started Renters' Review (RR) 10 years ago. Commonly featured in the June/July issue, RR revolves around members of the Rental staff – as well as family and friends – renting equipment for personal projects and reporting back on their experiences. The goal, and what Leschohier was able to do in every article, was get a real-life picture of the rental process. That meant the good, the bad, and the ugly. 
Well, the ugly appeared in 2020 disguised as the COVID-19 pandemic. As we all know by now, that meant businesses closed, projects stopped, quarantines started, and rental opportunities shuttered. For a new editor like myself, this was a perfect storm of a disaster when it came time to start thinking about my very first RR.
I first asked my fiancé, who is the handyman of all handymen. No luck there; he already had any equipment he might need (he could fill three garages just with his tools alone). Then I turned to his father, the original handyman who taught mine the tips of the trade. I was in luck; he was looking to do a trenching project in his yard. Score! We spoke a few times about what he was hoping to rent and when. I started planning the article and all the subsequent components I could finagle out of it. 
But alas, the world went crazy and COVID reared its ugly head. The project was put on hold, and me, I was without a story.  
And that's when it hit me: a countdown. An opportunity to look at the past, celebrate my predecessor and her hard work, and acknowledge RR's ever-hungry hunt for customer-focused, easy-to-use rental business practices, which are now more critical than ever.
So, with no further ado, here are the top five Renters' Review articles from the last seven years.  

#5 Renters' Review 2013: Can You Handle the Homeowner?
In 2013, Leschohier came up with the idea of renting a concrete grinder to remove worn-out sealant used on her patio. Her excitement turned to discouragement as she was told by numerous rental houses that renting a concrete grinder was not in her best interest. Switching gears, she instead decided to rent a compact stump grinder to remove some stumps from her patio landscaping. After a few more challenges, a few more turn-downs from rental businesses, the rented stump grinder found residency helping her neighbor grind down a tree stump in his yard -- and Leschohier's stump couldn't be removed. The moral of the story? Sometimes you need to say no to your customer. All rental businesses, particularly those with a large homeowner customer base, must ask questions to qualify the rental.  
"The hardware/rental stores, where the homeowner is a significant chunk of their customer base, were more than happy to rent a big piece of equipment to me with few questions asked. While I appreciate their willingness to help and their apparent faith in my abilities, when all was said and done, it was an unsatisfying rental because I didn't complete my job." 
The Review continues with Rental Publisher Eric Servais' experience renting a chainsaw from a national rental chain. His takeaway from the experience is one he's had before and talks about often with rental businesses and manufacturers: The contractor market is being well catered to at the expense of the DIY renter.  
"While friendly service and quality equipment are certainly integral components to a successful rental, it's also your responsibility to ensure DIY renters are comfortable walking into your business and leave competent in their ability to operate the equipment." 
#4 Renters' Review 2016: A Tale of Two Rentals
In 2016's RR, Past Rental Editor Leschohier helped a friend who wanted to build a playset in their backyard and needed a post hole digger to get started. What started out as a nice rental experience turned sour when the machine was literally held together with duct tape and gasoline leaked from a taped-together gas cap. The trouble continued when Leschohier discovered numerous tree roots during operation, but in the end, they got the holes dug close to a 4-ft. depth. 
Moral of the story? A lesson about the customer's perception. The post hole digger worked fine, but any confidence in the machine was compromised due to the duct tape when it leaked gas in Leschohier's car. Maintenance is everything, and equipment should be in tip-top shape.  
"Whether it's a first-time customer or a loyal one, keep in mind today's consumers aren't afraid to go public with their reviews of your equipment and service. And a few bad reviews can definitely put a dent in your bottom line."
Servais' review found him renting a pressure washer from a regional chain to give his deck a deep clean and his house siding a fresh scrub. A solid rental experience led to a weekend filled with 18-hours spent behind the washer. And a sparkling house and dramatically different fence led to Servais' takeaway: where his business went and why.  
#3 Renters' Review 2015: Battle of the Brush Cutter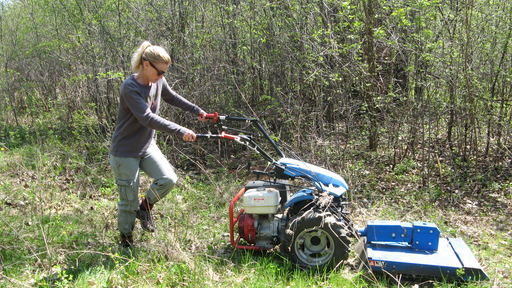 In this RR, Leschohier found herself running out of ideas for projects. So, she turned to her neighbors, offering to pay for the rental if they let her do part of the work. One, it turned out, had the perfect job: getting a brush cutter to clear trails on their hunting grounds. The remote location led Leschohier and her rental-partner-in-crime to a smaller rental house, where she had no problems getting the machine delivered. Getting it started, however, was a different story. 
After some trial and error, they got the machine going, until a failed gas cap and leaking gas had them call the project early. The lesson of this story was no matter who the customer is, be sure to go over every element of the equipment's operation. At the end of the day, if you can't get all your work done, you can't call it a successful rental. 
"Every interaction I had with this company was positive. They were courteous, cooperative and accommodating. The equipment, however, was difficult for me to use and the operating instructions provided were not detailed." 

#2 Renters' Review 2019: A+ Rental Marred by Lack of Accountability
In our most recent Renter's Review, Leschohier decided to jump into renting a walk-behind trencher for her coworker's son, who wanted to install 50 ft. of gas and electric lines from his house to his garage. The rental went smoothly, the project was a success with only a couple small hiccups, and the day ended with a burger and beers. However, the returning process was odd. Leschohier noticed she never received a receipt (though her credit card was charged), never signed a rental contract, and the machine wasn't picked up two days after the company said it would be. That lackadaisical attitude tainted the overall review that was otherwise stellar.  
"Still, no matter how successful you are, never underestimate the importance of professional business practices and the impression they leave with customers, not to mention the vital role they could play in your bottom line (if, say, a piece of equipment goes missing for a significant period of time)."

#1 Renters' Review 2018: Beware the 'YouTube Effect' – A Cautionary Tale
In our top viewed Renter's Review, Leschohier investigated repairing her old and uneven asphalt driveway, specifically an 8- by 4-ft. area. In her research, she stumbled upon YouTube videos on using cold patch asphalt. Seems easy enough, she thought. So, she set out to rent a plate compactor. She stumbled upon a fast-talking man, who, after booking a rental, she found out was renting equipment out of a self-storage facility. Next, she headed to her local hardware store, where she learned that her "simple" project wasn't so simple after all. She also learned about the 'YouTube' effect, which is when people see something on video or online, they think it looks easy, and they get a false sense of their abilities. Uh oh.   
After a coincidental meeting, the project scope changed and Leschohier decided to cut up the old asphalt before laying down the cold patch. Though her small stature didn't allow her to do much of the cutting, the old asphalt removal was successful, and it was time for the next step. Dumping the patch material was its own undertaking, and asphalt calculations may not be as easy as they seem, according to Leschohier. What's the moral of the story? Cold patch asphalt doesn't behave like you expect it to. And secondly, that rental stores need to match the DIY market levels of services, advice, and instruction that are often found at local hardware stores.  
"This is no surprise, of course, since it's been a perennial message from our Renters' Review features all along: Rental companies need to help customers realize their capabilities but understand their limitations."