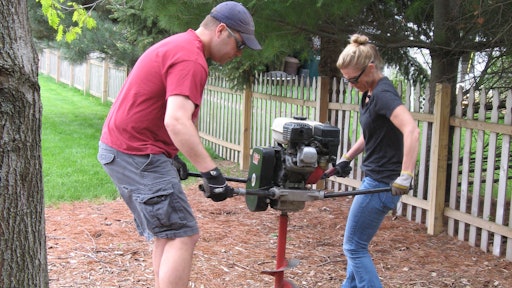 It's always an adventure when Rental staff members set out to rent equipment and use it for their home projects. Sometimes things go well, and sometimes they don't. Either way, it's always an enlightening look at what customers go through when they visit a rental center. This year, we offer you a tale of two rentals. Read on to find out what lessons can be learned from each.  
Editor survives post hole digger rental, despite warnings
By Jenny Lescohier, editor
I put the word out to friends and neighbors that I was looking for a project that required rented equipment. My friend Kayla told me she and her husband wanted to build a playset in their backyard and needed a post hole digger to get started. Perfect, I thought. I've heard these machines are a beast to operate. It should make a good story.
It's always my goal to find a new rental source every year. It's challenging, considering I live in a small town with a fair amount of distance to bigger metropolitan areas.
I Googled equipment rental and found a company I'd never rented from before and spoke to a helpful employee who said they had two post hole diggers available and one would be available that Saturday when I needed it. The price I was quoted was $70 for a one-day rental, plus $8 for an 8-inch bit. The 18-inch extension piece was included. Fair enough. I reserved the machine and looked forward to seeing what it could do.
Not again…
The store I rented from is very inviting from the road. It has excellent signage and the building looks to be in very good shape. Outside, you can see tents and equipment on display in what appears to be good condition.
The employee behind the counter greeted me with a smile and when I told him I had a post hole digger reserved, he got to work on the contract. He didn't spend too much time explaining the terms of the rental, but I was told to bring the machine back with a full gas tank or there would be an additional $12 charge.
Upon having the machine loaded into my car, I could see it had been around the block a time or two. It was literally held together with duct tape in a couple of places.
On the way home, the smell of gasoline began to fill my car. I wasn't too concerned at first, but when I arrived, I discovered the machine had leaked a fair amount of gas into the trunk.
Dismayed, I grabbed hold of the machine to remove it from my car and my hand came away with a slimy piece of duct tape which had been covering the gas cap. With the duct tape removed, you could easily see several cracks in the warped and deteriorated cap. I should note this is the second year in a row I've rented a machine with a seriously leaking gas cap. Last year, the leak was bad enough during equipment operation that we had to stop using the machine and send it back. I began to worry about what would happen this time.
The moment of truth
The next morning, I delivered the machine to Kayla's house. She and her husband, Nick, had clearly marked six spots where they aimed to dig 4-foot deep holes for the main posts to the playset which would surround a tree in the backyard. They had called Diggers Hotline, so we knew we were clear of any underground utilities.
Nick was my digging partner for the day. I was clearly getting the better end of the deal, as there's quite a size differential between us. He's about six feet tall and muscular, whereas I'm five feet two inches and scrappy. So Nick got the machine started without too much trouble, we each held a set of handlebars, and flipped the switch. The auger bit began to rotate as it slowly descended a few inches into the ground. I was almost a little disappointed at the relative ease of operation, based on what I had been warned against. I had to fully brace myself while the auger was rotating, and there was a fair amount of vibration and so on, but it was going just fine… until it wasn't.
After a minute or two of operation, and only a few inches of depth achieved, we hit a tree root, and then another… and another. This pattern repeated itself throughout the process. At times, we made good progress, but there was always a root in the way. Some were small enough for the machine to chew through, others were discovered to be several inches in diameter. There was nothing to do in those cases except hack away at the root with a saw before going any further.
Nick had wanted to get below the frost line to ensure solid footing for the playset, but with so many roots in the way, we began to realize we might only get to a 3-foot depth, and some of the holes had to be fully relocated due to huge roots. Eventually though, the holes were ready for the 18-in. extension.
After installing the extension, the machine was taller than me, which was somewhat comical, but once we muscled the unit into one of the 3-foot holes, it became manageable again. With the extension, the unit was much longer and unwieldy to use, and after a few minutes, I simply could not manage it. Due to my height disadvantage, I couldn't get enough leverage to pull or push the machine up out of the hole, putting all the heavy lifting on Nick. So Kayla, who is several inches taller than me, took over. In the end, the three of us got the holes dug pretty close to a four-foot depth.
Overall, my impression of using a post hole digger is that it's a workout, but not quite the scary and dangerous experience I was warned against. That being said, I was working with a guy almost twice my size who was doing most of the heavy lifting. Sorry, Nick!
Bad gas
With the work completed, it was time to return the machine. We loaded it back into my car with care, realizing full well it would continue to leak. I should note we didn't notice any leaking during operation, which was a plus. Still, I had no intention of refilling the gas tank.
When I arrived at the rental center, I explained the leak and told the counter employees I chose not to refill the gas tank because I knew it would leak in my car, as it had on the trip home. I asked if they could waive the gas charge as a result. The employees agreed, and then talked among themselves about how both of the post hole diggers in their inventory have leaking gas caps.
Moral of the story
Overall, this was a successful rental. The company had the equipment I needed, employees were friendly and courteous, and the machine got the job done. The condition of the equipment, however, did not instill confidence and the leaking gas cap was problematic. It was clear from the condition of the cap it had been leaking for quite some time, yet whoever inspects this equipment attempted to seal the cracks with duct tape instead of simply getting a new gas cap. A quick Google search reveals these can be found for a few dollars from a number of sources online.
We all know maintenance is a top priority, as equipment uptime is crucial. In this case, I can't say there was any downtime as a result of the duct tape holding the unit together. This is more of a lesson about the customer's perception. The post hole digger I rented worked fine, but I admit my confidence in the machine was compromised when I saw the duct tape, and was seriously tested when it leaked gas in my car. This won't stop me from renting from this company again, but I'm certain there are customers who would have been put off. In that same vein, there are likely customers who would have demanded some sort of make-good due to the mess left in their car. At the end of the day, it's important to ensure all of your equipment – not just the big-ticket items like tents and backhoes – are in tip top shape because it leaves a lasting impression. Whether it's a first-time customer or a loyal one, keep in mind today's consumers aren't afraid to go public with their reviews of your equipment and service. And a few bad reviews can definitely put a dent in your bottom line.
Weekend warrior seeks pressure washer
By Eric Servais, publisher
You know that 4-foot wooden picket fence that is ubiquitous in suburbia? They're everywhere. Some are gorgeously stained and really accent the yard. Others are left to slowly fade from their natural colors but are still well kept and flawless. And then there are those that are flat out neglected. Caked in lichen, they look like they should be keeping the kids off the lawn of an abandoned home. Guess which one was mine. In addition to the deck needing a deep clean before staining and a house with a couple of patches in need of a good scrub, I decided to rent a pressure washer.
I gave two businesses a shot at my rental, a national chain and a regional outfit. First up was the national where I was able to track down the location information easily enough online, but not any tool or equipment inventory specific to that branch. So I called and spoke to a pleasant gal who, after listening to what I needed, suggested a suitable unit. She quoted a rate and explained how weekend rentals work. I would have to pick it up before they closed on Friday. Understood. I could have it all weekend but it would need to be back first thing Monday to be considered a one-day rental. Got it. I could have it all weekend but not use it for more than eight hours. Wait, what? She chatted on about the meter and how up to eight hours was a day's rental, 8-12 hours would be considered a day-and-a-half rental, and 16-plus hours would be billed as two days. I knew what I had in store for my weekend and this pricing structure immediately doubled my rental cost.
Make it or break it with weekend hours
After looking over the website of the regional player, I found a couple of units that I felt would work well. A no-nonsense fella took my call, listened to my needs and suggested a 2,600 PSI unit. With clipped efficiency he quoted a rate (lower than the national) and gave me pick up options (which include Saturday morning). In fact, he delivered every bit of relevant information - without a word wasted - and I knew all I needed to know in just couple of minutes. Most importantly, there was no metered rate and he seemed somewhat annoyed that I wasted the time to ask. His response implied that if there was a metered rate, he would have already let me know. Fair enough. This was a no-brainer and I reserved the unit immediately.
As it turned out, the pick-up flexibility proved crucial. While I had every intention of getting there Friday before close, life simply prevented me from doing so. By life I mean being unable to extricate myself from IKEA in a timely fashion. (Hey, that newly washed and stained deck was going to need some patio furniture.)
The store opened at 8 a.m. on Saturday. Due to my daughter needing to be at track practice by that time, I pulled into the rental store parking lot at 8:02, quite pleased with myself. I was still fourth in line. There were two gents working the counter. The first wasn't showing any real urgency and was working with the same customer the entire time I was in the shop – to the point where the customer grabbed a stool. The second was ruthlessly efficient. He didn't spend much time with pleasantries and cranked through the line with direct questions and crisp movements. I recognized his style immediately - my reservation guy.
I could see his game and was ready with all of my information as I stepped up to the counter. He fired the questions off rapidly and I had fast answers. After the basics were sorted he asked if I wanted the insurance waiver to cover any accidental damage. I paused (not something you do in this guy's line) and asked how it differed from the standard coverage. He slowly lifted his head and deadpanned, "It covers any accidental damage." As it was only $6, there seemed to be no downside and I recovered my pace. The rest of our dealings were quick and as I stepped from the counter with my contract, he was already starting to help the next (of eight) people now in line behind me.
If the counter guy was a bit curt, the yard guy was the opposite. Despite his being very busy with steady arrivals into the yard, I never felt rushed and he had a very conversational demeanor. He was waiting for me in front of the building I had been directed to, pressure washer at the ready. He asked if I had ever used a pressure washer before. Of course I had but I had to admit it had been some time. Within seconds he showed me the gas lever, choke, kill switch, etc. and emphasized that the water needed to be on first or I'd burn up the pump in no time. I really appreciated this information as I had no desire to test my $6 of coverage. He helped me load the machine up and I was on my way.
Positive results leave lasting impression
The unit was an older Simpson with a Honda GX200 engine. It started on the first pull – every time – and hummed along like a champ. I was working by 9:30 a.m. and stood behind that wand for 18 hours over the next two days. My hands still tingle when I think about it. The deck was first and it shined up beautifully. The siding was next and everywhere I cleaned now looks new. The fence was the real job and the results were the most dramatic. From sparkling house to fresh cedar fence, I cannot overstate how much my curb appeal improved. As the sun set on Sunday, the only thing that looked worse for the wear was me, soaking wet, caked in dirt and feeling like someone had just spent two days hitting me with a 2x4. I'd do it again in a heartbeat.
The biggest takeaway here is where my business went and why. I understand that the national rental chain I approached caters primarily to contractors, but it would not have been difficult to earn my business. You could say that it isn't cost effective for them to be open on a Saturday morning and cater to the DIY crowd, but the regional shop I rented from was packed with both homeowners and plenty of contractors. With the phone ringing off the hook like it was – and it rang nonstop while I was waiting - I actually wondered why they didn't have another person up front.
The equipment, while a bit older, was tip top. The engine was clearly well maintained, everything tight and tidy, with a snug gas cap. The hose had no leaks at the attachment point, no cracks on the rubber, and I had a full line of nozzle tips to choose from. This unit was absolutely perfect for my needs and I have already recommended it to my neighbor who was impressed with my yard's transition. 
I'll go back to this business again, no question. As their steady business can attest to, the secret is out and many use them as their primary rental partner, despite there being multiple options in the area. The only concern is that this business might be too busy to get me in and out quickly, but I have faith that they can keep that line moving.