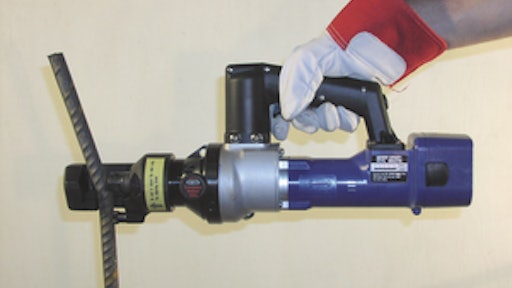 Cordless Rebar Cutter
The LOBSTER Model EHC-16PCU cordless hand-held rebar cutter cuts up through #5 (5/8-in. dia.) grade 60 rebar.
Weighs only 14 lbs.
Cutting head rotates up, down, or sideways
Comes with two batteries and 30-minute charger
Fascut Industries Inc.
240 Hole Digger
The 240 incorporates four-stroke engine technology on a one-person, hand-held hole-digging product.
Four stroke Subaru EH035 engine
Standard digging depth of 30 in.
Ergonomic Comfort-Zone handle design
Twist grip throttle
Standard 1-in.-diameter driveshaft connection
General Equipment
KPB series breakers
The KPB series ergonomic paving breakers are available in 50-, 60- and 90-lb. models.
Designed to reduce fatigue and increase productivity
Integral noise mufflers reduce noise pollution and the risk of hearing loss
Available tool steels include chisels, points, asphalt cutters or ground rod drivers
Valves, pistons and other moving parts constructed from shock-resistant tool steel heat treated to a specific Rockwell hardness
Kaeser Compressors, Inc.
HM1214C SDS-MAX AVT
The 27.1-lb. HM1214C SDS-MAX AVT hammer includes Anti-Vibration Technology, a counterbalance system that delivers more efficient hitting with less vibration in the tool.
14-amp motor provides 950 to 1,900 bpm and 25.7 joules of impact energy
In-line design allows use for vertical work
Includes an automatic brush cut-off system that protects the commutator
Features include an electronic variable-speed adjusting dial, one-touch chuck and 12-bit angle settings
Makita USA, Inc.
DF 16 Rebar Tier
The DF 16 rebar tier is a simple, mechanical unit that allows an operator to tie up to 1,000 knots per hour.
Weighs less than 5 lbs. and allows operator to work in a comfortable upright position
One-hand operation with no special training or experience required
Loops at each end of the tie wire automatically interlock and are twisted when the device is withdrawn
Creates a tighter knot and each tie is secured without cutting
Wacker Neuson Corporation
14-in. SpeediCut-XL
The SC7314-XL SpeediCut-XL high-speed saw features a 14-in. blade capacity, increased efficiency and lower emissions.
Larger initial foam filter and redirected air flow against secondary filter optimize air filtration
Optimized cooling from air flow and the fuel compensator reduce cylinder temperature
Reinforced hood screw keeps the cover secure
Rubber sealed Top Head Deco-Valve improves the combustion process and cooling
Enhanced catalytic muffler keeps emissions and saw temperature down
Diamond Products
TS 410 EWC and TS 420 EWC
The TS 410 EWC and TS 420 EWC Cutquik cut-off machines feature an electronic water control with a conveniently mounted keypad that enables water flow adjustment while cutting and remembers the last setting used.
TS 410 EWC has a 3.9-in. maximum cutting depth, while the TS 420 EWC has a 4.9-in. maximum cutting depth
IntelliCarb compensating carburetor system
Feature the X2 Air Filtration System, an anti-vibration system, large-capacity fuel tank and top-handle design
Stihl Inc.
Model 2 1328 0050 SA Pneumatic Core Drill
The Model 2 1328 0050 SA rig-mounted pneumatic core drill is suited for heavy-duty drilling of up to 12-in.-diameter holes in concrete, reinforced concrete, asphalt and refractory.
Weighs only 66 lbs.
High-torque, 3.8-hp air motor
Air consumption of 123 cfm at 90 psi
43-in.-tall drill stand with Quick Lock Motor Mount, positive locking knob and wheels
Three-speed gearbox with a mechanical slip clutch
CS Unitec, Inc.
K760 Power Cutter
Built on the foundation of the K750, the K760 power cutter is equipped with an X-Torq engine that reduces emissions up to 75% and lowers fuel consumption.
X-Torq utilizes dual intakes, one for clean air and one for a fuel-air mixture
Active Air Filtration system contains a centrifugal nozzle that increases the level of filtration and a paper filter with a doubled surface
Optimal power-to-weight ratio and low vibrations reduce operator fatigue and enable
longer cutting time
Husqvarna Construction Products
DD350 and DD500 Coring Systems
Hilti's DD 350 and DD 500 Coring Systems incorporate water-cooled, high-frequency 1,000-Hz brushless motors rated at 3,600 and 5,500 watts.
Equipped with 10-speed electronic gearing
Deliver constant power output over the entire diameter range and allow speed to be adjusted while the motor is running
Built-in Iron Boost function provides extra performance for coring through rebar
Can core in diameters up to 24 in.using H2S and H6S line core bits
Hilti Inc.
Dirt Tamp
The Dirt Tamp is designed to provide even compacting of materials ranging from sand to asphalt.
Suitable for hand tamping of materials in tight quarters or on smaller projects
Four heavy-duty models incorporate a 1/4-in. steel plate face and gussets for maximum strength
42- and 60-in. Northern Ash wood or 58-in. steel handles
3.5" x 12", 8" x 8" and 10" x 10" plate sizes
Corona Clipper Co.
VESSEL GT-5000HD Gas-powered Hammer Drill
The 39.5-lb. VESSEL GT-5000HD hammer drill is powered by a rugged two-stroke, forced air-cooled gasoline engine that provides high torque output, as well as portability.
Accommodates up to a 1.97-in.-diameter SDS-max shank hammer drill
Can be comfortably used in the horizontal or vertical position
Doesn't use forced air to blow debris from the hole, so operators are less exposed to dust particles
Ergonomically well-balanced design
JDV Products Inc.
SDS Max and Spline Hammers
SDS Max and Spline models include the D25602K and D25651K 1 3/4-in. combination rotary, D25831K and D25851K chipping and D25501K and D25553K 1 9/16-in. combination rotary hammers.
SHOCKS - Active Vibration Control included on 1 3/4-in. combination and chipping hammers
Complete Torque Control two-stage clutch system offered on 1 3/4-in. combination models
High-performance motor technology generates up to 13.5 amps
Hammer mechanism produces high impact energy up to 9.5 ft.-lbs.
DEWALT Industrial Tool Co.
Gear Keeper Systems
Gear Keeper retractable tethers and lanyards are precision-made attachment systems for tools and instruments weighing up to 25 lbs.
More than 3,000 different tethering configurations available for virtually any industrial tool or application
Keeps tools and instruments conveniently at hand when needed and out of the way when they aren't
Virtually jam-free with a patented flushing system that self clears sand and other debris from the retractor mechanism
Hammerhead Industries Inc.
Model DH38YE2 Rotary Hammer
The Model DH38YE2 1 1/2-in. spline shank rotary hammer can hammer or hammer/drill holes in concrete for anchors or rebar, demolish or chisel concrete, cut, dig, tamp or drive ground rods.
8.4-amp motor produces 5.9 ft.-lbs. of impact energy
Full load speed of 510 rpm and full load impact rate of 2,800 bpm
Dial changes between hammer-only and hammer/drilling modes
Adjustable 360° side handle
Tool is 16 in. long and weighs 14.1 lbs.
Safety clutch shuts down rotation for user protection
Dust-proof cover
Auto-stop carbon brushes prevent motor damage
Hitachi Power Tools