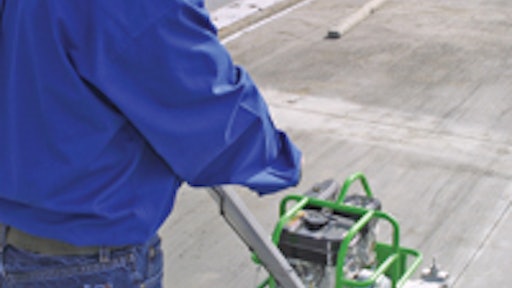 Soff-Cut — with its Ultra Early Entry concrete crack control system of saws and blades — has been in the commercial and industrial concrete industry for decades. However, it was not until recently that Soff-Cut products were introduced into the decorative segment of the concrete market. Several of the new products, which are designed for decorative applications, include the X-150 Prowler, X-150D Deco Prowler, X50 handheld saw and the ProEdge line of beveled blades.
X-150
The X-150 Prowler gas saw is designed for ease of use and convenience. The lightest push saw in the Soff-Cut lineup, it features a patented low-noise and low-dust blade block system, which allows it to be used in residential areas with minimal disruption to homeowners. The X-150 comes with a 4.5-hp engine, making it ideal for residential and light commercial applications.
X-150D
The new X-150D Deco Prowler is designed for the contractor who wants to make beveled control joints for a more decorative look. Economical and durable, the X-150D is the perfect complement to the X-150 Prowler.
The unit has a 4.5-hp Robin engine and weighs less than 100 lbs. The feature that makes this saw special is its ability to handle the full line of ProEdge beveled blades, which create a beautiful decorative look on control joints.
X50
This little saw packs a lot of power and can be used for scoring and finish cuts. It also works with the full line of ProEdge beveled blades for decorative applications.
ProEdge beveled blades
The Pro-Edge blades are ideal for residential and commercial applications, including driveways, sidewalks, hardscapes, patios, pool decks, parking garages and commercial site work.
With the Soff-Cut system, the Pro-Edge blades can be used with the Model 310, X50 hand-held saw, X150 Prowler and X150D Deco Prowler saw to chase standard joints for a beveled look the day after early-entry dry-cut control joints are cut.
Using ProEdge blades vs. hand tooling can allow a larger area of concrete to be placed at one time, eliminating costly multiple concrete pours. It also allows for versatility in the saw joint contour.
Companies in this article