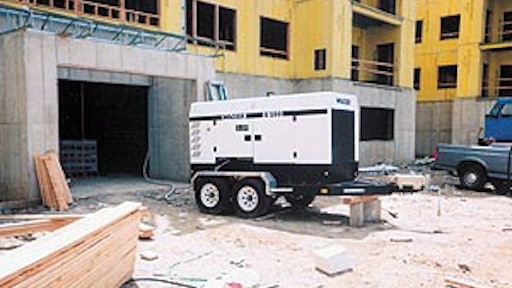 Where would we be without portable sources of power? Compressors and generators provide power in so many ways on construction sites as well as during special events and emergencies. While these unassuming machines aren't usually perceived as cutting edge technology, they are continuing to evolve into highly efficient, environmentally friendly tools that are simple to operate and service.
While offering different machines, manufacturers of compressors and generators have the same objectives. "Today's power sources are designed with two major issues in mind: energy efficiency and noise abatement," says Chance Chartters, assistant national sales manager Mobilair, Kaeser Compressors. "Most equipment is designed with these two factors in mind."
Generating power
Let's start by looking at generators. "Today's trends in generator design revolve around the operator," says Marc Leupi, pump, power and light product manager at Wacker Corp. "In order for a manufacturer to be successful in the generator market, they need to design generators that are easy and cost effective to operate as well as safe, reliable, versatile and environmentally friendly."
He continues, "In the rental market, versatility is important. Generators should be versatile so one machine can be rented in a variety of applications. Offering a quiet generator is important for the versatility of application. Lower sound is important for special event and party rentals, as well as residential construction sites."
Dave Dahlstrom, director of sales and marketing with Shindaiwa Construction Products, agrees that sound attenuation is huge in the design of today's generators, and so is size. The more compact a unit is, the better. Smaller generators are less obtrusive and take up less space on the job, as well as in a rental showroom and on the delivery truck. Making a generator smaller while keeping it quiet can be mutually exclusive objectives, however, since typically the machines need a larger housing in order to dampen the sound.
"We have a particular approach to design to make our generators quieter," explains Dahlstrom. "Most think you would need to make a bigger housing to do that, but our approach is to control the flow of air through the enclosure to achieve a lower sound level."
Dahlstrom explains that Shindaiwa's design involves "bending" the air flow so that it travels further up instead of sideways through the enclosure. He adds that decibels are only one measure of the sound perceived. Another measure is sound pressure, or hertz, which refers to the frequency of the sound waves. "Lowering the frequency is another way to make the perception of the sound quieter," he says, noting that this is accomplished through the design of Shindaiwa's exhaust system.
Environmentally friendly doesn't refer simply to noise, however, and it also means more than a emissions-compliant engine. There is also the issue of accidental fuel spills. To mitigate the potential hazard, several models from MMD Equipment, for example, offer a sub-base containment tank which is a double-walled fuel tank located underneath the compressor. It acts as a supporting base unit, but it is also rupture proof and is there to contain fluids that might overflow or leak before they can contaminate the soil on a jobsite.
Other benefits offered by today's generators include automatic features such as MMD's electronic fuel primer and air bleed (EFPA). Drew Kohler, marketing manager for MMD generators, explains that when a large, diesel generator or compressor runs out of fuel, it's necessary to bleed the air out of the fuel line, a process that can take up to an hour. MMD's EFPA, however, has reduced the process to two minutes, making it a very popular feature in rental settings.
High-tech compressors
According to Marc James, product manager for compressors at Ingersoll-Rand, the highest-tech compressors are the larger models, those 900 cfm and up. This is mostly due to their use of larger, more sophisticated engines that meet the latest emissions regulations and offer a lot in the way of electronic advancements.
"Technology will come to the smaller machines," he says, noting that the average 185-cfm compressor currently uses a Tier-II compliant engine and is not scheduled to meet Tier-III requirements until 2008. "They might not go all electronic, but the capability is there."
With regard to engine technology, manufacturers are working to make their compressors more energy efficient. Kaeser Compressors, for example, offers a 185-cfm unit (the M57) that produces 210 cfm at 100 psig while only using 45 hp. According to Chartters, competitive units require about 49 hp to produce only 185 cfm.
"We have selected larger airends that turn at much lower speeds. This increases the air output while significantly reducing the horsepower — and therefore the fuel consumption," he comments. "And with today's fuel prices, this can have a huge impact on daily operating costs. Rental houses that offer more fuel efficient equipment definitely have an advantage when bringing customers in."
In addition to consuming less fuel, the M57 also features an extra-large gas tank. The combination of the larger airend and larger fuel tank combine to provide a run time of over 10 hours, Chartters says.
Today's compressors, like generators, are getting smaller. Manufacturers are working to streamline their designs to make units easier to service and troubleshoot. In tandem with this trend are efforts to make the machines more lightweight, yet durable.
Ingersoll-Rand, for example, recently introduced a new canopy made of a composite material instead of the traditional steel. Technically referred to as thermal plastic polyolethin (TPO), this canopy is lighter while offering good temperature flexibility and resistance to dents and rust. James notes that older I-R compressors using traditional enclosures weighed in around 2,400 lbs., while TPO models tip the scales at only 1,850 lbs.
"The TPO canopy is used on three models: the AirSource, a 160-cfm machine; the AirSource Plus IR and AirSource JD, both 185-cfm models," he says, noting that AirSource Plus models are available with either Ingersoll-Rand or John Deere engines, hence the IR or JD nomenclature.
Ingersoll-Rand and other manufacturers also use what is referred to as "cool box design."
"The engine and heat exchangers are turned 180 degrees so they're in front," James explains. "Vents on the side rear draw in fresh air which passes through the machine and goes through the heat exchangers, minimizing dust and contamination while keeping internal temperatures low."
In addition, serviceability is improved by offering such features as a 90-degree access canopy, clean wiring and a remote, spin-on separator element. "In the past, this used to be located in the separator tank, so it was hard to change the filter," says James. "The filter is now outside the tank. There are no bolts, no need to get into the separator tank."
He continues, "In rental, it's all about utilization and how quickly you can service the equipment and get it back on rent."
Gauging performance
One design criteria that affects both generators and compressors is the issue of controls and gauges. Technology has made it possible to produce some very sophisticated digital controls that provide myriad data. For example, Wacker generators feature a digital engine generator control module (EGCM) with LCD display. This "behind the scenes" computer monitors engine and generator performance and outputs data to the LCD display in simple, easy-to-understand numbers, says Leupi at Wacker.
"With the EGCM/LCD, Wacker has been able to eliminate the need for many analog gauges, switches, indicator lights and the necessary complex wiring to tie it all together," he says. "This simplifies the layout and makes it easier for a variety of users from different industries to understand and operate the generator."
Still, other manufacturers have chosen to go another route and stick with analog gauges.
"Digital displays are very vulner able in tough environments,"
says Dahlstrom at Shindaiwa. "Rental companies prefer to keep things simple. They want to provide something easy to understand. On digital panels where all functions are integrated into one module, if one function goes out, you have to replace the whole thing."
Todd Howe, product manager for Ingersoll-Rand generators, notes that there's a place for both digital and analog gauges. "With the evolution of more electronic engines, we're seeing more sophisticated and operator-friendly advancements in digital and analog controls."
He adds, "Market research has shown that the rental customer prefers analog gauges, which offer better longevity and have always been easy to operate, whereas specialty customers want digital."
Companies in this article