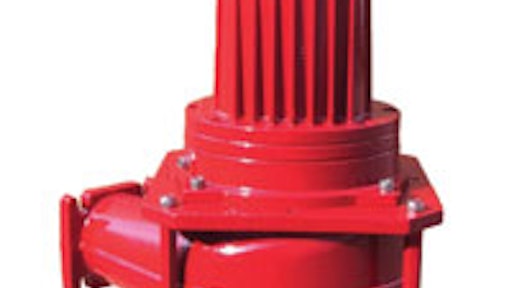 Grindex Bravo Pump Series
The Bravo slurry pump series is designed for very abrasive applications.
Hydraulic components constructed of Ni-Hard 4
Models deliver between 470 and 2,000 gpm
Capable of handling slurry and other fluids with high concentrations of sand and stones
Godwin Dri-Prime and Sub-Prime Pumps
The Dri-Prime and Sub-Prime pumps can be used for general dewatering applications.
Dri-Prime automatic self-priming models achieve maximum flows to 10,000 gpm, heads to 600 ft. and solids handling to 5 in. in diameter
Sub-Prime electric submersible pumps available in 1/2 to 90 hp with flows to 5,000 gpm, heads to 375 ft. and solids handling to 3.2 in. in diameter
6-hp GSP60SL and 4-hp GSP40SL SlimLine electric submersibles have a maximum diameter of 7.25 in.
Tsurumi LB-480 and LB-480A
The 2/3-hp LB-480 and LB-480A electric submersible pumps have a 2-in. discharge bore.
110V/6.1A
39.5-ft. shutoff head
62.4-gpm maximum flow
Multiquip QP Series Trash Pumps
The QP Series 2- and 3-in. trash pumps feature eight models with maximum flows up to 396 gpm.
Dual-discharge ports
98-ft. heads
Engine options include Honda, Robin, Hatz and Yanmar
Incorporate 1 1/2-in.-diameter fill and drain ports with plastic plugs to avoid casing damage
Honda WB Series Pumps
Honda pumps feature heavy-duty full-frame protection, a rigid-mounted cast iron pump volute and an abrasive-resistant, silicone-carbide mechanical seal.
WB20 and WB30 powered by 4.5- and 5.5-hp Honda overhead valve engines with Oil Alert
WB30 delivers a maximum discharge capacity of 275 gpm and a maximum head of 83 ft.
ITT Flygt Ready 8S Pump
The 33-lb. Ready 8S submersible trash pump is constructed of wear- and corrosion-resistant, stainless steel and synthetic materials.
Features a 2-in. NPSM discharge and handles solids up to 1 1/2 in. in size
Achieves 36 ft. of head and pumps up to 110 gpm
1.1-hp motor powered by single-phase 115- or 230-volt power
Built-in overload protection
Abrasion-resistant silicon carbide seal faces
BJM SPV Series
The SPV Series portable electric submersible pumps feature a patented lip seal at the rotor shaft bore combined with an O-ring for double protection of the shields.
Model SPV48 pumps 475 gpm in high volume and 365 gpm in high head configuration with heads up to 115 ft.
Models SPV160 and SPV160H pump 1,000 gpm at 30-ft. head and 300 gpm at 100-ft. head with maximum heads of 260 ft.
Thompson Piston Wellpoint Pumps
These diesel-powered piston wellpoint pumps are available in 3- and 6-in. models equipped with a self-priming, positive-displacement piston pump.
Silent Knight sound-attenuated enclosure reduces noise level below 64 dB(A) at 23 ft.
Capable of operating up to 11 days using 4 gal. of fuel per day
Double-sealing piston rod prevents oil from entering the environment
Gorman-Rupp Pump Line
Gorman-Rupp offers a large variety of pumps, including standard centrifugal and self-priming centrifugal trash pumps, submersibles, diaphragm pumps and silent series models.
Sizes range from 1 to 2 in. with ratings from 10 to 8,500 gpm
5- to 550-ft. TDH
Handle up to 3-in. spherical solids
Power options include electric motor, gas or diesel engine, closed-coupled, flex-coupled or direct drive
Manufactured from a variety of steels, iron, aluminum and other materials
Companies in this article