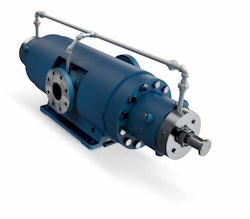 CIRCOR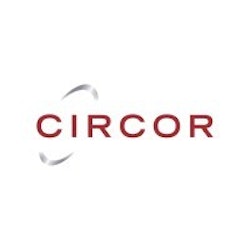 CIRCOR International
CIRCOR has unveiled its IMO 3-screw positive displacement rotary pump technology, available in the 3D and 3E series. Designed for transfer and circulation of transformer insulating oil, the IMO 3-screw design features low/vacuum inlet pressures.
Series 3D pumps, available in 19 different displacements, incorporate full hydraulic balance that cancels axial and radial thrust loads due to discharge pressure. The pump shaft is sized to allow belt drive if desired for mechanical seal versions. The pumps are equipped with replaceable housings for simple repair and most sizes are available with an optional steel case. Featuring a rotatable inlet for piping, hardened and ground screw set, a single mechanical seal exposed only to inlet pressure and an external, permanently grease-packed ball bearing, Series 3D pumps offer low airborne noise levels and non-pulsating delivery of flow.
Series 3D pumps are offered for outlet pressures up to a maximum of 500 psig (34.5 bar) and inlet pressures up to a maximum of 75 psig (5.2 bar) for sizes 106-187 and 50 psig (3.4 bar) for sizes 218 and up.
Series 3E pumps are designed and engineered for suction capability over a range of fluid viscosities. Offered in either cast iron or steel casing materials, the pump design features a uniform axial flow that results in a minimum of fluid pulsation and quiet operation. Flow rates (1 to 100 gallons per minute) are proportional to rotating speed when the pumps are operated within the recommended pressure range. Series 3E pumps are offered in ten (10) rotor sizes for foot or flange mounted configurations for differential pressures to 150 psig (10 bar) and flow rates to 100 gpm (375 l/m). The pump can self-prime in piping systems designed to facilitate this feature.
"It is a privilege to support our nation's electric utilities infrastructure maintenance needs. These pumps are produced in Columbia, KY, U.S.A., a high-volume manufacturing plant, to facilitate superior quality and shipment," said Don Parish, director marketing and business development at CIRCOR International.
Request More Information
Fill out the form below to request more information about
CIRCOR Introduces IMO 3-screw Rotary Pump Technology