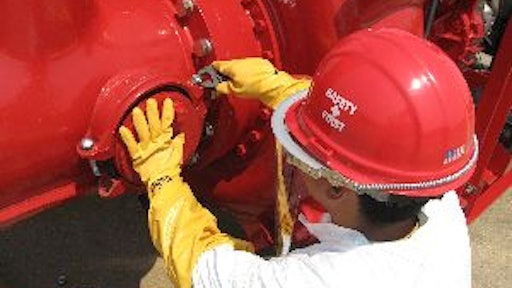 Griffin's non-clog pumps feature a non-clog impeller and are capable of handling solids of 4.5 inches. A large clean-out port enables hassle-free removal of large debris over 4.5 inches. Benefits include: minimal time for inspection, single person operation, easily accommodates inspection/cleaning of the system, allows for simple removal without separating the pump from the suction pipe, and the operation can be performed in less than 5 minutes by one operator versus over 15 minutes with the need for multiple operators for pumps without this feature.
Griffin's wickpoint system is a "greener" 21st century version of the classic 75 year old dewatering method known as the wellpoint system. New wick points with geo-textile filter screening can produce a more efficient and economical dewatering system. The wickpoint method also produces cleaner discharge water from the jobsite versus the conventional wellpoint system. It also reduces or eliminates subsidence and settlement problems.
Excavations with perimeters of up to 1,400 feet using properly sized wickpoint systems can be handled with less than 10 horsepower single-phase electric pumping systems. This can greatly reduce dewatering costs over the life of the project. Using inert materials like polyethylene tubing for underground risers and connection piping can offer the option of converting the temporary construction dewatering into a permanent system for the project owner. Simply abandoning the economical wick points in place reduces removal expense without creating an environmental hazard.
New "green" pumping systems are in development, including dewatering systems powered by solar panels and other alternative energy sources. Currently, Griffin offers electric-powered pumps and pumps with Tier 3 engines to meet new strict emissions standards.
Companies in this article