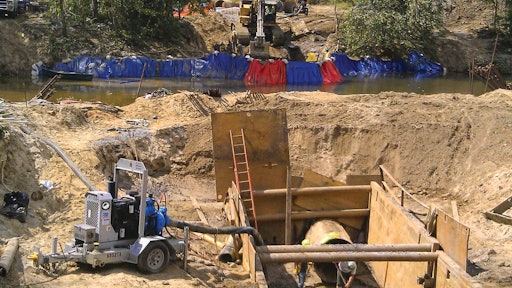 The 62-year-old Huguenot Memorial Bridge in Richmond, VA, spans the James River and connects the City of Richmond to the south and Henrico County to the north via Huguenot Road. WWhen engineers at Skanska Inc. began reconstruction work on the bridge, they envisioned a four-phase dewatering plan for building four bridge piers.
In order to mitigate extremely volatile flow conditions and rocky and irregular subsurface challenges, Brent Hunt, Skanska project manager, called upon the combined expertise of Portadam and Rain For Rent to coordinate solutions for this multi-phase project. Since 2009, the two companies have teamed up to offer environmentally friendly cofferdam and dewatering solutions. These systems are used in construction, remediation, rehabilitation, flood protection and inspection projects in rivers, streams, lakes, reservoirs and other retaining areas.
Portadam devised a 10-ft.-high cofferdam system, diversion dams, fabric wraps, extra bracing equipment and unique fabric materials. Rain For Rent provided settling tanks to meet strict environmental regulations and a variety of pump capacities. As a result of their combined efforts, which included daily scheduling and planning meetings to allow for proper contractor coordination, the safe and timely implementation all four phases occurred.
"The effort and expertise of Portadam and Rain for Rent was an important factor in helping us complete this project despite challenging environmental conditions," said Hunt.