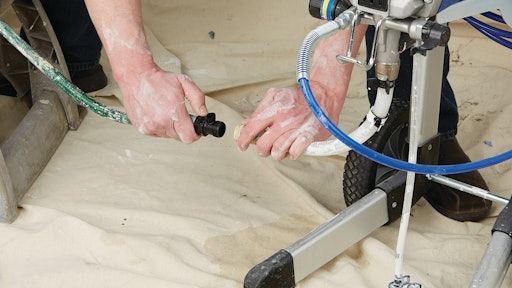 Many rental professionals have a love/hate relationship with the paint sprayers in their inventory. On the one hand, they're popular with users - both professional and consumer - but they're a real challenge when it comes to cleanup, maintenance and transport. For some, the hassles have outweighed the benefits to the point where they won't even carry this type of equipment anymore. 
At Lo-Gale Rentals Inc. in Benton Harbor, MI, paint sprayers were almost abandoned due to a variety of reasons, including customer misuse.
"This type of equipment is very touchy. If you're not familiar with its operation, it can cause quite a bit of headache," says Brian Story, sales manager. "Even though customers are taken through full operational procedures at the store, they seem to miss one or two steps or they misunderstand the instructions, which can lead to aggravation."
Story continues, "I believe we're the only company in our area that still rents paint sprayers. We've been through many brands and models, which has taken us to the Graco RentalPro 230 which we're now happy with."
New design alleviates frustrations
According to Story, the new model is a prime example of how today's manufacturers are focusing on the needs of the rental channel more than ever. 
"Not only has technology improved, I think there's a new awareness directed toward the rental industry specifically," Story says. "For example, every customer that rents a unit is in need of a different spray tip, which depends on the product they're spraying. Instead of losing any rentals, Graco came up with a display box full of different tips sizes. Simply look at the chart, pick your tip and now we can fully service our customers shooting several types of material."
Perhaps most importantly, Story says Graco also made it very simple to clean the RentalPro 230. "When using latex paint, you simply attach a garden hose onto the suction hose and back flush the system," he says.
Easier cleaning, transport
Graco commissioned an industry study in 2006-07 to investigate why much of its primary customer base - smaller rental businesses – weren't offering paint sprayers. After identifying and surveying these stores, the company found that cleaning and portability issues were the two main concerns.
"With previous models, cleaning instructions were either too difficult to understand or it took too long to do it correctly," says Tony Sabo, rental sales and marketing at Graco. "It used to require bucket after bucket of soapy water to thoroughly clean the units, which led to frequent requests for a unit that was easier to clean."
He continues, "In terms of portability, we knew contractors liked the hi-boy design, a unit with space to hang a 5-gallon bucket of paint. Unfortunately, this configuration will not fit into the trunk of a car, and that prevents homeowners or small DIYers from getting the unit to the jobsite and using it. Carry units can fit into the trunk of a car, but maneuverability around the jobsite becomes a challenge, especially with no space to hang the bucket."
In response to the study, Graco developed and patented the Power Flush cleaning adapter for its RentalPro units. As long as the customer is using a water-based product, the Power Flush cleaning adapter connects the unit to a garden hose for thorough cleaning of the pump, hoses and sprayer in minutes.
To address portability, Graco designed a sprayer with a Fold-N-Store cart which collapses to fit into the trunk of a car, and then expands into a hi-boy for ease of use on the jobsite.
"The technology today allows for smaller, more efficient motors. This means machines are lighter and less intimidating to use without compromising productivity," Sabo says.
Companies in this article