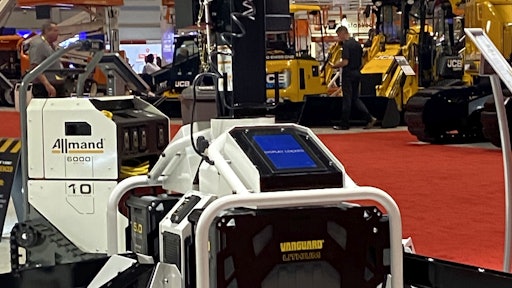 Alternative power sources seem to be on everyone's minds as the construction industry appears to shift away from traditional diesel and gasoline engines. Products displayed at the American Rental Association's (ARA) annual trade show and other industry recent events include concept, prototype and even near-production models incorporating battery power or other options designed to cut reliance on fossil fuels and minimize noise on the jobsite.
Yet, not all players in the generator and portable light tower space are following the same path. Here's what some of the major supplies are showcasing for 2020, including a glimpse at what may lie ahead.
Cummins Takes Advantage of Internal Resources
Cummins Inc. produces over a million gensets annually for a variety of markets ranging from the military to recreational vehicles (RVs). Given this broad market reach, the company's mobile products group saw an opportunity to capitalize on its success in other areas, leading to the introduction of a 12-kW mobile generator set, the C12D6RE, with a Tier 4 Final-certified, four-cycle, liquid-cooled diesel engine derived from the RV industry.
The idea for the C12D6RE actually came from key rental customers who suggested Cummins take the 12-kW generator used in the RV industry and apply it to mobile generators. But to be successful, this required a revamp to meet more rigorous customer demands.
"The new C12D6RE model is equipped with several features and options making it a very reliable, flexible and robust product, ideal for mobile power applications," says John Gibbons, North American general manager, generators, Cummins Mobile Power. Shedding its recreational roots, it now boasts a rugged and robust design and a heavy-duty trailer suited for events, construction sites and industrial use.
[VIDEO] Cummins Unveils 12kW Mobile Power Generator
Cummins continues to explore new options for more efficient power generation, including incorporating smart paralleling logic into its Tier 4 Final products that turns units in parallel on and off based on demand. The result is not only lower fuel consumption but reduced maintenance requirements per power source.
Given recent acquisitions of energy storage and management and fuel cell battery technology providers, as well as partnerships for other alternative power technology, rest assured that Cummins has its fingers in more power possibilities.
"In growing itself and looking toward the future, we still will continue to maintain our No. 1 [global] status as a diesel engine manufacturer," says Gibbons. "But we're also looking at additional technologies, whether it be for power generation or whether it be for on-highway or off-highway."
[PODCAST] After Celebrating 100 Years Cummins Power Products is Looking to the Future
Doosan Delivers Wet Stacking Solution
Over roughly the past 18 months, Doosan Portable Power has focused specifically on adding value for its customers — for example, in the form of power density improvements in larger dieselproducts along with enhanced aftertreatment systems. Its entire portfolio also includes improved controller interfaces, extended maintenance intervals, longer filter life and more.
Recently, the company added its proprietary Doosan engines and airends to the smaller segment of its product line, including the P185WDO portable air compressor. The next step was to tackle the troublesome issue of wet stacking in Tier 4-compliant generators used in light load and fluctuating demand applications.
Wet stacking largely stems from mis-education, says Craig Wilkens, business development, Doosan Portable Power, with customers often renting larger generators than they actually need. The result is the generator does not reach sufficient operating temperature to completely burn off all of the fuel, resulting in carbon buildup and plugging of exhaust components.
To mitigate this issue, the company developed the internally packaged Intelligent Load Management System (ILMS) option. The ILMS option automatically adjusts engine and exhaust temperature with supplemental heat to ensure the generator operates at full capacity regardless of load demands.
The ILMS requires no operator control or monitoring. "We call it an 'intelligent' load management system because it has a mind of its own," says Wilkens. "It's programmed to run only when needed, meaning when you're below 30% load."
[VIDEO] Doosan's Intelligent Load Management System Prevents Wet Stacking
In applications with fluctuating power demands, the system can instantly respond to ensure full generator capacity is always available even in the event of a sudden heavy loads, such as motor starting.
The ILMS is compatible with any voltage output produced by the generator, meeting the needs of a variety of applications with no special setup or switching required. The option is offered across the company's small- to mid-size generator lineup and select large generator models.  
Generac Advances Toward Hybrids and Solar Power
Durability and serviceability are essential in power generation, which is why Generac Mobile Products redesigned its MDG25 with this in mind. The enhanced version provides reliable three-phase 25kVA power in a compact, easily towable footprint and is suited for the rigors of the work site.
"In this design, we have a steel, square-bodied construction that allows for rugged durability in all the different applications," says Matt Wiese, senior product manager – generators. "We also have the ability to remove the doors for clear maintenance within the engine and the whole system."
A wet stacking mitigation kit consists of an LHD liquid heat generator. "It allows us to provide a solution for wet stacking problems when the load reaches a level that's below 30%," Wiese explains. "The system will kick on and increase the load… That helps with certification and with the longevity of the engine."
In addition, the MDG25 has a simplified controller platform with fewer buttons and an easy to read status screen for easier operation. Its larger fuel tank enables 28 hours of run time. Extended oil change intervals enable 500 hours between services.
Generac is exploring alternative power options, too, particularly in its light tower line. At the ARA show, it highlighted the VT-Hybrid light tower and the VTS solar light tower, both of which are currently available in Europe and will be launched in North America in late 2020/early 2021.
The VT-Hybrid comes with 4x150W high-efficiency LED floodlights powered by a rechargeable battery pack that provides up to eight hours of continuous operation with no diesel or noise emissions.
"This system is very useful if the customer has to use the [light tower] indoors or in a tunnel," says Giovanni Paulo Licheri, product manager, Generac Mobile Products in Italy. "It has a simplified control panel that can operate in manual mode or timer mode with four- and eight-hour autonomy."
The special dry batteries can be recharged in less than five hours from an external power source or from the built-in backup generator. The generator's diesel engine will automatically start once the battery pack is discharged to continue powering the lights while simultaneously recharging the battery pack. Once fully charged, the engine will automatically turn off.
[VIDEO] Generac Mobile Introduces World's First Hybrid Light Tower
Powered by three solar panels, the VTS light tower combines a solar charge controller and an inverter/charger in one product. Its four AGM batteries are charged by the three 320-watt solar panels and/or through the inverter from the utility grid or an external power source. The batteries recharge in approximately six hours and can run the lights for roughly 16 hours.
"There is no engine – it's purely run by solar power," David Keene, senior product manager, emphasizes. "This is an exciting new product that we're bringing to market by the end of this year."
The company plans to incorporate a more rugged design suited to the rigors of off-road for applications such as oil and gas and construction sites.
[VIDEO] Generac Bringing Solar Light Tower to Market by End of 2020
Allmand Highlights Battery-powered Concepts
As part of Briggs & Stratton, Allmand Equipment is seeing its product portfolio continue to expand as it explores opportunities to build upon existing product lines.
"The strength of having a broad product line is that instead of offering one solution for an entire market, you can offer really specific solutions that meet the needs of the different market segments that we operate in," says Thomas Rugg, president, Allmand Equipment.
This includes introducing new engine- and battery-powered products thanks in part to collaboration with sister company Vanguard. At the ARA show, Allmand showcased a Vanguard gasoline-powered light tower, the GR chain series light towers with a new air-cooled diesel engine option plus three concept fully electric models: two inverter generators and a 10-kWh light tower, all powered by Vanguard lithium ion batteries. 
The inverters feature 5- and 10-kWh Vanguard commercial lithium-ion battery packs and include one 120V TT-30P and two 120V duplex receptacles. A detachable inverter module allows a quick swap between battery packs. A touchscreen display gives users information on power level, run time, status indication and necessary product feedback. Other features include onboard lighting, enclosed accessory storage and powered tracks for ease of transport.
"There are many gasoline and diesel-powered inverters on the market," says Becky Fellows, marketing manager. The advantages of battery power include zero emissions and quiet operation. "It's silent – you're not running an engine. And it's clean technology."
The concept light tower on display was equipped with four LED 350W light modules for commercial grade light output, a five-section mast that expands to 22+ ft. and 359˚ rotation. Built upon the Night-Lite E Series platform, the unit includes the same touch screen data display as the inverters, as well as forklift pockets, an active leveling system and auto deploy outriggers with one-button product setup.
While commercial availability may be a few years away, these concepts offer the opportunity to initiate discussions that can drive new solutions in future.
[VIDEO] Allmand Unveils Concept Battery Powered Light Tower and Inverter
"We're showcasing concept units at ARA to gain customer feedback to understand the applications for battery-powered equipment," Fellows comments, adding. "From the standpoint of performance… Vanguard has done extensive research and the application of these products has been keeping up with gasoline and diesel engines across the board. So, it's really just a different mindset of how to power rather than performance."
POWR2 Seeks to Ultimately Replace Generators
POWR2 started production of its hybrid power systems for the North American market in late 2018, but soon realized customers were looking for higher-voltage alternatives. It's answering this need with an expanded lineup of lithium ion energy storage systems that includes 480V models with 125 or 250kVA power output and up to 1 MW hours of energy.
The hybrid POWRBANKS are designed to integrate with diesel generators and other energy sources to maximize efficiency of power generation and consumption, while reducing noise, emissions and fuel use.
[VIDEO] Powr2 Hybrid Energy Storage Systems Provide Silent Hybrid Power
"We work with customers that have large fleets of diesel generators for jobsite power. When they're specifying a generator for a jobsite, it's very difficult to size it correctly because you have to size it based on worst-case scenario," notes Tim Doling, director – business development. "That leads to generators being oversized, and also the actual load varies throughout the day."
POWR2 saw the opportunity to place an energy storage system between the generator and the load that would allow the generator to run only when required and be automatically switched off — with power supplied by stored energy — once load demand fell below a specific level. The onboard energy control module constantly monitors load and automatically switches between generator power and stored energy as needed.
"Primarily we're reducing the hours on the generator. So rather than run the generator 24 hours a day, we're probably cutting that run time to four hours a day," Doling asserts. "That increases the service life of the generator. It also increases the resale value. It reduces fuel consumption and emissions. It's silent power, which is very important in residential areas or events."
Less run time at low loads eliminates a critical service issue, as well. "Tier 4 Final generators are very sensitive to wet stacking; they will actually shut down or go into regen," says Doling. "By making sure they run just when they need to, we can eliminate wet stacking and that service problem."
Doling sees a trend to move away from generator power altogether with energy storage becoming the primary power source. "Where in the past you've had a large generator and a small hybrid unit, we're seeing a trend toward using larger hybrid energy storage units and pairing them with a small generator just to recharge, or even solar," he comments.
Systems can be charged from the grid, as well, to convert that energy into more usable power. "Think of a typical construction site that has 120/240-volt power available, but they have a crane that uses 480 volts. We can use the hybrid [power system] to take that incoming single-phase power and put 480 volts out to the crane," Doling explains. "It actually eliminates the need for a generator altogether, and that saves you more cost."