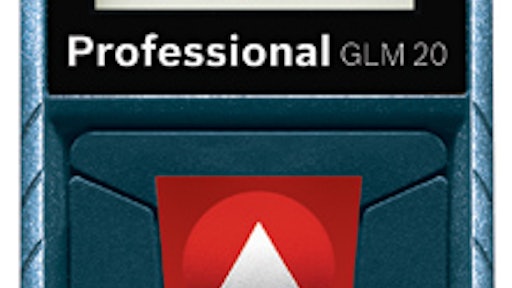 The Bosch BLAZE GLM 20 is the first laser measure introduced under the company's BLAZE product family. Bosch BLAZE laser measures are designed to set the industry standard for technical innovation, size, speed and ease of use. In addition, Bosch BLAZE laser measures are sized for convenience, fitting conveniently either in a pocket or on a tool belt – which makes them easy to access and faster to use than using a tape measure for longer measurements. Bosch BLAZE laser measures are the small, simple way to get cutting-edge accuracy.
With a single touch of a button, the unit turns on and begins real-time measurement.
Default real-time measurement adjusts automatically the closer to or farther from the target the user is – providing walk-off results just like a tape measure.
Click the button once more to record the distance in the device's internal memory.
Once the measurement is complete, press and hold the same button to turn the laser measure off.
Ideal for hard-to-reach places in dark corners thanks to its backlit display.
The Bosch BLAZE GLM 20 weighs only 0.2 lbs. with a length of 4 inches, so it can fit comfortably in hand or pocket.
The laser measure's square, flat design makes the it easy to use on any surface and offers ready-anywhere portability.