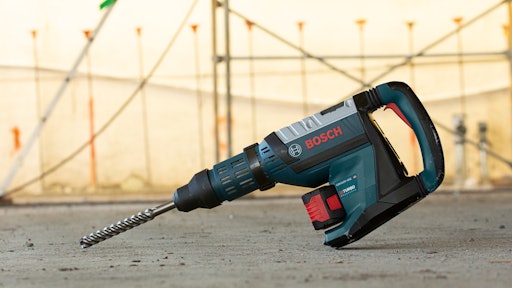 Bosch Power Tools & Accessories

Now is the time to ditch the cord on rotary hammers. Bosch 18V cordless rotary hammers, part of the New PROFACTOR high powered system are powered by CORE18V batteries. These hammers offer unparalleled impact energy for a single 18V battery rotary hammer bringing corded performance to cordless rotary hammers.
Features
BITURBO BRUSHLESS Technology

—

Combining an upgraded, powerful brushless motor with the power of the CORE18V PROFACTOR batters (8Ah and 12Ah) for maximum performance in heavy-duty applications.
Vibration Control

—

Integrated into the hammer mechanism and handle for improved comfort when using the tool.
Kickback Control

—

Reduces the risk of sudden tool reactions in binding conditions.
User Interface

—

On-tool display helps manage tool performance for immediate feedback and control.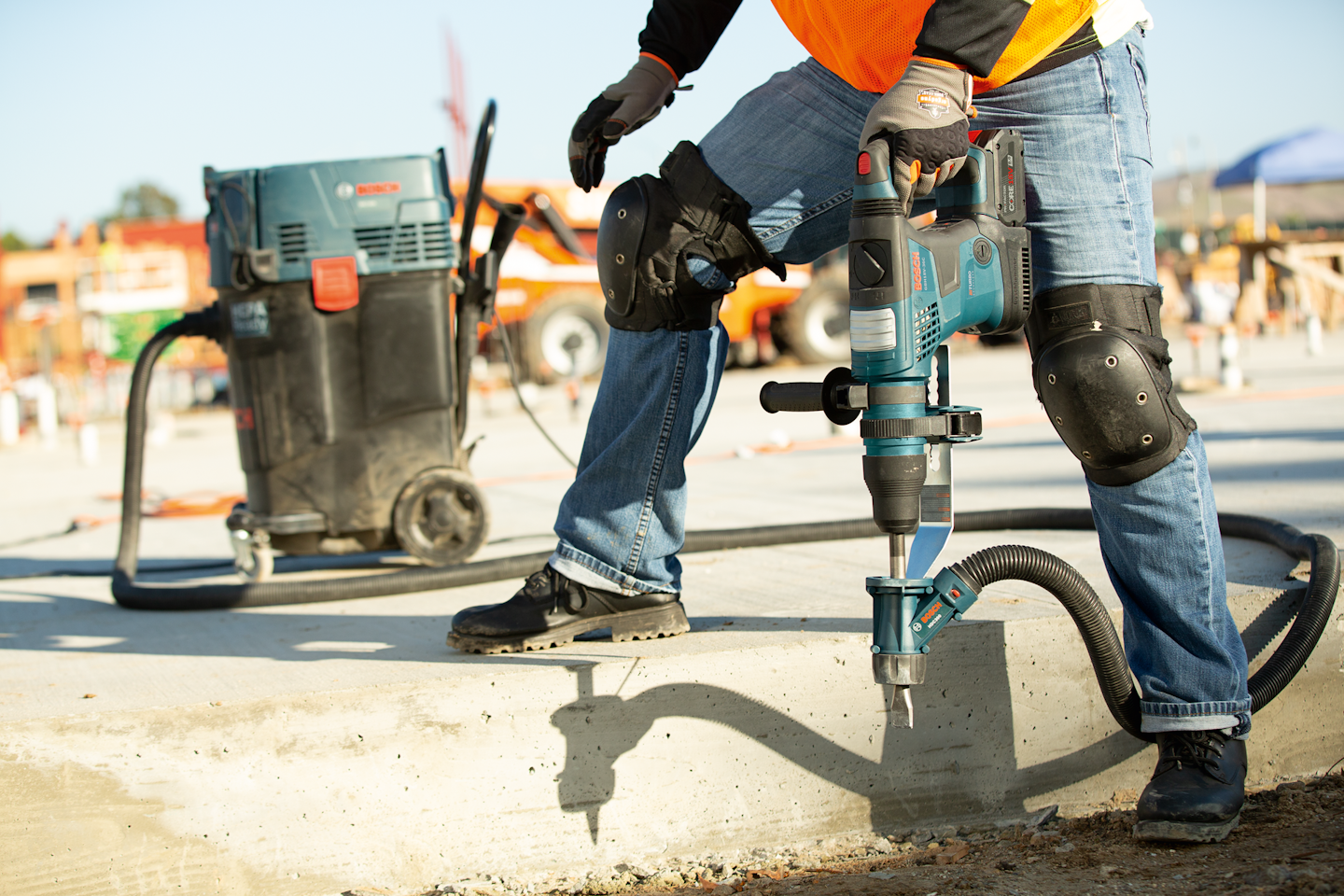 Optimal for concrete contractors, road construction, masonry and restoration, and utility/energy. (Model in photo: the GBH18v-36C.)Bosch Power Tools & Accessories

Optimized for use with CORE18V PROFACTOR batteries, Bosch Power Tools' PROFACTOR SDS-max 18V Hitman Rotary Hammers let contractors ditch the cord on rotary hammers. Guaranteed to deliver performance comparable to its corded counterparts, the Bosch PROFACTOR Rotary Hammers include a 180-day no-questions-asked return guarantee.
The GBH18V-36C 1-9/16 In. Rotary Hammer delivers 5.2 Ft.-Lbs. of impact energy (EPTA), while the GBH18V-45C Hitman 1-7/8 In. SDS-max Rotary Hammer delivers 9.3 Ft.-Lbs. of impact energy (EPTA).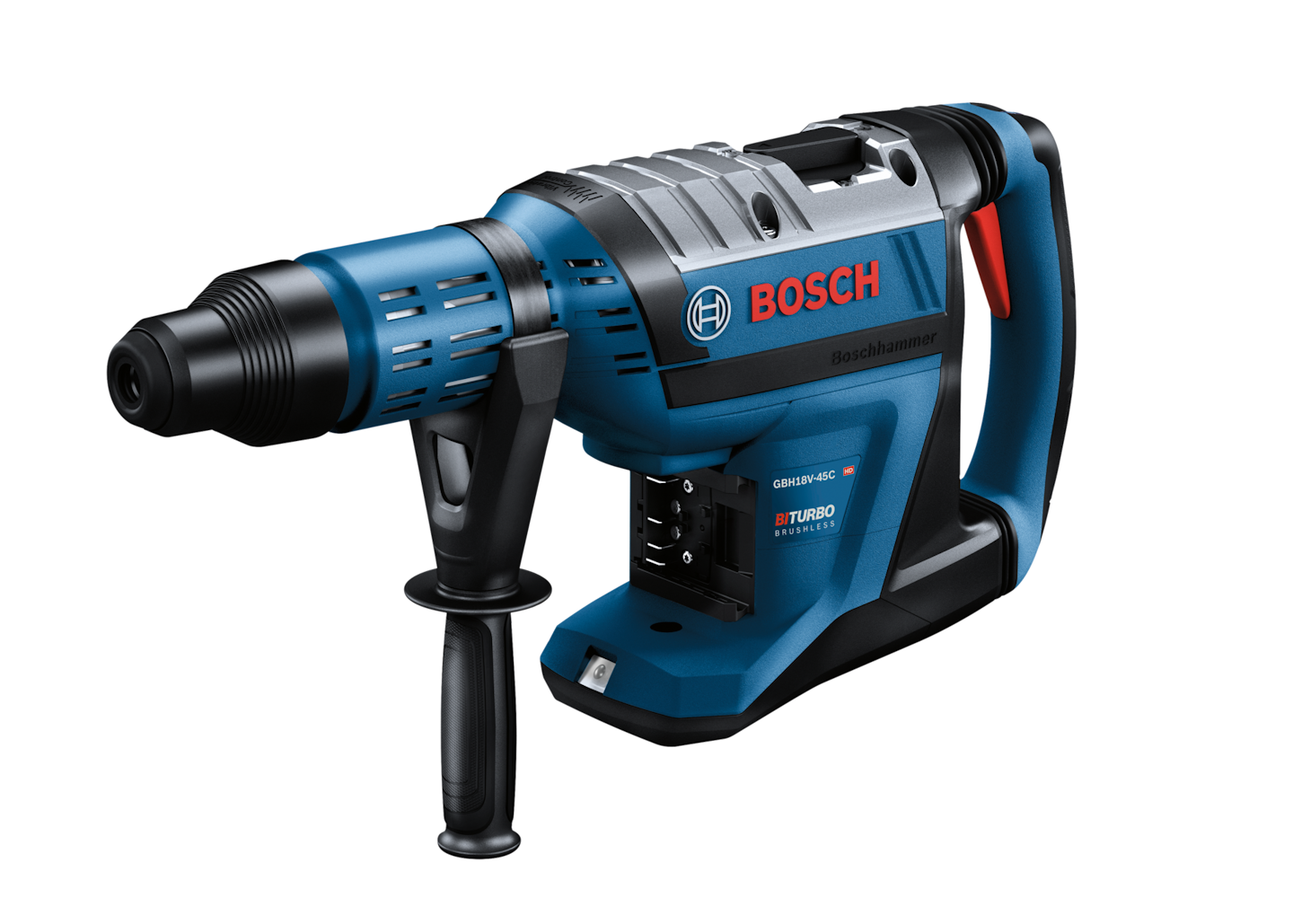 The GBH18V-45CNBosch Power Tools & AccessoriesBoth the GBH18V-36C and GBH18V-45C feature rotary hammer and hammer-only modes feature Vario-Lock positioning to rotate and lock the chisel. The hammers also include Soft Start and controlled RPM and BPM, making it easier to control drilling and chiseling applications, with an on-tool user interface for tool performance, feedback and control. The GBH18V-45C model also includes a counter-balance weight in the hammer mechanism.
Each hammer also includes kickback control technology to reduce the risk of sudden tool reactions in bit bind-up situations, and an anti-vibration system with a longer air cushion in the hammer tube and dampeners in the handle to help reduce vibration on the job. Both are equipped for optional connectivity through a separately sold module, providing a link to the free Bosch Toolbox app on a connected device to customize tool settings.
Bosch Power Tools' PROFACTOR line of cordless tools give professionals the freedom to take on the most demanding jobsite applications on one 18V battery platform. All PROFACTOR tools are powered by Bosch's CORE18V battery platform. All PROFACTOR tools also feature its BITURBO Brushless Technology, a high-performance brushless motor and drive-train system designed to deliver power comparable and/or equivalent to high-demand corded tools.
Request More Information
Fill out the form below to request more information about
BOSCH Targeted the Cord on Your Rotary Hammer with the PROFACTOR SDS-Max 18V Hitman Series Rotary Hammers